Why Honda's Instagram strategy is 'just sheet metal'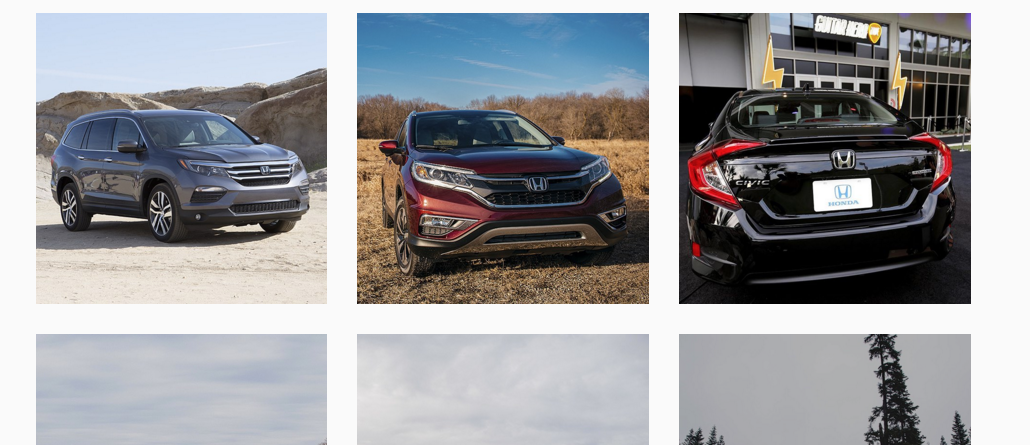 On Instagram, simple is sometimes better.
When Honda joined Instagram in 2013, the brand's agency, RPA, tried to have fun with its Instagram account, posting photos from events and sponsorships or perhaps a picture of the Honda "H" emblem in snow.
Turns out Honda's followers really just wanted to see a lot of sheet metal. Pictures of Honda cars averaged 3,000 more likes per photo — 300 percent more — than anything without cars in them. It was a "duh" moment for Honda, but it was also slightly disheartening.
"It makes sense, but we were trying to make the brand friendly and approachable and give it texture and personality," said Alicia Jones, manager of Honda and Acura social marketing. "It's hard to do that with just photos of cars."
Instagram has been an important part of Honda's growth. Not only does it drive some of its highest engagement, it's also one of its fastest-growing social platforms. "Before social media, we didn't have the ability to have a relationship with a customer," said Jones. "They bought and serviced cars from an independent dealer, and their relationship was with the dealer." Social media has been a way for Honda to sell cars, but also drive affinity and loyalty.
But that's meant that every photo Honda posts on Instagram is now of a car. (It's not unlike Stoli Vodka, which now mandates that two-thirds of its Instagram content be bottle shots.)
Mike Dossett, supervisor of digital content strategy at RPA who takes care of Honda's social media, said he has tried to do interesting things native to the platform while making sure it's all sheet metal. That means using a lot of split-screen images for Throwback Thursdays or creating multiple profiles that are linked to from the main @Honda account that lets fans walk through old models of the Honda Accord. The brand also taps influential photographers to bring some diversity to the style of those sheet metal shots.
"The voice of the fan and customer has always been and always will be critical to the success of Honda, and we strongly embrace that mindset on Instagram," he said.
According to research firm L2, automotive brands often generate considerable engagement on Instagram. Last year, growth for auto brands jumped 152 percent on Instagram. L2 research director Colin Gilbert said that Instagram was the "clear winner" among platforms. And for Honda specifically, L2's "digital IQ score" shows that the brand outperforms the average on Instagram presence and brand buzz.
Also, Instagram has a real use for auto companies. Research by PwC found that in the category, 15 percent of social leads actually result in conversions to test drives. The average return on a social lead is 230 times the investment. And a CMO council report from 2014 said that car buyers are very passionate — one in four use social media to discuss car buying and 38 percent actually consult social media when they want to purchase a car.
"Getting too creative and too out there doesn't always work," said Jones of Honda. "It's kind of like that with our Instagram. Just sheet metal."
https://digiday.com/?p=142320