Hailo's new CMO: The anti-trash-talker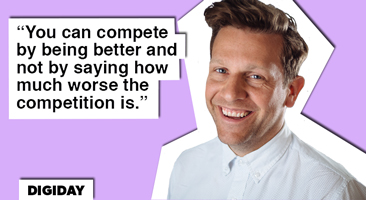 Hailo hopes that the current battle between Uber and Lyft will let the London-based cab-hailing service stand out.
The three-year-old company, which lets customers flag regular taxis with a mobile app, this week hired former Microsoft brand director Gary Bramall as its new global CMO. This comes on the heels of the brand's launch in Singapore, and at the debut of a new guerilla campaign in New York, Chicago and Toronto that saw a team of bicyclists riding around town, handing promotional flyers into the hands of consumers attempting to hail a cab the old-fashioned way.
Hailo raised about $29 million this year in funding and about $100 million to date. Its biggest problem is easily articulated: While it is much more popular in the U.K. (the company recently celebrated hitting the 20-million passenger mark), it is often dwarfed in the U.S. by Uber and Lyft, the two most-visible players in the ongoing car service war. Still, Bramall thinks that's all about to change.
What drew you to Hailo?
I've been really fortunate in my career to work with some amazing brands that challenged the status quo, that have used tech to disrupt industries. The Hailo job came up and it ticks all of those boxes: It's a customer-centered brand that lots of people love, in an industry that's trying to challenge the status quo, that believes users deserves a better experience than they currently have. I've always been more interested in being a pirate than working in the Navy.
So what are Hailo's biggest branding challenges?
Modern brands are defined by what they do instead of what they say. The big brands you see today — Facebook, Google are not big mouth above-the-line marketers. Instead, we need to create big transformative experiences. Then I think the thing is really around the DNA of the company. We're a London-based brand and Hailo has a lot of quirk and London-based tone of voice. It's time to scale that globally.
Is it fair to say that Hailo does not enjoy the high level of brand awareness competitors Uber and Lyft do, especially in the U.S.?
I think that's fair. The challenge you have here with Uber and Lyft are that they're manifestations of [Silicon] Valley. The Valley really is from a U.S. perspective a driving economy where so much stuff is coming out.
So how do you get your voice heard?
The trash talking brand building that maybe Uber has taken on is not for us. In terms of being aggressive, in terms of a position-base from a political perspective and a PR perspective is something that Hailo is not going to do. In the U.S., potentially it's fine and understood and accepted and encouraged with the ad rules there. But in the rest of the world, it's seen as an eye for an eye makes everyone blind. You can compete by being better and not by saying how much worse the competition is.
So how are you different, then?
That positioning is one of the challenges for me. The one thing we stand for at the moment is this idea of a great ride for a fair price. We don't do surge pricing, we are cabs. Our drivers are validated and checked and I wouldn't hesitate to put my 4-year-old son in cab.
Uber and you have both come under fire for cutting prices to the point that drivers don't make enough money. How do you balance making money and undercutting the competition without getting into a race to the bottom?It's a basic supply versus demand industry. We want as many drivers on the road, and as many people who want to hail those drivers. You get that right, you get drivers who get loads of cash and passengers who get a cab. It's so basic. We just need to balance those things. We plan to have key channels and marketing engagement strategies for our drivers as well as our passengers. You have to do stuff that pleases both.
https://digiday.com/?p=89139