How do I get paid for my brilliance?: What's on the minds of top agencies today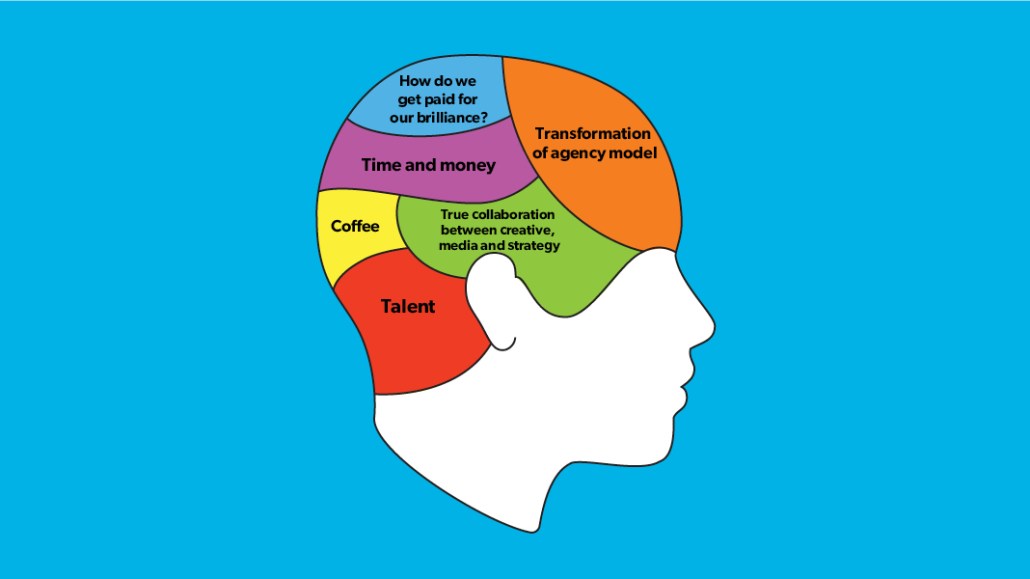 More than 200 agency executives from shops of all stripes are in Nashville this week for the Digiday Agency Summit to discuss the biggest issues facing them in the space.
We asked them to tell us what was on their minds so we could, quite literally, map it out. The Digiday Mind Map provides a peek into what is challenging top agencies across the country right now.
Transformation of the agency model
For some, this isn't anything new: Agencies, said one agency executive, have been "transforming" for their entire histories. But for others, what has changed is who is actually responsible for the "transforming."
"What's driving the transformation of the agency is actually a client," said an executive at a major PR agency. "The traditional four walls are getting broken by clients."
There are a few contributing factors at play: Clients are asking for more from their agency partners even as trust and relationships between the two seem to have frayed. While some agencies, like McCann, as its CEO Harris Diamond pointed out, may have 60-year or 70-year relationships with brands like Coca-Cola, those relationships take a long time to build. And they remain rare.
Clients have become "smarter," said one attendee. They know more about the industry because CMOs are also under pressure to be considered innovative by their bosses and stakeholders. There are more "truthers" in the industry, calling BS on things like social and digital media. And procurement has a louder voice in the room than ever before. "They're more involved."
How do we get paid for our brilliance?
It's become quite fashionable to have brand clients stand up on stage and tell agencies how broken they are — on diversity, on business and in their models. Diamond railed back against them, saying that those clients are in the minority. Another agency executive said the same: "The agency business is always criticized as being slow and big and old. But the reality is that the agency business can only move as fast as our clients. We can build the biggest epicenter of the future or whatever, but it can only move as fast as the client."
Another C-level executive said: "The problem with the business was it was birthed in an era where money was made in media. We have stupidly siloed it by creating big media conglomerates." Things are slowly changing; more creative agencies are adding media capabilities and vice versa. "But the only thing we have are our ideas — and the ideas are process. We all want to get paid for brilliance but how do we change how exactly the brilliance is calculated?"
Time and money
With clients increasingly focused on procurement, there's also more to do and less time to do it in. One attendee said agencies have to think about things in three Cs: Cash, Credit or Creative. "And you can only have two."
For another attendee, it was the unrealistic expectations from brands and his bosses: "Pace is unrelenting, non-stop and it's crazy. It's also unrealistic at some points. I'm used to busting it, but the pace right now is a little nuts. It's hard to be in a bunch of meetings and get your work done."
True collaboration between creative, media and strategy
Collaboration was a hot topic at the summit. A working group led by David Angelo, founder of David & Goliath, explored how different parts of the agency could collaborate. "People with huge egos" are the biggest obstacle to collaboration, said one attendee.
Another executive put it bluntly: "Everyone in the room has got to stop acting like only creatives with scarves on can do creative. Everyone's got a scarf on. Everyone is creative. Stop being so damn territorial."
Talent
Talent is a perennial topic at agency conferences. But this time, there are new pain points on people's minds. For agencies based in places outside of big metro areas, the issue isn't just how to retain talent, but how to train the right people. "People are a big problem," said the head of one small shop based in the South. "How do we train them, how do we import them?" Staffers in the trenches are also increasingly concerned that their agency heads are themselves becoming increasingly outdated, which is making agencies lose business. "Agency leads have been in game for 30 years and they don't understand the basics of digital. There is a tension point because clients are giving work to others, or taking it in-house. We need fresher, younger people leading."
https://digiday.com/?p=225903