'Patience is the real key here': Why advertisers are keeping calm as Europe and U.S. economic recoveries are thrown into extended uncertainty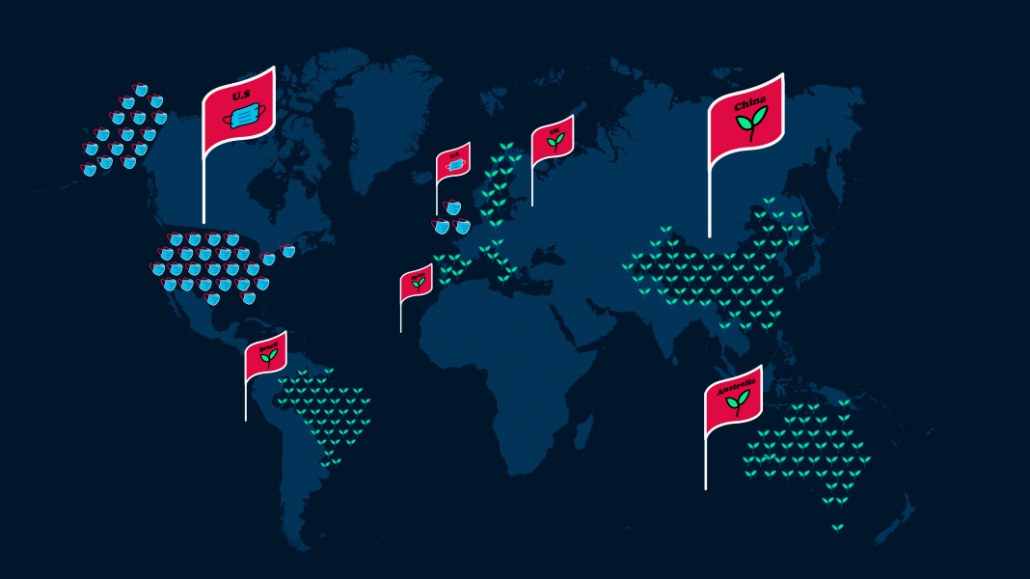 Marketer fears have come true. Coronavirus economic stimulus in the U.S. now hangs in the balance as the presidential election drags on.
In Europe, the situation isn't much better. France, Germany, and now the U.K., are shutting down large parts of their economies to curb a resurgence of the virus. Cue the contingency plans. Plans that take a more pragmatic view of the upcoming disruptions to the economy than the panicked responses in the first half of the year.
Marketers are braced for another period of uncertainty where outlooks for policy impacts can change overnight and post-lockdown shopping flips from one channel to another. Here are the main reasons why the prospects of extended uncertainty aren't triggering any kneejerk cuts to ad spending.
Election results won't crush the economy
For months, advertisers have expressed that their number one desire is more federal spending to keep the economy afloat in the face of a pandemic that's rapidly spreading. That could reinforce the economy, driving consumer spending and bolstering growth. But the path to fiscal stimulus looks uphill with storms on the horizon now that a contested election looks likely.
Some form of stimulus could still take place during either the lame-duck session or the lead up to president Trump's second term, likely in areas where the agreement on the size of the package was reached before the elections. However, most policy analysts expect a comprehensive spending package to top the docket in the new year. The longer the wait for that stimulus the darker the situation gets for marketers as consumers exhaust their savings and the pace of employment continues to slow. Until then, though, patience is key and marketers are unlikely to make any major changes to ad spending this quarter. After all, the country's economy burst back to growth in the third quarter.
"Regardless of the election results, we're still two months away from the beginning of changes and many of the impacts that are being contemplated are easily still six to 12 months away from being implemented," said Dan Hays, technology media and telecommunications corporate strategy leader at PwC. "We don't expect there to be any dramatic shifts [in ad spending]. Patience is the real key here."
Europe's latest lockdowns will be far less painful for advertisers
Most marketers seem less concerned about the potential risks of the latest lockdowns on both their businesses and the broader economy.
Not, because those risks aren't real. Economists have said there's a chance the latest lockdowns could tip Europe's economies into a double-dip recession, for example. But because those risks are easier to manage, there is relatively greater certainty about how the rest of the world — including consumers — will behave, at least when compared with what happened over the spring, said GroupM's global president of business intelligence Brian Wieser. While the path of the virus and consumer behavior still dominate decision-making, advertisers are factoring business realities into their recovery timelines more than they were back in the first quarter.
"At the start of the crisis we lost clients in those sectors that were most affected by it, but we've also won new business that's performing really well, said Jim Hawker, CEO of digital agency Threepipe. "A lot of those businesses we're working with are under pressure to through everything they have at this quarter."
The categories of media spenders that were axed over the Spring, from travel to entertainment, haven't bought much if any, media at all since then. There has, however, been new gains in spending from those advertisers in rude health, like loungewear.
"We're seeing more briefs come into the market this week that wasn't there last week, said Paul Frampton, president of Goodway Group's international arm, Control v. Exposed. "There's a real focus in those briefs on accountability and proving that the media bought is going to deliver incremental value."
Even if advertisers wanted to cut spending, it may not be as straightforward to do so as it was several months ago.
It was a lot easier for advertisers to pull media dollars during the first batch of lockdowns than it is now. Back then media owners were more lenient when it came to letting advertisers wriggle out of media commitments. Now, they're all about securing as many of those lost dollars as they can.
"Media owners, particularly TV broadcasters, are no longer in a charitable mood," said the head of media at a CPG advertiser. "Being lenient back at the start of the pandemic has left them with huge numbers to make up before the end of the year. The idea of there being flexibility in media contracts hasn't really become a common part of how deals are done."
https://digiday.com/?p=382556