Real-time ridealong: Microsoft replaces stolen tech gear at SXSW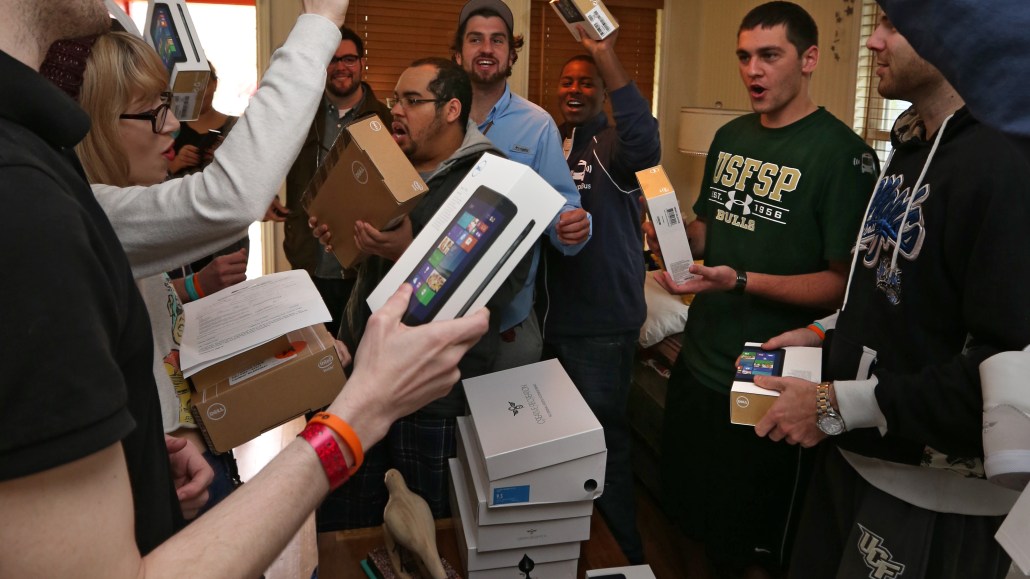 Digiday's coverage of SXSW, which runs March 7-11 in Austin, Tex., is sponsored by Dstillery, the pioneer in audience targeting for brands.
---
If you're a hacker, there's no worse of all #SXSWproblems than having your computer stolen, which is exactly what happened to StartupBus Florida participants in the wee hours of Sunday morning.
Fortunately for them, Microsoft was listening, and responded by bringing them new Windows-enabled laptops and tablets. The real-time marketing response was set into motion by the following tweet from StartupBus's global director Mitch Neff.
So.. #StartupBus Florida house got robbed tonight of tens of thousands of laptops/electronics. That's #sxwproblems

— Mitch Neff (@MitchNeff) March 9, 2014
Neff was staying with StartupBus participants in a house about a mile and a half south of Austin, Tex., as part of StartupBus's annual South by Southwest hackathon. StartBus participants ride a bus to SXSW together each year, and are tasked with cobbling together a company by the time they reach Austin. This year, StartupBus was traveling from Florida. When the participants returned early Sunday morning to the home they were renting, they noticed that their laptops and some cash had been stolen. (Curiously, the flat-screen TV and a Canon camera that retails for $600 were not taken.)
Later Sunday morning, Microsoft decided to play savior — and Digiday went along for the ride. Microsoft saw Neff's tweet, and responded by driving to the house and giving out Dell and HP laptops and Surface tablets, all of which run on Windows 8.1, Microsoft's latest operating system. (That's one way to get market share.) Microsoft also gifted shoes from Creative Recreation and Herschel backpacks.
Most of the laptops that were stolen were Macbooks, the StartupBus participants said. But StartupBus "buspreneur" Ashley Mooney said she's long been a Windows loyalist.
Microsoft might have some new loyalists, as its gifts were well-received.
Microsoft has been looking for #SXSWproblems tweets throughout the festival. It's been responding to them by having people swap their broken iPhones for new Windows phones, among other marketing ploys. Windows might be lagging behind Apple and Google in terms of smartphone operating system market share, but its real-time marketing efforts at SXSW have turned at least a few festival attendees into Windows fans.
Image via Microsoft
https://digiday.com/?p=67661