Digiday Research: Marketers struggle with influencer marketing measurement
As influencer marketing becomes an increasingly vital component of marketers' media plans, massive unresolved issues with campaign measurement and influencer selection continue to limit its potential effectiveness.
Of 83 client-side marketers polled by Digiday this April, 27% said the biggest obstacle to influencer marketing is measuring campaign performance while the same amount said they struggle to find the right influencers to work with. Related to effectiveness, one in five marketers identified their biggest challenge as understanding if an influencer is actually, well, influential.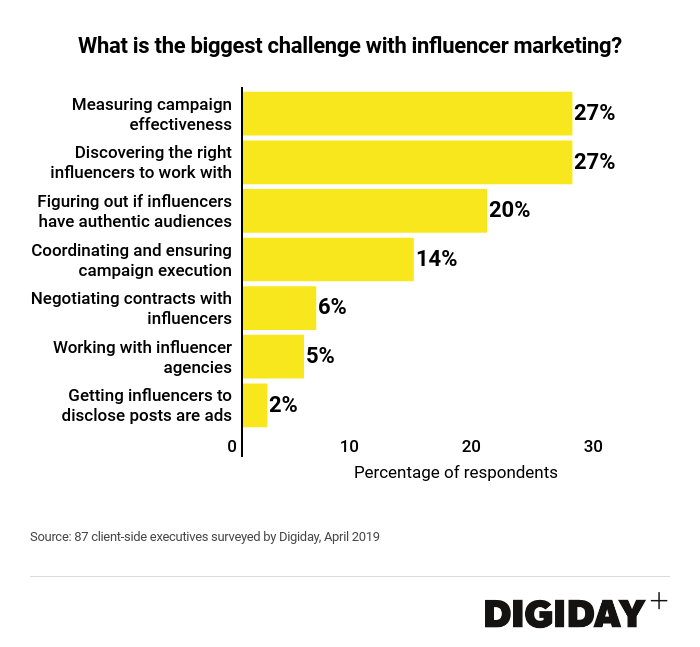 "We are running into issues convincing all campaign influencers to release their data [to third-party analytics providers] because of the emphasis now placed on data privacy," said Stephanie Stabulis, vp strategy director at HireInfluence, an influencer-marketing agency.
Others are also running into roadblocks getting influencers to pony up their posts' results as platforms hold back, even for brand-awareness campaigns that focus on simple metrics like impression numbers.
"Privacy settings on social platforms means there's a heavy reliance on influencers to be transparent about their metrics," said Lizz Kannenberg, director of brand strategy at social media management company, Sprout Social.
Meanwhile, selecting the right influencer to work with remains problematic for marketers. Because every social user with a phone claims to be an influencer, marketers, especially those working with micro-influencers, struggle to tell fact which are legitimate. With some influencers openly admitting to buying fake followers, finding influencers with authentic audiences, which align with a company's ideal customer, is becoming impossible.
"A lot of influencers will pander to anyone willing to pay, so their audience isn't engaged with the brands who are paying for quality and not just impressions," said one survey respondent.
Another was more blunt: "They all suck. We just work with them for content generation rather than driving sales."
Digiday has updated this story to correct that some influencers are hesitant to share campaign data with third-party analytics providers, not directly with agencies or brands.