Play Delta's new 'boring' game to win a free flight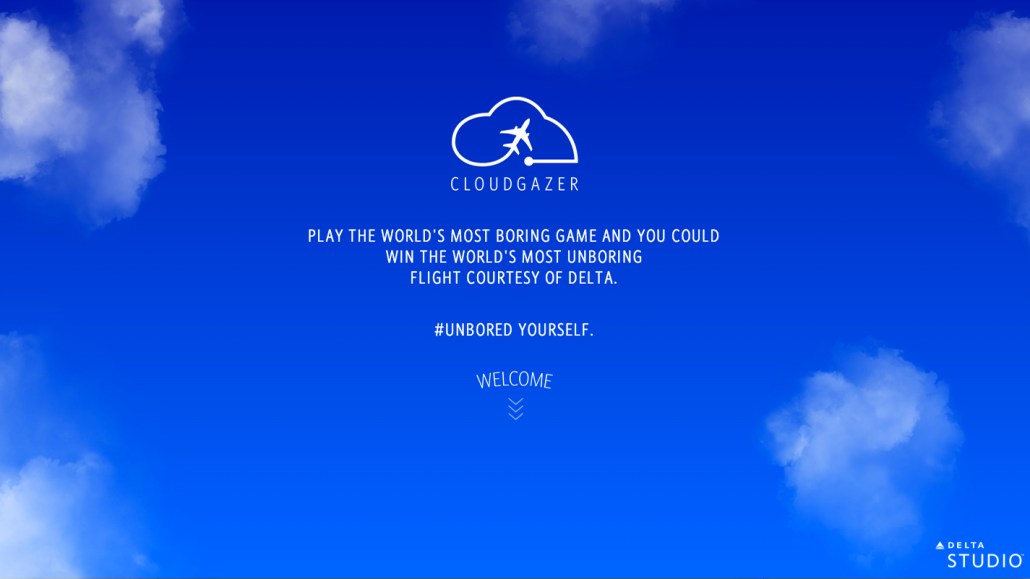 Remember when you lay on your back and stared at the clouds to while away your childhood boredom? You can do that again — on your computer.
Delta and Wieden + Kennedy New York are on a mission to find the world's most bored person and give them something to do. The campaign is "CloudGazer," a new game where players are challenged to explore a giant blue sky filled with clouds.
Swipe to move around, and click or tap the clouds to get points. The more clouds you tap, the higher your score. Go inactive for longer than 30 seconds and your game ends.
If you have the highest score when the contest draws to a close, you win what Delta is calling an "unbored" flight — a roundtrip flight to anywhere the airline flies. "Weirdly, boredom seemed like the most fun way into the idea of entertainment," said Sean McLaughlin, creative director on Delta at Wieden.
To seed the message, Delta and Wieden are going to be responding to people on Twitter that claim they're "bored," with a link to the game that you'd only play if you had a lot of time on your hands.
The campaign shows off Delta Studio, the airline's new range of in-flight entertainment options. The brief told Wieden to introduce Delta Studio to consumers — a new gambit from the airline that offers free content like movies, TV, HBO and music onboard.
It's the latest boringly creative effort from an airline brand. Last month, Virgin made an effort to show off how terrible flying any other airline is with a six-hour movie called "Blah Airlines."
https://digiday.com/?p=95359