Cannes Briefing: 5 storylines that will dominate the week
June 17, 2018 • 5 min read
•
•
Digiday covers that latest from marketing and media at the annual Cannes Lions International Festival of Creativity. More from the series →
The Cannes Lions festival is set to kick off with slightly less exuberance than in years past. A year ago, then-WPP chief Martin Sorrell averred that Cannes had "lost the plot" with its extravagant partying, high spending and sprawl. A year later, Cannes looks to be smaller and more toned down, and Sorrell himself is fighting for his reputation. Here's what is shaping up as the big storylines of the week.
The awkward return of Sir Martin
The time of the Big Men of advertising has thankfully passed. There are simply not many legends left atop a shrunken industry whose importance is diminished in the age of data targeting. Sorrell was an exception as a canny business operator who managed to transcend advertising in a way his holding company peers did not. His stunning fall this spring after accusations of financial impropriety — and swiftly plotted return with a new, mysterious marketing company project — would have made Sorrell the talk of the town. But now — convenient timing! — word was leaked to The Wall Street Journal that Sorrell was under investigation for paying one or more prostitutes from the WPP coffers. (Sorrell denies this.) All eyes will be on Sorrell as he takes the stage on Friday with New Yorker writer Ken Auletta, author of a new book about advertising's uncertain future, "Frenemies." Forecast: Awkwardness.
The rise of the consultancies
The consulting companies have lurked on the fringes of advertising for some time now. Ad agencies long viewed consulting firms warily and with some amount of jealousy. After all, consulting firms were able to work across entire categories and, indeed, were hired for that accumulated knowledge, while agencies were bound by strict conflict requirements. Now, the threat has arrived as consultancies build up marketing service practices while agencies frantically shout, "Conflict!" (Put aside the fact that these same agencies operated programmatic ad-trading desks that took orders from their sister company media buyers.) IBM, Deloitte and Accenture will be out in force, while agencies shrink their own footprint in Cannes.
Publicis' leaky boycott
Speaking of pullbacks, Publicis Groupe made a big deal about pulling out of Cannes (and other award shows) to focus resources on an internal collaboration platform, adorably named Marcel. Executives were forbidden from coming to Cannes, and no work would be submitted. OK, wait: Publicis CEO Arthur Sadoun will be in Cannes to promote Marcel onstage at the Palais. And come to think of it, 80-odd staffers will be here for client reasons. But the awards. … Well, Publicis submitted entries for BBH work on the Grenfell Tower tragedy, and weirdly, Publicis partners entered over 336 entries. Needless to say, if you're looking for principled stands, agency holding companies are not the ideal place to start.
The platform backlash
Just a few years ago, Facebook and Google were the toast of the town. Google has long used Cannes to butter up creatives (and media buyers and marketers), and Facebook has grown its presence alongside Google. This year, both will take a beating as more calls come to break up the duopoly's power — and Facebook gets grief over its data scandals and role in electing Donald Trump. The days of connecting the world as an aspirational dream have hit the hard reality of the use of the platforms to divide people, while the platforms themselves have run roughshod over entire industries to their own benefit. Expect newly emboldened publishing executives like The New York Times CEO Mark Thompson to continue beating up Facebook and, to a lesser extent, Google.
The post-#MeToo world
There will, of course, be more women speaking onstage at Cannes this year. The frattiness of the Gutter Bar will likely continue, if toned down a bit. Several swaggering male chieftains will no longer be at Cannes. Vice's Shane Smith usually cut an oversized presence, but he was vanquished in the wake of Vice's own harassment scandals. Sorrell, of course, is no longer leading WPP. At the very least, lip service will be paid to inclusivity and more progressive organizations. Marketers, never ones to miss a cultural moment to co-opt, will vigorously align themselves on the side of #MeToo. — Brian Morrissey
Newcomer's guide
Cannes can be tough to navigate. We got some tips from Cannes veterans to help you avoid being the wide-eyed newbie wandering around the Croisette, sweating, lost and not recognizing David Droga when you inevitably bump into him. — Shareen Pathak
Don't overschedule yourself: It takes time to go from one place to another in Cannes; plus, everyone is running late. "You also don't want to be the person running in the summer heat down the Croisette," 360i President Abbey Klaassen said. Nobody likes that person.
Pack wisely: Lost luggage is inevitable. It's a rite of passage in Cannes. "Just in case, bring a change of clothes in the carry-on, or better yet, don't check at all," said Jeremy Miller, McCann's chief communications officer .
Leave a few minutes for serendipity: You never know whom you'll meet strolling along the Croisette. "Don't over-calendarize your trip. Move by inertia and you will see, feel and learn more," said Gyro CEO Christoph Becker.
Cannes mysteries
There are some things even a veteran wonders about when it comes to Cannes.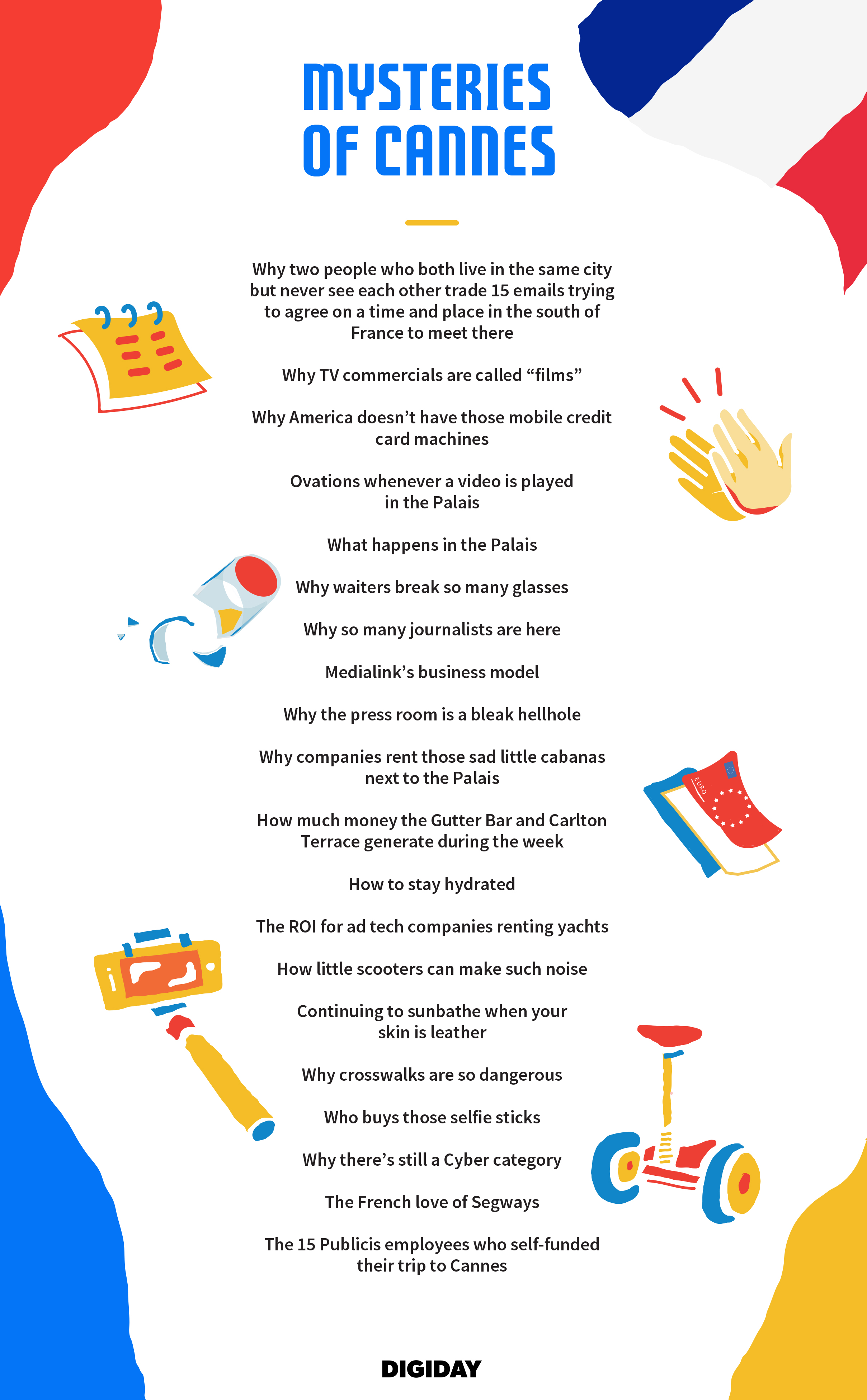 https://digiday.com/?p=291828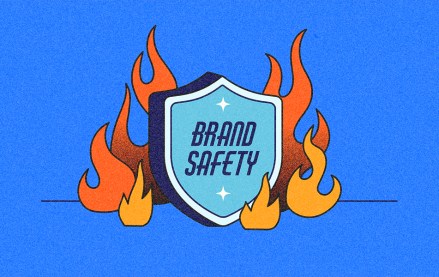 November 28, 2023 • 6 min read
"Major brands' search ads can appear on piracy, pornographic and sanctioned websites," research claims.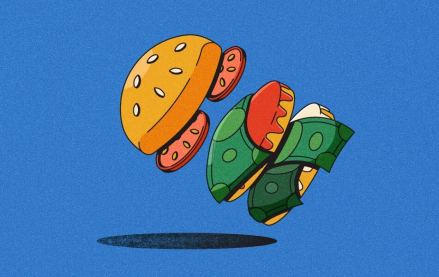 November 28, 2023 • 6 min read
As more influencers look to get into food content creation, brand opportunities are following.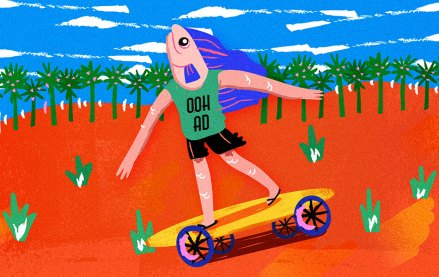 November 28, 2023 • 7 min read
As major marketers like Maybelline experiment with faux OOH, more marketers are open to the idea.