Millennials, broadly speaking, have a severe case of wanderlust, and brands — from hotel chains like Marriott to booking services like Expedia — have taken note.
Comprising the largest demographic slice of the American population, millennials are set to outspend the Boomers by 2017. And now that they're reaching the peak ages for travel, the time is right for brands to strike.
"Millennials are much more educated and travel savvy than any other generation before," Douglas Quinby, vp of research at travel analyst firm Phocuswright, said. "But for them, it's more about the authenticity of the experience more than any other factor."
Statistics from a number of recent reports back this up. But for those hotel, airline and other travel brands still working out their angle, here are four things they need to know about millennials and how they approach travel:
Millennials are big on traveling.
Millennials are known to have a yearning for experiences, and travel figures at the top of those experiences they seek. According to a survey by youth marketing and millennial research firm YPulse last month, 72 percent of the 1,000 millennials polled said that they were interested in traveling and had made an average of 2.7 trips in the past year.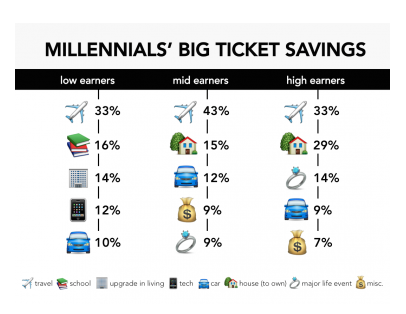 More than 50 percent of employed millennials said that they are saving for something special — and from low earners to high earners, a majority of them save for travel as their big-ticket purchase. And their income levels do not necessarily affect their travel spending. Millennials with mid-level incomes were the biggest subgroup that had travel at the top of their saving lists, with 43 percent saying that they were saving for a trip or vacation. A third (33 percent) of both low- and high-level earning millennials said they were saving for travel as well.
Mobile is emerging as an important frontier.
While most millennials research their travel plans online using PCs or laptops, three out of four are also using mobile devices during the research phase, according to a recent survey by Yahoo Insights called "The Role of Content in the Millennial Traveler Journey." Most (90 percent) of the millennials surveyed used PCs and laptops, and 74 percent also used mobile to research on travel.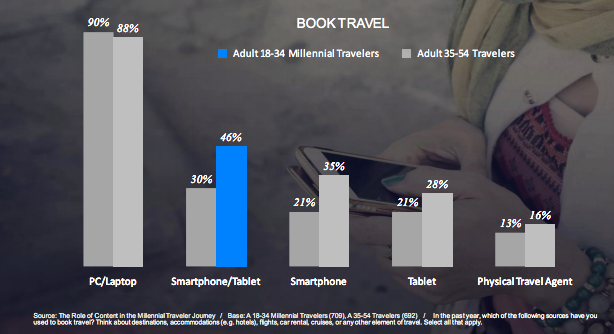 What's more interesting is that while mobile devices may not have caught up as much for the search phase, half of these millennials now actually use mobile devices for booking, with 46 percent of the respondents using smartphones or tablets for their travel bookings.
Content is king.
The same Yahoo survey also found that 78 percent of millennial travelers looked at online travel content prior to booking their most recent vacations, and 85 percent of millennial travelers were inspired to book their most recent trips based on the online travel content they viewed.
Four out of five millennials also typically look at travel articles and photos online while two out of three are seeking out travel video. All of this has led to a heavy investment by brands into creating content: AirBnb has its print magazine "Pineapple," and Marriott's digital publication "Marriott Traveler." The travel space presents a huge opportunity for marketers to engage with this demographic through engaging content and campaigns.
But digital apps are struggling.

While digital content and tools do play a role in easing the travel planning process, according to a recent study by agency Victors&Spoils, many millennials feel that popular travel "hacks" such as Hotwire, Hotel Tonight and CouchSurfing.com have in fact, made the process more complicated.
A recent survey on millennial travel habits by Skift also found that almost 80 percent of millennials across the United States still don't use on-demand ride-sharing apps like Uber and Lyft as widely as expected. Only about 10 percent of American millennials say they use these apps frequently.
"Digital is often the best way to deliver these things, but it's not always the only way to do it," Jason Clampet, co-founder at Skift, said. "Discovering things on the ground is still a part of the experience of traveling. If you're in New York City, you're much more likely to book an Empire State Building tour from a West African guy wearing a sandwich board on 34th St. than you are to use an app. Why? Because that's still the way 99 percent of people discover things to do, no matter the age."
https://digiday.com/?p=120604