Brand-jacking is like a game of whack-a-mole. Deal with one channel, and another one pops right back up.
That's the situation Pepsi is in right now in the most unusual of locales: Amazon product reviews. The Rainforest Action Network, a San Francisco-based environmental organization, last week took the marketer to task over what it alleges is irresponsible sourcing of palm oil by the beverage giant. It decided to use the attention given on Amazon to the launch of a new Pepsi product: True, a new cola product from the company made with real sugar and natural sweetener Stevia. Each Amazon page has an option for shoppers to ask questions about the product. RAN's questions were, well, rather pointed.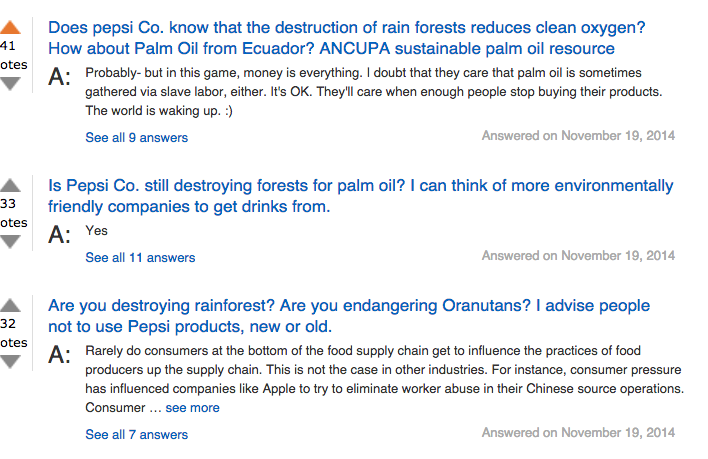 "We decided to use this tactic to pressure PepsiCo to strengthen their current palm oil commitments," Ginger Cassady, program director-forest at RAN told Digiday. "PepsiCo, the largest globally distributed snack food company in the world, still has no truly responsible palm oil purchasing policy. Though the company did issue a strengthened palm oil commitment earlier this year, the new commitment does not go far enough."
The backlash was bad enough that Amazon at first removed the product last Tuesday for a few hours. Then, it came back. It now has 3,600 reviews and an average rating of one star. In a statement, Pepsi said it was "subject to an orchestrated effort to post inaccurate information about our product and PepsiCo's palm oil policy, adding that "a few critics have repeatedly been both inaccurate and misleading about our commitments to traceable, sustainable palm oil. PepsiCo has committed to zero deforestation in our activities and sourcing and to 100 percent sustainable palm oil by 2015. The company has no internal team that monitors Amazon the way it does for social media, said a spokeswoman.
It's not the first time Amazon's comments have been used by irate consumers. Two years ago, when Bic launched a line of pens "for her," the product got a boatload of sarcastic reviews: "Finally! For years I've had to rely on pencils, or at worst, a twig and some drops of my feminine blood to write down recipes (the only thing a lady should be writing ever)," one reviewer wrote. "I had despaired of ever being able to write down said recipes in a permanent manner, though my men-folk assured me that I 'shouldn't worry yer pretty little head.' But, AT LAST! Bic, the great liberator, has released a womanly pen that my gentle baby hands can use without fear of unlady-like callouses and bruises. Thank you, Bic!"