For brands, there has been no bigger opportunity than the World Cup to capitalize on a trending topic. Digiday has been diligently covering the various real-time marketing victories and foibles around this year's tournament, but it's been difficult to quantify what has actually worked and what hasn't. Until now.
Cue Encore Alert, a company that sifts through brand tweets in real time and identifies marketing opportunities. The company recently completed a study that gives a sense of what worked and what didn't from a strategic standpoint, which brands parlayed the event into more engagement for them — and which brands alienated its followers. Brands would do well to take the results into the next global water-cooler event.
"We were interested in doing this experiment because it seems like 'newsjacking' on Twitter has increased exponentially since Oreo did it successfully during the Super Bowl blackout in 2013," said James Li, co-founder and CEO of Encore Alert. "We wondered if leveraging global Twitter trends actually increases engagement or if it's just an overhyped tactic."
And the tactic, overhyped or not, has been used and abused during the Cup, from the Suarez bite to Tim Howard saving everything and Brazil's humiliating defeat by Germany. Bottom line, there's a lot of data to work with. "We wanted to investigate the hard data and see which brands were doing it well, which weren't, and what the difference was."
To find out Encore Alert first chose 18 companies of varying sizes, including brands like McDonald's, Emirates, Budweiser and Castrol. As its control the study used a week's worth of all tweets published by each of the 18 brands. The test data included a week's worth of #WorldCup specific tweets, again by each of the 18 brands. Here's what they found: canned corporate tweets fell flat where clever, well-timed and not too self-serving tweets one fans over.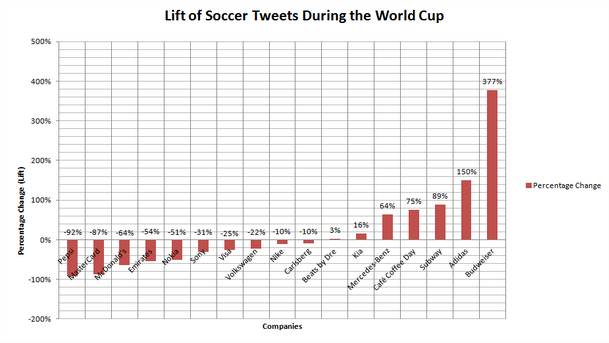 This chart shows how much "lift" — negative or positive — each brand achieved during the test period. Turns out, 8 out of 18 had positive lift.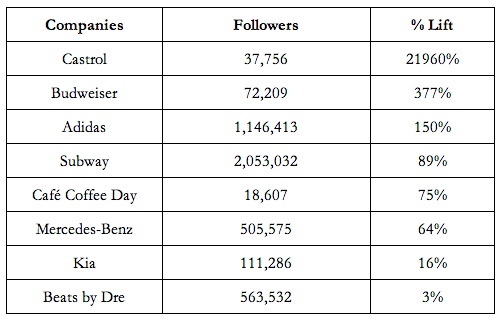 To understand what created positive lift for those 8 brands, Encore Alert looked more closely at each tweet.
"Companies with negative lift, all 10 of them, sent out poorly planned, half-gusto #WorldCup tweets that didn't give interested #WorldCup twitterers what they wanted," wrote Li. "On average, this lackluster 'strategic' marketing decreased [the 10 underperforming brands'] Twitter engagement by 47 percent."
For example, you've probably all seen tweets like this one from McDonald's.
Peel your way to the #worldcup final! #McdOneGoal NoPurchNec. SeeRules: https://t.co/EctL7D4fuU pic.twitter.com/CcP6QNMjbQ

— McDonald's (@McDonalds) June 21, 2014
"The tweet is too obviously self-serving — making it hard for non-BigMac lovers to identify with and feel compelled to share," writes Li. "Based on our twitter analysis, this tweet saw -80 percent the engagement of a normal McDonald's tweet. Making this tweet a big whopper of a folly." So, what did work then? "The 8 companies with positive lift, on the other hand, were insightful, well-timed, and still brand-relevant while leveraging #WorldCup," writes Li. "On average, they saw an increase in engagement of 279 percent!" Like this tweet from Castrol. No, it doesn't include the #WorldCup hashtag but the engagement is there.
5 goals. 2 assists. Number 1 in the @FIFAWorldCup Castrol Index: James Rodriguez #COL pic.twitter.com/FTlWODTY11 — Castrol (@Castrol) June 28, 2014
The complete report is available at Encore Alert's blog.
https://digiday.com/?p=80462
October 4, 2023 • 7 min read
•
•
There are still those who believe that AR has a place in the marketing funnel, however big or small right now.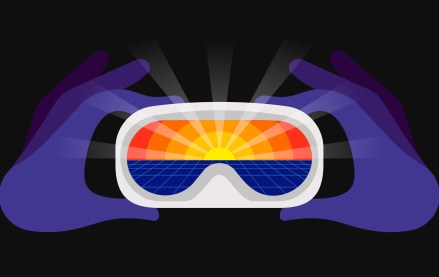 October 4, 2023 • 3 min read
•
•
With Pokémon Go revenues falling year-over-year, Niantic, its developer, is looking beyond its popular augmented reality game to generate profits.
October 3, 2023 • 2 min read
•
•
In episode four of the "Is This The Metaverse?" narrative podcast, Glossy international fashion reporter Zofia Zwiegliska spotlights the brand opportunity when it comes to fashion in the metaverse.