Booking.com enters the spontaneous-travel fray with new app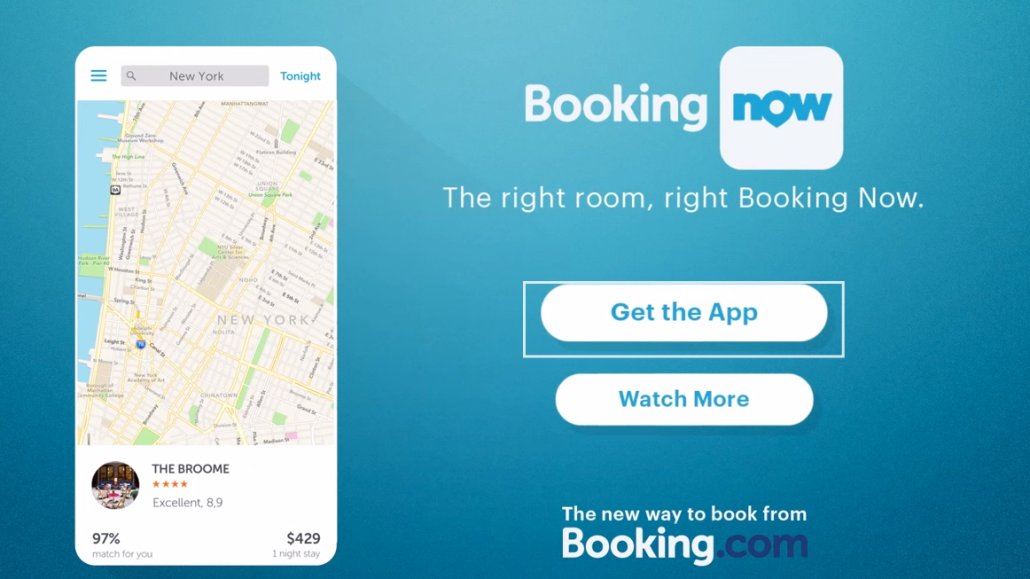 Got the dates wrong for your cousin's wedding and urgently need a room in Middle of Nowhere, USA? Your team won a game at Madison Square Garden and you want to celebrate with a penthouse suite? Priceline-owned Booking.com's new app uses data and personalization to make it happen.
Dubbed Booking Now, the standalone app provides real-time search results based on your preferences as a travel
er, to deliver accommodations based on factors like price, parking, breakfast and Wi-Fi. Each first-time user will create a profile with preferences. Over time, the app will learn what you like as well — if you prefer hotels with ample parking, for example — and make sure it delivers results you like. The app launched Thursday on iOS and is ad-free.
Spontaneity is not exactly a new selling point. Last year, flight-booking company Hopper introduced Flight Tonight, an app that helps you find last-minute flights, while HotelTonight has long been the frontrunner in the last-minute-booking space when it comes to hotel rooms.
But Booking's strength lies in its scale. The company, which is a subsidiary of Priceline, has incredible volume: 750,000 reservations per day, almost 600,000 hotels and "millions" of customers. Data crunched by the company show that half of reservations made within 48 hours are done on mobile and an Expedia survey last year linked the increase in travel bookings made on mobile with customers' rising desire for spontaneous travel.
Paul Hennessy, CMO at Booking.com, said he differentiates between deal-hunting last-minute travelers — those who plan a trip but buy only when the price drops — and truly "spontaneous" customers. "There's the rise of the spontaneous Internet, and there is this behavioral shift that everything is done on your own terms, with your own preferences." He added that it's not just a "crazy kids" thing: More and more seniors exhibit this behavior because they have the time and the money.

The app will be promoted with an integrated campaign by Wieden + Kennedy Amsterdam that includes four 30-second spots and targeted out-of-home executions. The films also reinforce that this isn't just for the 25-35 age demographic, said Sean Condon, creative director at Wieden. The ads will be placed in sporting venues and at tourist destinations, and will exhort customers to maybe extend their one-night stay or turn a day trip into an overnight one.
Search advertising will target customers looking for concert tickets, for example. "We're celebrating a different style of booking behavior, and looking at fresh situations that celebrate this behavior," said Genevieve Hoey, creative director at Wieden who worked on the campaign. "It's not, 'oh, I missed a flight and I'm stuck here.' That's what the competition's doing," she said. "It's very positive. Tap, tap and book."
https://digiday.com/?p=101921