The Body Shop's new campaign leans on Instagram pet stars
June 29, 2017 • 4 min read
• By
Digiday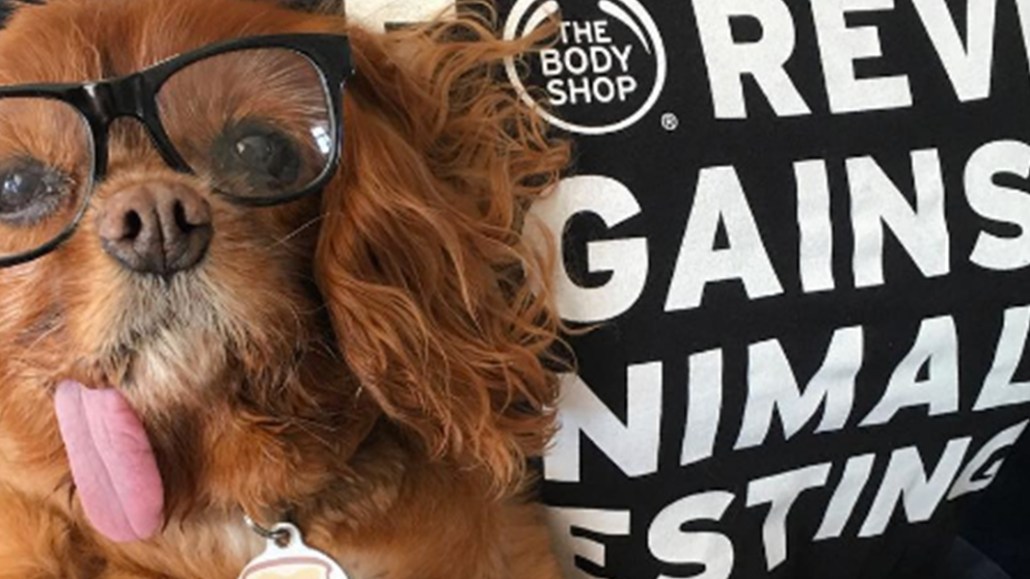 Tuna is a chiweenie with one famous overbite and nearly 2 million followers on Instagram. Toast, the Cavalier King Charles Spaniel, shows off his large collection of eyeglasses in his Instagram of 379,000 followers. Mr. Bagel is a snowy white chinchilla beloved by his Instagram following of 110,000.
Besides being rescues with hefty social followings, these pets have another thing in common. They all partnered with The Body Shop for the brand's largest digital campaign, "Forever Against Animal Testing." The campaign, which began on June 1 and runs through 2020, aims to raise awareness of the cruelty of animal testing in cosmetics. Today, 80 percent of countries don't have laws against it, according to the brand's campaign partner Cruelty Free International, a nonprofit that works to end animal testing. Together, they aim to collect 8 million signatures so it can petition the U.N. to ban animal testing in cosmetics globally.
To do so, the 42-year-old brand with 3,000 retail locations around the world, which was acquired by Natura this week, integrated pet influencers into its digital strategy for the first time. Along with Tuna, Toast and Mr. Bagel, The Body Shop partnered with the ever-popular DogsofInstagram account with its 4 million followers and bunnymama, an Instagram account that chronicles the lives of a family of five bunnies and has 818,000 followers.
"It makes so much sense from a brand standpoint," said Andrea Blieden, vp of marketing for The Body Shop. "The Body Shop has a significant amount of awareness all over the world, but it doesn't hit every single person, and so we are using these influencers to broaden our reach and scope. It makes the cause relevant to people who care about their pets."
The Body Shop looked for these pet influencers in the same way it normally would search for human ones. Usually, the influencers it works with have to meet at least one, if not all three, of the brand's key pillars. That is, the brand works with its U.S. agency of record Alison Brod to single out influencers, generally with more than 100,000 followers, who believe in cruelty-free products, are environmentally conscious or invested in the beauty space, according to Blieden. "Finding the right fit is really important for us when we're selecting influencers," she said.
The Body Shop itself has a large following on social with 6.9 million followers on Facebook, 950,000 followers on Instagram and 10,300 on Twitter. Not all of the brand's influencer strategy has gone to the dogs — The Body Shop has also enlisted the help of human fashion and beauty influencers Kristen Leanne and KeikoLynn.
For the campaign, the brand is concentrating on one-time influencer partnerships, meaning that each influencer — animal or human — has been instructed to post only once on Instagram using the hashtag #ForeverAgainstAnimalTesting, explaining the initiative and encouraging their followers to sign the petition, as well as creating one Instagram Story using the swipe up function that would take viewers to the petition website. Each influencer is also placing a link to the petition in their Instagram bios. None of the influencers are beholden to any contracts, despite the campaign running until 2020. So far, the hashtag has been used 3,470 times on Instagram and 2,173 times on Twitter, according to the brand.
Although The Body Shop would not disclose how much it is paying its influencers per post, upfront fees for influencers can range from $1,000 per every 100,000 followers on Instagram to $200,000. Since the campaign began, these influencers have helped contribute to upward of 622,000 signatures on the petition online.
Blieden believes the use of these influencers, and especially the pets, will be a major help in getting the signatures needed by 2020. "It's not just about touting that we don't believe in testing on animals," she said, "but it's ensuring that we do everything in our power to get these 8 million signatures."
It wouldn't be the first time the brand has worked to ban the use of animal testing in cosmetics. In 1989, it was one of the first international beauty brands to campaign against it. With its help, the practice of animal testing for cosmetic products was banned in the U.K. that year, and the EU followed suit in 2013.
https://digiday.com/?p=243749