Major brands like Mattel, Barbie and Zara are all trying to break gender stereotypes in their ad campaigns. But Molly Logan, co-founder of agency Double Dutch, plans to take women's empowerment to the next level. She wants to change the way agencies themselves are run.
"Ad agencies tend to privilege men and youth. I've seen so many talented women pushed out of the ad industry because of their age. So instead of changing the system, why not create our own?" Logan said. "Imagination has the power to transform anyone. We'll start with teen girls, and then we'll go from there."
The idea of Double Dutch is simple: Team bright teen girls with seasoned female ad executives to reinvent strategy, production and marketing. Double Dutch is the in-house for-profit creative agency within a non-profit organization called School of Doodle, a free online education and content creation hub by and for teen girls. At School of Doodle, members ("Doodlers") can watch informative videos featuring creative experts, read content picked by editors and post their own artwork. While any content marked as "Public" can be seen by anyone, only 13- to 19-year-old girls can become account holders.
Logan founded School of Doodle as a Kickstarter project in 2014, for which she raised around $107,000 including funds from Arianna Huffington and Pussy Riot. For the time being, School of Doodle has three full-time employees including Logan and 12 teen girls on the payroll to keep the platform up and running. They work together to produce organic content for School of Doodle and occasionally they work with brands who want to serve sponsored content on the platform. In the latter case, those girls participate in the actual pitch process, the same way ad executives work with brand marketers. And they get paid for it.
"Girls shouldn't give their ideas for free. Of course, school is always their first priority. Four of them will be able to work with us full-time this summer," said Logan. School of Doodle declined to name any of it clients.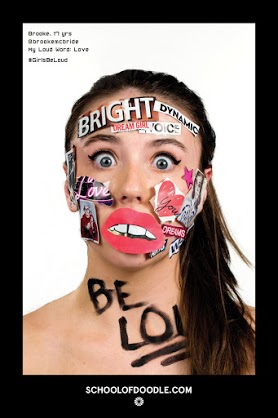 Logan brought the philosophy of School of Doodle to Double Dutch in hoping to bring teen girls' creativity everywhere, beyond the School of Doodle site itself. Different from School of Doodle though, Double Dutch is a for-profit full-service agency.
Double Dutch is in its infancy as Logan is still assembling a team and looking for brand clients. But she told Digiday that one thing is clear: Like School of Doodle, girls on the team will have the power to choose Double Dutch's brand partners and the agency's campaigns will be "positive and highly inclusive." "We will value quality over quantity. It's fine if we do only two ad campaigns this year," said Logan. "My dream is to make Super Bowl ads with the teen girls in our community."
https://digiday.com/?p=176512