There's almost no better (legal) way of getting your creative juices flowing than the right playlist. Individual creatives and entire agency departments all have a telltale "sound," a way they use music to pump themselves up before a pitch or chill them out when a more introspective state of mind is needed. In some cases, it's even used as an old-school alarm, a way to tell people to pack up and go home.
We polled agency creative teams to find out what they were listening to currently, and got them to share their playlists with us. Click to follow each creative department's playlist on Spotify.
Mike Woods, executive creative director, Framestore
Playlist vibe: Assertively esoteric. Throbby and minimalist. Unapologetically British.
In charge of incredible Oculus Rift experiences today, this Brit creative has his roots in music: In the late '90s, he toured the world along with MTV, hosting a show about music mashups called "MTV Mash." It was on MTV Europe Saturday nights, and Woods' segment was called "Midnight Mashers." His roots are showing in this playlist, with songs from punk-hoppers Sealford Mods and rhythmic minimalist Daniel Avery.
Michael Lebowitz, CEO and founder, Big Spaceship
Song vibe: The '80s called and wants their cocaine back
At Big Spaceship, music is used as an alarm: Every day at 7 p.m., the shared office Sonos system plays the 1986 hit song "Diamond Girl" by Nice & Wild. A bellhop bell rings three times, on the beats of the song's opening chant of "Diamond girl!" "The song is a reminder to the crew that it's 7 p.m. and probably time to switch out of work mode and go tend to the other things in their lives," said Lebowitz. The rest of the time, anyone in the office can play any songs they like.
Havas
Playlist vibe: Au courant, yet mom-approved
Havas has a collaborative playlist, with DJs rotating across teams. "We're listening to a Spotify list we call Havas Party, a curated playlist with a rotating set of DJs from across our teams," said Cake business development director Matt Spector. That can lead to tension. Right now, Spector, a Justin Timberlake fan who likes himself some Taylor Swift once in a while, is manning the decks. As Emily Cavalier, vp, marketing communications at Havas Media N.A. puts it, that does sometimes lead to the agency getting stuck in a music loop. That is fixed with "someone saying they can't hear 'X' song one more time," said Cavalier. "I'm just waiting for the day when we put Beyoncé on repeat."
Winston Binch, chief digital officer, Deutsch, Los Angeles
Playlist vibe: Tastefully hip, deliberately cool
"At work, I listen to music less for inspiration and more to help me get things done," said Binch. "A good driving beat and melody is motivating and helps me keep a good pace when I'm writing. I use it as a metronome."
Droga5 New York
Playlist vibe: Cheeky, winky and fun
The creative department in this indie shop believes more is more, with a collection of songs played in the department that run the gamut, from Disney to Lil Jon to Broadway showtunes. Turn down for what? Nothing!
Natalie Sims, design director, Sub Rosa
Playlist vibe: Downtempo and shoegazey (but the shoes are, like, really hip at least)
Sims shared what she called a "representative musical slice of the design department's daily rhythm and aura." If that sounds groovy, that's because it is. "The energy tends to shift from more atmospheric beats to classic feel-good tunes as the day progresses, but generally always lands somewhere between minimalist folk and gangster rap."
Christan Summers, director, creative and strategy, Raison d'Etre
Playlist vibe: That charming schizophrenic you see every day at the coffee shop
"Music inspires me differently everyday," she said. "I definitely can't go through a day without listening to music. It's almost like a role play, and I'll choose to listen to certain genres and songs that support the mindset I want to play into." Her sounds veer from an '80s blockbuster movie theme to greasy West Coast hard bop.
https://digiday.com/?p=91654
December 8, 2023 • 3 min read
For Atlas Creative, expanding into Roblox is not solely a play to scale up. The company believes there are concrete benefits that will come with having a hand in multiple metaverse platforms.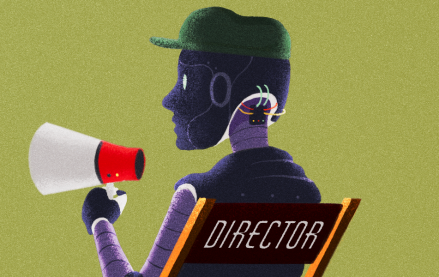 December 8, 2023 • 5 min read
Since ChatGPT became a breakout hit, the names of numerous AI companies and products have entered the cultural vernacular.
December 8, 2023 • 4 min read
Even as linear TV ad spend declines, 23andMe is reinvesting in the channel to boost brand awareness.