Agencies move on from creating content for specific platforms to focus on short-form video
September 22, 2023 • 5 min read
•
•
Ivy Liu
The latest pivot toward video is in full swing, and unlike previous occasions, agencies must now master the art of short-form video rather than focusing solely on specific platforms.
That's not to say that it's no longer important for agencies to have platform expertise — it is. Each app has its own unique voice, trends and cultures.
However, given the constraints of tighter budgets and limited resources, agencies can't afford to favor one platform's video content over another. They must adopt a more strategic approach, creating content that caters to the diverse demands of their clients across multiple platforms. And what's interesting is that the common thread among most platforms these days is the short-form video format, thanks to TikTok. Notably, YouTube, Meta, Snapchat and others have followed suit with their own versions: Shorts, Reels, and, of course, Spotlight.
"The knowledge gap that we see is less about the platforms themselves and more about how a comprehensive marketing plan is deployed across all platforms," said Iliya Rybchin, partner at global management consulting firm Elixirr.
Which is why agencies are seeking expertise for short-form video, as a way to hedge their bets and get more bang for their bucks across social platforms.
Where agencies are getting short-form video expertise
Jess Phillips, founder and CEO of The Social Standard, has already placed creators at brands like Adobe, ZenDesk and LossProof, simply because they can navigate creating short-form videos across the platforms. And agencies McCann and Constellation Brands have launched their own global social and creator content studio and content studio, respectively, to assist with the growing need for this type of expertise.
"The reason these short-form channels [TikTok, Instagram Reels, YouTube Shorts] are doing so well, is because we've moved from a channel-specific model, where you [marketers] had first-mover advantage by just being a part of Instagram or being a part of YouTube or being a part of whatever platform. Now, you [marketers] have to have points of differentiation," said Shray Joshi, founder and CEO of Good Peeps.
With traditional media (think TV, out-of-home and digital ads), the formats didn't lend themselves to one another and marketers leaned on industry best practices to see success with their campaigns. But short-form video is now replicated across most platforms and those older playbooks have been thrown out. Chances are, if you've seen a creator video on TikTok, you've seen that same video a week later on Instagram Reels and YouTube Shorts.
"Good content will distribute itself," said Joshi. "A lot of people [marketers] are trying to act like they can crack the algorithm between TikTok, YouTube Shorts and Instagram Reels. I think that any brand or creator that's really scaling, they're not producing different content across TikTok versus Shorts versus Reels. They're actually just tripling down on the short-form category itself and then just letting these organic businesses distribute it themselves."
Different cuts for different platforms
It takes marketers back to the sole reason they exist: to tell a story. The main difference now is they need to chop and cut up videos in ways that will resonate with each platform. But brands can often find this challenging because they struggle with understanding how to do that in a way that plays to each platform's strengths.
Take TikTok, for example. The platform is known for its short, engaging, creative videos (typically 10-30 seconds long) and heavily relies on trending sounds, styles and themes — the whole point being that watching TikToks is a fully immersive, full-screen, sound-on experience. Meanwhile, YouTube Shorts often feature informational or tutorial-style videos — likely because the audience is being primed to watch Shorts as a lead-in to creators' long-form content — and they often use a split-screen and are limited to 60-seconds. "Longer shots and slower pace are used to ensure clarity," noted Amber Vaatete, director of social media and content at Elev8 New Media. By comparison, Reels on Meta's Instagram are less than 30 seconds and incorporate the more polished aesthetic Instagram is known for, which helps them stand out.
As Alexis DeBrunner, associate strategy director at R/GA, pointed out, having an always-on video content strategy is a big hurdle for some brands. "Especially with the rise of TikTok, having someone on your social team who is able to create content on the fly/on a consistent basis without needing to plan larger shoots/campaigns before posting allows brands to increase their social reach most organically," she said. This goes back to that idea of marketers being frugal with their resources.
It speaks to the fact that gone are the days when a brand could simply post a still image with a caption and a few hashtags and they'd get a few sales off the back of it. Consumers en masse no longer buy into that strategy. Instead, marketers are having to relearn how to tell their brand stories by video — in this case, short-form video — in an attention-grabbing way, without appearing too much like an ad, or they risk being "canceled" from a platform.
"We can't just shout products and messages into the social echo chamber anymore and hope the algorithm or paid targets do their job," explained DeBrunner. "We have to rewrite the playbook on how to empathize, connect and offer true value to the consumers and communities we want to engage."
DeBrunner's point is that short-form video has forced agencies and brands to think outside the box, and TikTok's own tagline ("Make TikToks, not ads") only drives home that point further. Simply put, the video content needs to be native to the platform, because consumers are fed up of seeing ads.
"You're seeing more content than ever shot on iPhones," said Brendan Gahan, partner and chief social officer at Mekanism. "It's more approachable. Less produced and built for speed. Thumb stopping content wins. Additionally, creators and content contributors have been embraced. You see brands and agencies working with creators on an ongoing basis. You see 'chief TikTok officers' and collaborations. This isn't just influencer marketing — it's bringing great creators, native to the platform into the fold."
https://digiday.com/?p=519040
December 8, 2023 • 3 min read
For Atlas Creative, expanding into Roblox is not solely a play to scale up. The company believes there are concrete benefits that will come with having a hand in multiple metaverse platforms.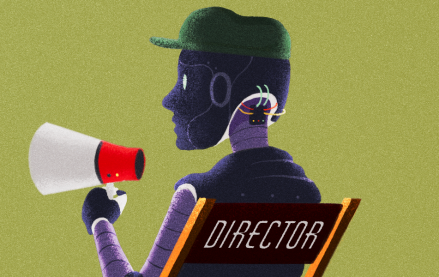 December 8, 2023 • 5 min read
Since ChatGPT became a breakout hit, the names of numerous AI companies and products have entered the cultural vernacular.
December 8, 2023 • 4 min read
Even as linear TV ad spend declines, 23andMe is reinvesting in the channel to boost brand awareness.