High schoolers hashtag to win Adidas gear — and promote the brand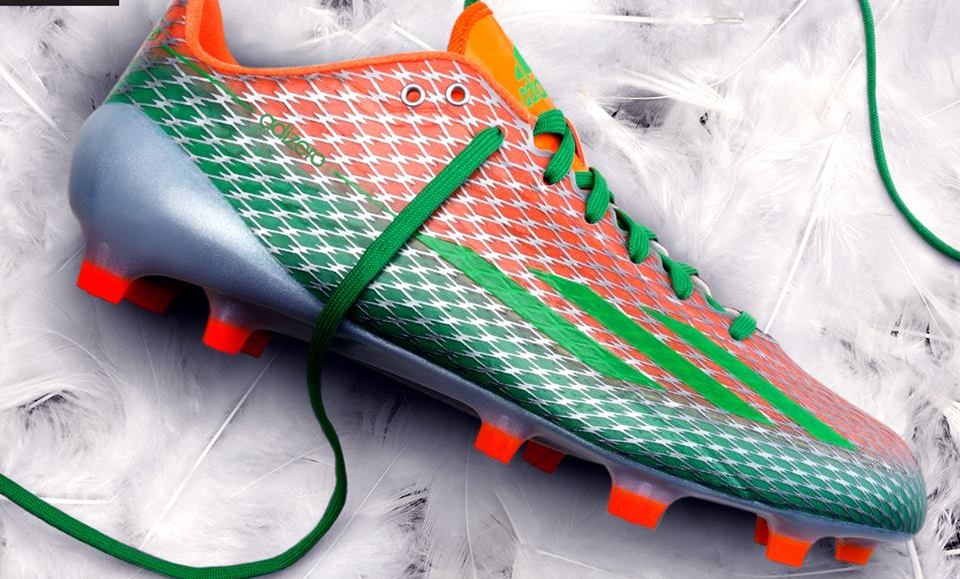 One lucky U.S. high school team will soon be equipped with new pairs of Adidas football cleats, thanks to the power of the hashtag.
In a campaign that launched two weeks ago, Adidas announced it will reward one of 16 high school teams chosen nationwide with new shoes. The campaign, which runs like a March Madness bracket, asks high school football players across the U.S. to vote for the most cleat-worthy of 16 schools over Twitter and Facebook. As such, Adidas is counting on kids to do their marketing for them: Friends will nominate friends from other high schools to spread the word organically, and the spirit of competitiveness will inspire others to vote against their rivals.
"What we know is that if we provide them something they're interested in, they'll become PR machines in their local areas," said Jeremy Darlow, Adidas' senior brand and digital marketing manager. "By giving them the nugget that they want — every kid wants their team to have their best gear — it expands from there. They spread the word to the degree that they can never do."
So far so good: Eight high school teams remain out of the original 16, and there are two weeks left to vote for a winner.
In order to ensure high school football players were the only ones voting, Adidas uses a mobile-oriented click-to-buy platform, Chirpify, which sends out automatic responses to high schoolers that have voted with both the #adidaszero and #vote hashtag. The #vote hashtag works like a beacon to signal Chirpify to send out a response to the high schooler voters.
Once they receive the response, the high schoolers are then prompted to sync their Facebook profiles and provide data about themselves in order for their vote to count, including age, name, email and team they're voting for.
"The opportunity came up because we wanted to make sure we were targeting high school football players," said Darlow. "It's a niche audience, and the promotion is only to kids who play football in high school. If we'd said, 'Enter here' or 'Go to this .com,' we wouldn't have gotten as much engagement. We're doing it in the spaces where the kids are — on their phone more than anything at this point."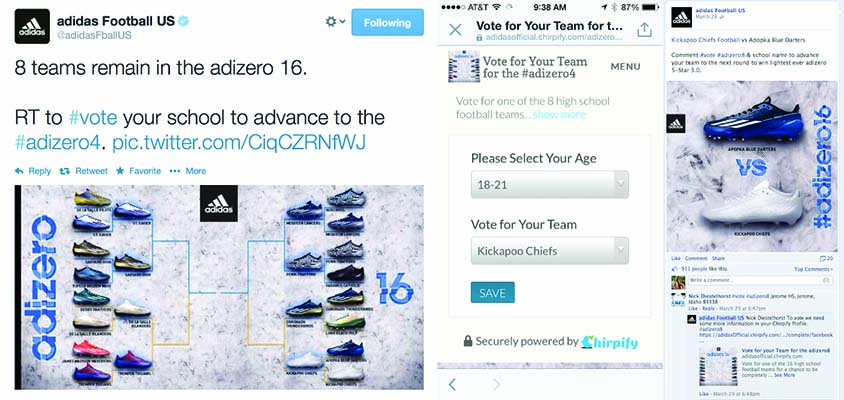 Adidas has used Chirpify before, most recently in December, when it was promoting its striped Carmouflage cleats in an enter-to-win contest.
Within two weeks of launching the campaign, Darlow says Adidas added more than 100,000 new Facebook followers. On Twitter, Adidas saw more than 2,200 hashtagged tweets. Adidas' Football Facebook page posts garner several hundred likes and comments a piece; on Twitter, the tweets promoting the contest receive between 20 and 80 retweets. In terms of conversions and those voted so far, Darlow wouldn't give data but said the social tool is working "extremely well."