Madison Avenue has dispersed and decamped south in Manhattan. The truth is there's no nexus of power of advertising agencies, but there are favored pockets.
One such place is a small enclave on the western fringes of SoHo, just far enough away the hordes of tourists that descend on the main shopping fares along Broadway and West Broadway. The 10–block area, which corporate real estate agents desperately want to christen Hudson Square, is home to an increasing number of advertising agencies: Zenith Optimedia, Saatchi & Saatchi, Havas, Edelman, AKQA, Doremus and Wieden + Kennedy. Merkley + Partners is also nearby, as is ad school Hyper Island and Digiday, too.
"West SoHo, or Hudson Square, as realtors call it, is today's Madison Avenue," said Jonah Bloom, chief strategy officer and newly crowned co-president at KBS, which has made its headquarters at Varick Street and Vandam for 13 years.
For too long, the no-man's-land between SoHo and the West Village and TriBeCa was home to industrial companies and printing presses. But more recently, it has become a haven for ad agencies looking for a hipper, more "downtown" image.
What makes Hudson Square worth a visit?
We dwell in the traffic catchment area of the snarling, honking hellhole that is the entrance to the Holland Tunnel, but that's about my only knock on this neighborhood as a place to spend most of your waking hours. Most obviously being here means everything SoHo has to offer is a few minutes' walk – grab one of the many Citibikes around here and even the trendy stuff east of Broadway is in easy striking distance. But being a block or two removed from that shopper's paradise also makes it easy enough to escape the teeming tourist hordes and enjoy some of the excellent work diversions on SoHo's periphery and to our north and west.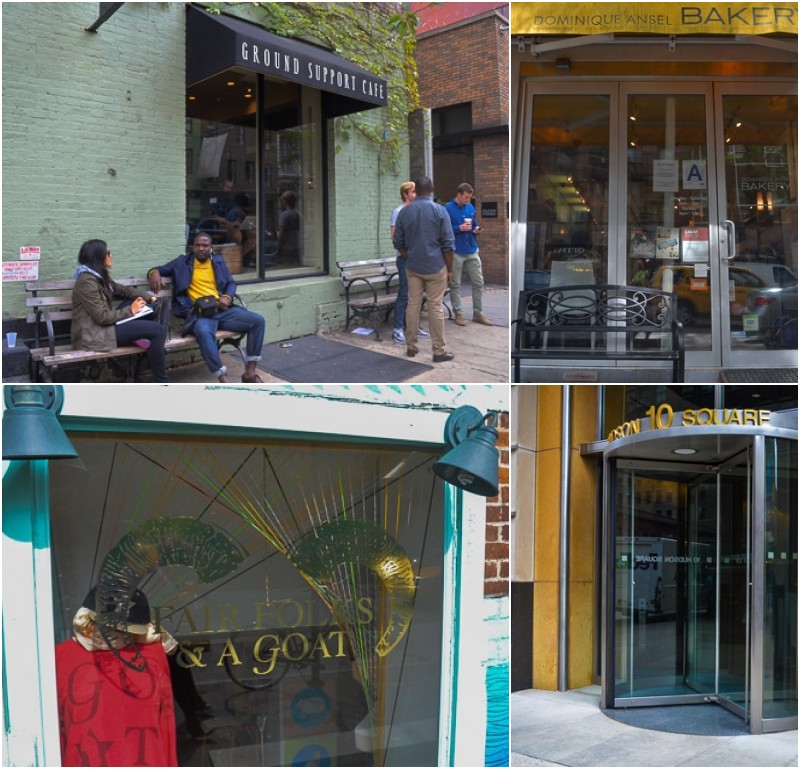 What are some of the area's best diversions of the alcoholic kind?
Mr. Dennehey's: If it's sunny, sit outside this hospitable Irish pub on Varick and watch beautiful people who've strayed from SoHo negotiate the crazy folk of Varick and Houston.
The Brooklyneer: While worrisomely popular today (oi, get out of my seat), this is an unfailingly fun place to enjoy your liquor or some Brooklyn-produced (the clue is in the name) food or beer. Good music. Great people.
Ditch Plains: Despite the reckless and unwarranted removal of the frickles (fried pickles) from the menu, this surfer-themed bar is a little neighborhood gem. The liquor's a touch pricey, but the vibe and the grub is good – thank the food gods that the jalapeno tater tots survived the recent cull. The location on the cross streets of Downing and Bedford, nestled between some beautiful old carriage houses, is about as cute as it gets down here.
Westway is the kind of place you roll to on a Friday or Saturday night if you're really trying to get grimy. Conveniently located next to a shady strip joint, Westway, a former strip club allows you to pretty much get away with anything. This is not the kind of place where patrons are taking photos. What happens at Westway stays at Westway.
If you are craving a stupidly expensive cocktail inspired by British imperialism in Burma in the late 1800s – and who isn't struck by that hankering once in a while – you could hit up The Pegu Club on Houston. Some people do. At the other end of the spectrum, there's Off The Wagon. Personally I wouldn't, but some of my colleagues assure me it's just dandy, something about $5 jugs of beer and the chance to be surrounded by hundreds of drunk-ass bros.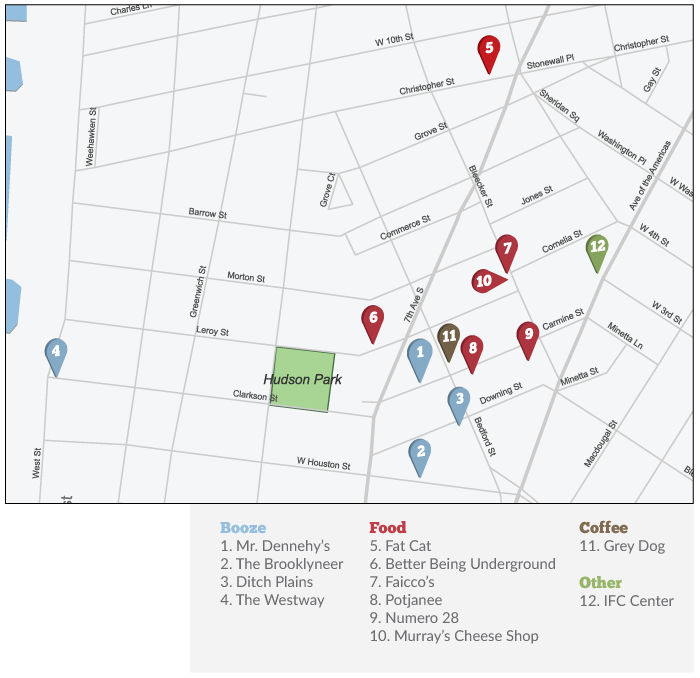 Once you've drunk all that, you need to eat, right?
Calexico's food cart on Wooster just north of Prince – open from spring to fall. Get there early to avoid the lines and nab yourself one of the best burritos in New York. If you're a kati roll fan, Thelewala is worth the walk to MacDougal and West 3rd. Highly rated sandwich options include Alidoro on Sullivan or Olives on Prince.
Just over on Carmine Street is Potjanee, a little slice of Thai heaven. As my colleague Regina Manning put it, "It's cheap as Bangkok, feels like it is Bangkok; the entire menu is perfect. I don't believe they've ever made anything average." And, while we're on Carmine, let me start a quick New York pizza argument: Numero 28 makes as good a pizza as I've had in Manhattan. Brooklyn would be a whole other question.
Also, if you're feeling down, I recommend you walk to — and then walk past — Dominique Ansel on Spring St. The line of people who aren't really sure why they're there will make you feel better about being you.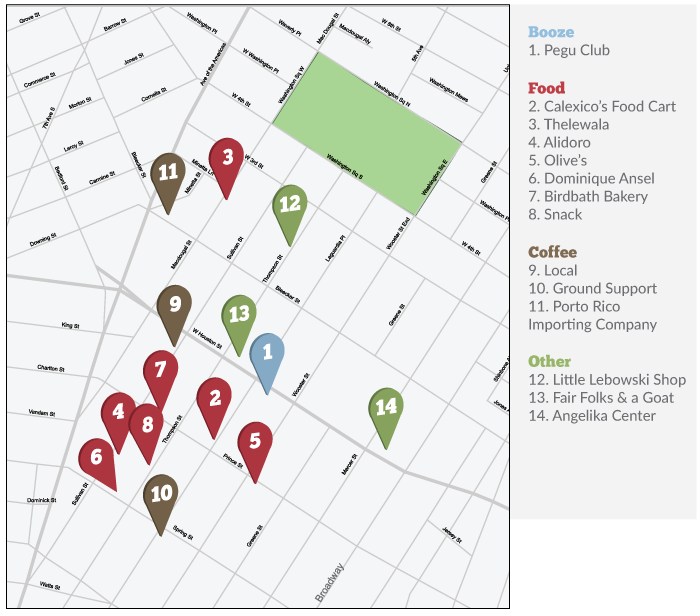 Best coffee?
The best espresso in the hood (cue another argument) is at Ground Support on West Broadway. I don't do lattes, but lots of people who do swear GS's are among the very best they've ever had. Try the prosciutto, taleggio and rhubarb-strawberry jam. Also, look up from your iPhone, because there is probably someone very beautiful standing three feet from you. Other good coffee options include Grey Dog on Carmine, Joe's Stir Brew on Sixth and the Porto Rico Importing Company.
Where do you hang out when you want to get away from the office and brainstorm?
Probably most importantly you should know that there is a Big Lebowski store called the Little Lebowski on Thompson. It sells nothing except Lebowski stuff.
A shout out from my colleague Jaime Vaillancourt to Fair Folks & A Goat on Houston, part boutique, part subscription coffee, beer and wine club. For $25 a month, you get coffee/tea on the house, as well as discounts on handmade merchandise. A portion of the monthly membership fee goes to charity.
Photos by Tanya Dua. 
https://digiday.com/?p=90772
December 8, 2023 • 3 min read
For Atlas Creative, expanding into Roblox is not solely a play to scale up. The company believes there are concrete benefits that will come with having a hand in multiple metaverse platforms.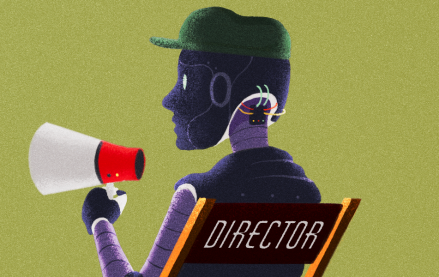 December 8, 2023 • 5 min read
Since ChatGPT became a breakout hit, the names of numerous AI companies and products have entered the cultural vernacular.
December 8, 2023 • 4 min read
Even as linear TV ad spend declines, 23andMe is reinvesting in the channel to boost brand awareness.