Brands often ask fans for likes, shares and follows on social media. Sometimes, to show their thanks, brands do cool and unexpected things to give back to their social media fans.
More than any online interactions, it's these instances of brands turning online relationships into real-life experiences for their fans and followers that make brands seem more human. Check out these five examples of brands that found ways to surprise and reward their fans in real life. None of these examples are grand productions. It just shows that even small gestures from brands to their fans can create a large impact.
1. Virgin Atlantic
As part of its "Flying in the Face of Ordinary" campaign, in March Virgin Atlantic decided to send its marketing team and cabin crew members to cheer up people in Boston by making special deliveries and doing good deeds for people who weren't having the best of days. The airline brand looked at its Twitter followers to find people in Boston tweeting about things like having to wait in the snow for a train or other everyday annoyances. The Virgin Atlantic team reached out to these people via Twitter direct messages to locate them and arrange things like delivering 100 cupcakes to a blogger and his coworkers and giving a women a ride to a business meeting and preparing her for the cold with a pair of gloves and a hat. Virgin Atlantic brought this effort to other cities too, like Washington and New York.
Not everyday we get visitors from London at our office — armed with cupcakes, no less. Thanks @vaaintheusa for stopping by! #FITTFO

— Bully Pulpit(@BPIMedia) March 13, 2013

2. Samsung
Last August, Samsung customer Shane Bennett took to Facebook to ask the mobile phone brand for a free Galaxy X3. Bennett also included a cute drawing of a dinosaur going "rawr," you know, for brownie points. Samsung responded playfully explaining why it couldn't give him a free phone and also included a drawing of a kangaroo on a unicycle to return the drawing favor. The whole exchange obviously ended up on Reddit and created a lot of positive buzz for Samsung, so Samsung ended up actually giving Bennett a free Galaxy X3 with a custom design: Bennett's dinosaur drawing. That's a pretty awesome gift from a brand.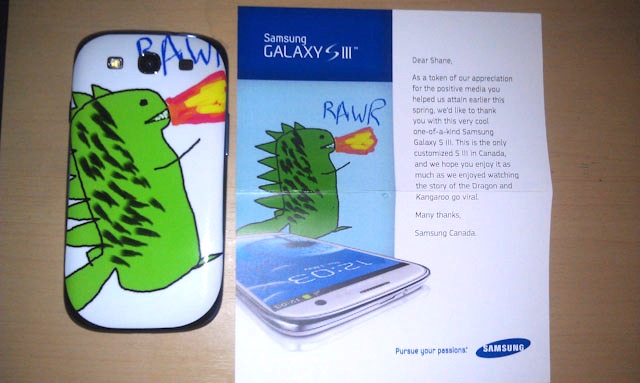 3. Taco Bell
Taco Bell recently created a set of eight custom Taco Bell rings to send to its influential Twitter followers. The ring set included two rings, one that says "Taco" and the other "Bell." The recipients of the rings happily tweeted and Instagramed pictures of their new rings.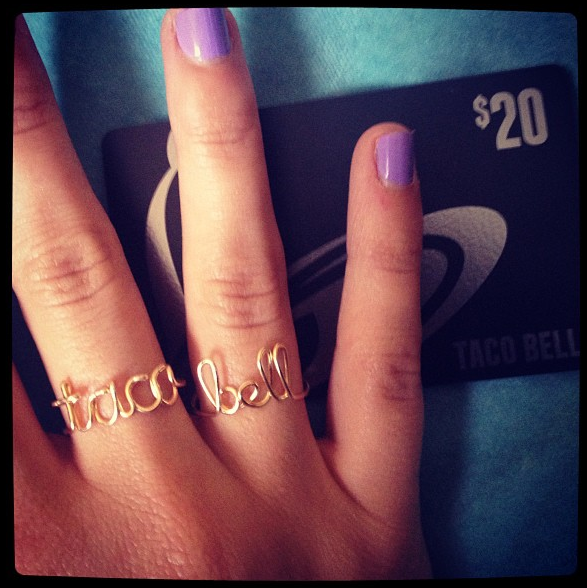 4. Chevrolet
David Bowers is a soccer fan who lives in Australia. Earlier this year, it was his dream to go see his favorite team, Bradford City, play in the finals at Wembley. Thinking he wasn't actually going to make it all the way to the U.K. from Australia, Bowers posted a photo of himself on Facebook with a note asking for 1 million likes to persuade his wife to let him fly to the U.K. for the match. To his surprise, he quickly got hundreds of thousands of likes. That's when Chevrolet, a sponsor of international soccer stepped in and promoted Bowers' message. The auto brand helped finance Bowers' trip to see the game and gave him a Chevrolet Volt to use during his stay in the U.K.
5. Pepperidge Farm
One day a blogger named "Rob G." posted on his "autobiographical" blog a post about his love of Pepperidge Farm Milanos entitled "The Milano: An Ode to Pepperidge Farm." It's a bizarre and long-winded piece describing how the author randomly bought Milanos and just fell head-over-heels in love with them. Anyway, Pepperidge Farm found out about the post and did something awesome. The brand sent Rob G. a package full of bags of Milano cookies, accompanied by a handwritten note thanking him for his post and his love of its product. It's a simple, small gesture, but it's a cool thing for a brand to do.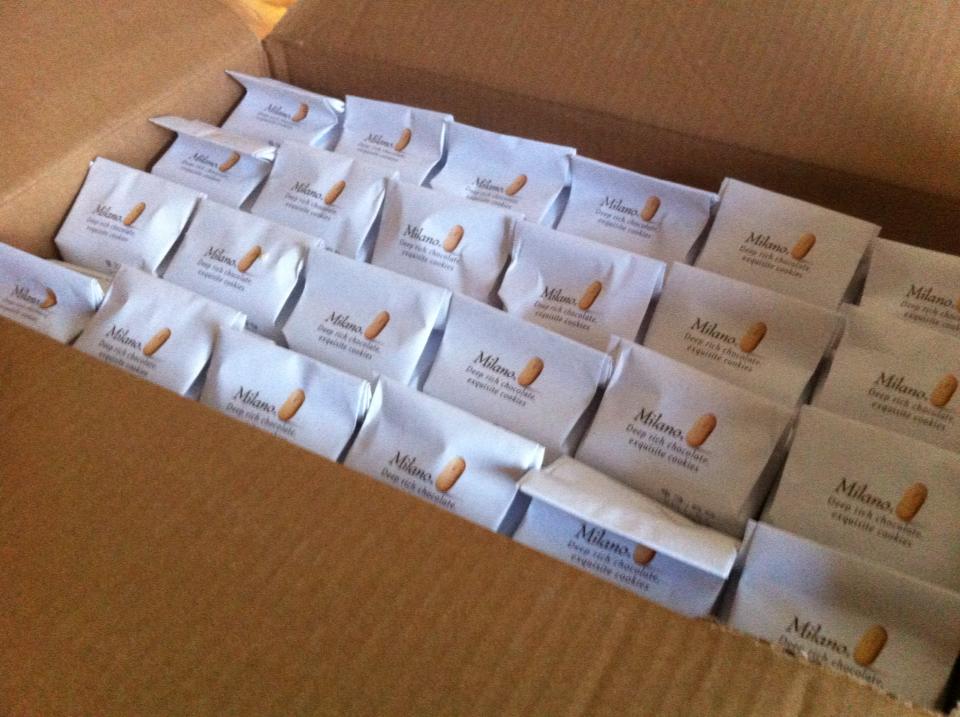 Image via Shutterstock
https://digiday.com/?p=39820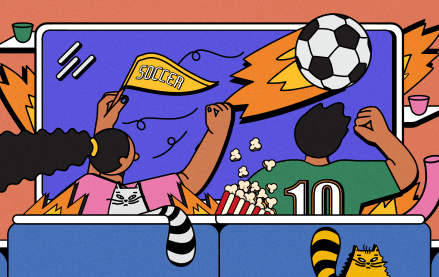 December 1, 2023 • 4 min read
Even if a game isn't make or break, sports leagues and brands want fans to be paying attention — and they're hopeful new strategies will get it.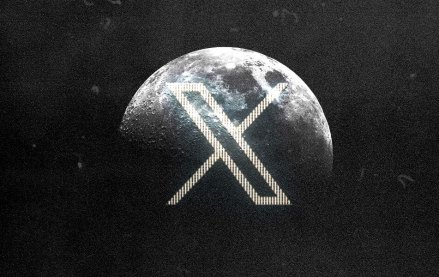 November 30, 2023 • 4 min read
In the packed DealBook conference in New York yesterday, owner Elon Musk bluntly told them to shove it.
November 30, 2023 • 2 min read
WorkTok, or CareerTok, is in full force. Combined, those hashtags on TikTok have over four billion views and it is benefiting Gen Z.