2015 report card: The year in retail tech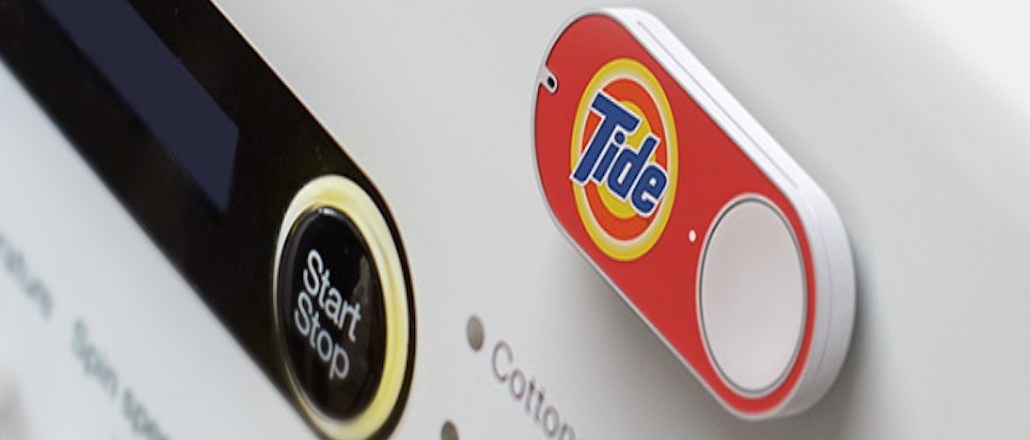 Retailers are currently facing an onslaught of innovative technology meant to solve some point of tension for shoppers. Maybe it's a solution for seamless mobile checkouts or a way to improve the brick-and-mortar shopping experience. The tools are there, but retailers across the board are having a tough time integrating them.
This year saw a surge of beacon push notifications, a mass rollout of buy buttons on Pinterest, Twitter, YouTube and Instagram, the debut of Amazon Dash, and more companies tinkering with more advanced plays like virtual reality and RFID tags.
Some companies claim to be setting up brands for the new "future of retail," but not all had a smooth transition into the spotlight in 2015. Here's a rundown of where the top retail tech stands, and which is positioned for a bigger 2016.
Mobile apps
The traditional mobile app continues to be a point of contention for retailers. There's the existing feeling that no matter what, every brand should have a mobile app. From there, there's not much proof that every brand knows what to actually do with their corner of the app store. That, of course, doesn't stop them from debuting: companies like Everlane, BaubleBar and Alex and Ani premiered mobile apps in 2015.
A study by Forrester and RetailMeNot, released in June, found that of the 500 customers surveyed, 60 percent of consumers who use a smartphone to shop have fewer than two retail-specific apps on their phone, while 21 percent have zero.
"Apps are simply too expensive to build and maintain for most retailers, begging the question – what's after apps?" Forrester principal analyst Sucharita Mulpuru asked in the study. Across the board, few retailers have made their apps useful enough to warrant frequent use. Target's Cartwheel app (separate from its main mobile app, and meant specifically for deals and discounts) and Neiman Marcus's app that features a visual search product finder stand out.
While a mobile optimized site is a must-have for all retailers — your site won't show up at the top of a Google search if it's not mobile optimized — mobile apps aren't the catch-all answer to solving mobile commerce.
Grade: C
Beacons
In March, a Forbes contributor declared 2015 the year of the beacons. It wasn't, and 2016 likely won't be either. Until beacons and their geo-targeted push notifications can find a way onto smartphones without requiring customers both download an app and opt in to receiving messages, there are too many hurdles, and too much of the work is on customers' shoulders.
Only companies that have a strong loyal customer base can hope that their beacon messaging will be effective. Target rolled out in-store beacon notifications to 50 of its locations this year, a promising move for beacon enthusiasts. However Target chose not to rely on quick and easy coupons as part of its beacon strategy, which have become overused by retailers and, as a result, feel like push-notification spam. Instead, Target's app remembers shoppers preferences to offer specific product recommendations and advises whether or not an item in your online basket is in stock in your store.
Target showed that there is good use for push notifications, but if people are barely using retail mobile apps to begin with, beacons are going to be sitting on the sidelines, except for a select few.
Grade: C-
Buy buttons
This year, platforms brought commerce closer to the chest. Facebook, Pinterest, Twitter, Instagram, YouTube and Google introduced buy buttons, flagging items that were available to shop on their sites, or one click away from a product checkout page on the retailer's site. Some iterations work better, depending on context. A study has found that 93 percent of Pinterest users are scrolling through with some intent to buy, while YouTube's product-driven unboxing videos racked up more than 1 billion views this year.
"These are a good move for social media in general," said Danielle Bailey, research director at L2. "It's going to force these platforms to deliver what brands have been looking for all along — providing conversion measures. It will be interesting to see how this plays out."
Bailey predicted that buy buttons will have an impact on the way we shop — and won't go away — but it won't be massive. Basically, the convenience will be there, which is an improvement upon mobile commerce.
If anything, it's going to take the consumer some getting used to in order to trust places like Twitter and Pinterest with their ordering and shipping customer service.
Grade: B+
Amazon Dash
Amazon released its dinky Dash buttons on April 1, leading most of Twitter to believe the company was playing a prank. But branded buttons are here, and by pressing one, Amazon Prime loyalists can automatically refill pre-set online orders of Tide detergent, Clorox wipes and Gatorades.
While the buttons were released to a chorus of "are we really that lazy?" from confused consumers, Amazon is just beginning with connecting our homes to their services, and Dash buttons were "an experiment to see if something like this could be done," said Forrester principal analyst Sucharita Mulpuru.
In the future, the buttons themselves will disappear, but the idea of smart homes will stay.
"The next evolution will anticipate what you need, make recommendations and add more meaning to the service," said Mulpuru. "The buttons and the brands that go with those buttons are going to change frequently — the main power is at the platform level, not the individual button."
The Dash buttons themselves may not last, but the technology behind them will only improve.
Grade: B+
https://digiday.com/?p=152667