Video Briefing: Snapchat cozies up to more publishers for video shows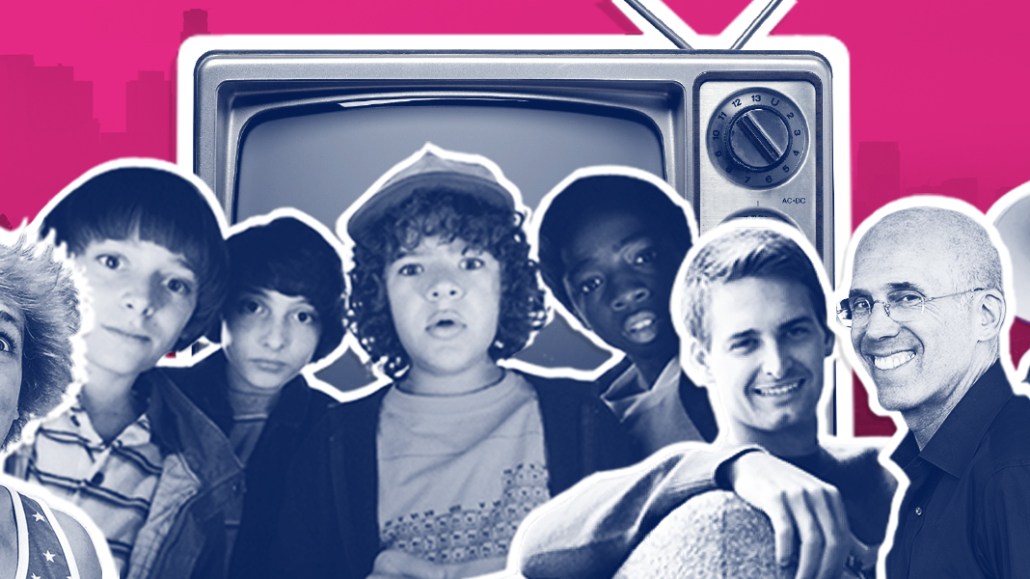 Welcome to a preview of the new Digiday Video Briefing, a new weekly newsletter from Digiday senior reporter Sahil Patel that will take you behind the scenes of an industry in upheaval. To get this in your inbox, sign up here.
Disillusioned by Facebook, some publishing executives are eager to do more with Snapchat — especially as the app prepares to double the number of original video shows it airs this year. One publishing exec, from a media company that has multiple Snapchat Discover channels, told me he's more confident in Snapchat's shows effort this year, particularly after it hired TV producer Seth Goolnik to head up its unscripted content efforts. (Snap vp of content Nick Bell runs the content team, with Sean Mills spearheading the original video shows initiative.)
"With [Seth Goolnik's predecessor at Snap], we'd talk back and forth about shows, but it wasn't clear if or when it was going to happen," this exec said. "With Seth, we're definitely going to do something together."
One area of concern is that Snap does not subsidize the cost of producing these shows, which has limited the number of publishers willing to make shows for Snapchat. But with Snap mounting a publisher charm offensive, its openness to work with more digital and legacy publishers on video shows and a redesign that makes publisher content significantly more visible within the app, expect to hear more publishing executives praise Snapchat going forward.
As for Snap's video shows strategy in 2018: Even though the company plans to vastly expand the number of shows it airs, it's also going to be more focused, sources said. "They tried to replicate the entire universe of broadcast and cable, which made it feel very unfocused," said one Snapchat content partner. "What we've heard from them is that there's more of a concerted effort to be more focused on the type of programming they do: Rather than be the entire cable universe, they'll try to be a compelling single cable network."
Three questions with…
Athan Stephanopoulos, president of NowThis
NowThis has a website again. Why?
The pretty simple answer: We are producing a tremendous amount of content on any given day. This allows us to house all of the great work that our team does. And as we increasingly move into mid-form and longer-form content, the site adds one more distribution point to our sales matrix.
Did your Facebook video views decline after the news-feed change?
We've seen a low, single-digit decline over the last month. But that's pretty standard in terms of how we can look [on Facebook] month to month. There hasn't been this massive shift. The thing is, everyone else in the publishing landscape is now focusing on engagement. And this change will favor quality content. We've been doing both for a long time.
Is the distributed-media model still viable?
It is. There was a huge rush to go that way, and now, everyone's panicking. But both NowThis and Group Nine holistically remain focused on the distributed model across many platforms, whether it's a social site or streaming over-the-top platform. In today's media landscape, you still have to bring content to where the users are.
Confessional
"With Facebook Watch, it's clear that Facebook was writing checks but unclear on how long they'd be writing checks for. So we went all in, and made a bunch of series and produced them as quickly as we could because it's Facebook, and you never know if and when they'll change their minds." — Publisher on producing for Facebook Watch
What we've covered
CBS remains aggressive about its OTT ambitions:
CBS All Access and Showtime have a combined 5 million subscribers.
An entertainment news streaming channel is coming in the fourth quarter.
Read more about CBS's OTT strategy here.
Barstool Sports got 41,000 people to pay for an amateur boxing pay-per-view:
PPV buys totaled more than $550,000 in revenue.
It's uniquely Barstool, but the PPV event could lead to other commerce-related revenue in the future.
Read more about Barstool's latest antics here.
What we're reading
We have streaming revenue, too, says NBC: According to the media giant, 44 percent of the revenue NBC has earned from "This Is Us" comes through digital viewership. With TV ad sales as a whole down 8 percent in 2017 compared to the previous year, it's getting more and more important for TV networks to talk up their digital businesses. Expect more of this.
YouTube holds spending on Red originals: Does this sound familiar to anyone? As I reported a few weeks ago, YouTube Red is in the midst of an identity crisis. When the CEO of YouTube calls YouTube Red a music service, it doesn't matter how much money the company spends on TV shows and movies. There's still money to be made if you can sell or license a project to YouTube Red, but it's not going to be a Netflix competitor anytime soon — if ever.
https://digiday.com/?p=277351