Video Briefing: Apple and Google's app store taxes can be costly for OTT channels
January 9, 2019 • 8 min read
• By
Digiday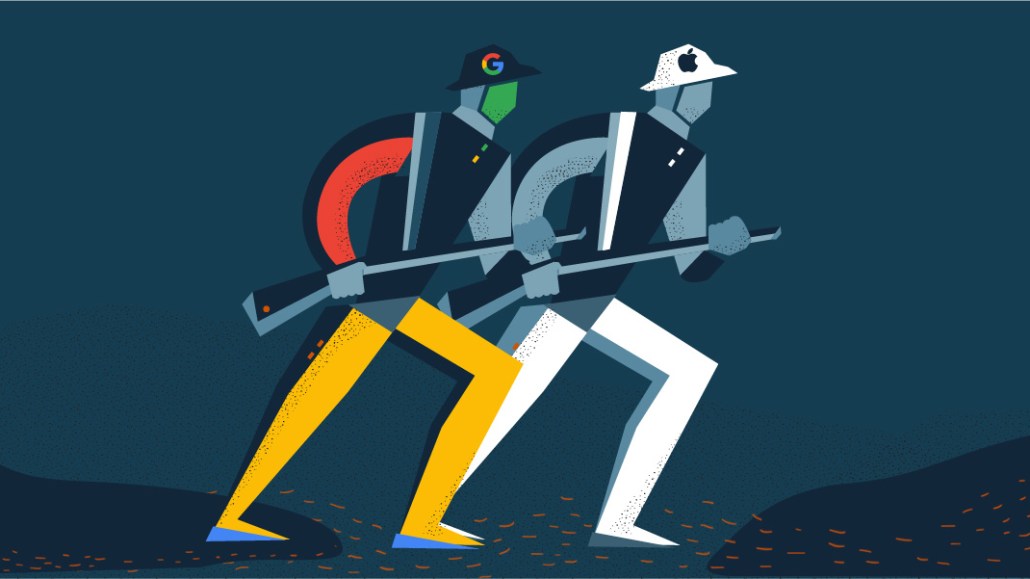 The digital "store tax" levied by distributors such as iTunes and Android can be a hard pill to swallow for streaming video companies — even if many have accepted it as just the cost of doing business on those platforms.
The key hits:
Netflix recently bypassed the Apple iTunes tax of 30 percent (and 15 percent in subsequent years) by preventing new subscribers from signing up on iTunes.
There is growing pressure for Apple and Google to reduce the cut they take from in-app purchases through iTunes and Android's app stores.
For video programmers, the economics are tough: a 30 percent tax, plus 10 to 15 percent of revenue going toward subscriber acquisition costs, plus content acquisitions and other costs make it hard to build a sustainable balance sheet.
For big companies such as Netflix, it's less of an issue; for smaller programmers, the store tax has become just the cost of doing business.
Marketplaces/stores certainly provide value in everything from new audiences to billing services.
But new competition among other distributors is the only thing that will incentivize any distributor — from storefronts to channel resellers — to offer more favorable terms.
In December, Netflix instituted a workaround on the "Apple tax," which takes a 30 percent cut of subscription revenue whenever someone signs up and pays for Netflix through their iTunes account. As it did with its Android app earlier in the year, Netflix made it impossible for new users to sign up for its service through iTunes — they now have to go directly to Netflix to do so, which Apple and Android don't get to collect on. Netflix was reportedly paying $256 million per year in commissions to Apple. (After the first year, the iTunes tax goes down to 15 percent for all subscribers that haven't churned out; the same goes for Android.)
There has been growing pressure for Apple and Google to reduce these fees. Here's one reason why, at 30 percent, the tax is incredibly difficult for streaming video programmers to swallow: in a best case scenario, 10 to 15 percent of an SVOD channel's revenue goes toward subscriber acquisition, according to an exec at a prominent studio. Add in the 30 percent that goes to the platform and the programmer is only getting roughly 50 to 60 percent of revenue — and this doesn't factor in costs associated with licensing content since most SVOD programmers don't produce all of their programming internally.
Now, for a service as big as Netflix, iTunes is not responsible for much of the company's revenues, which are expected to near $16 billion in 2018. But for other programmers — especially smaller digital media companies — iTunes and other storefronts managed by Google, Roku and others could play a huge role.
Online news video programmer The Young Turks Network, for instance, gets a majority of its new subscriptions directly through its website, but iTunes and Android account for a quarter of new sign-ups each — and that share is growing.
"Losing 30 percent in the first year is painful, but iTunes is such a huge place — it's like being on YouTube, you have to play on these platforms and you have to share revenue," says Steven Oh, chief business officer for The Young Turks Network. "We have no choice. It's the cost of doing business."
Platforms have immense reach and when you're in growth mode, you need platforms such as these to bring your brand and content to new audiences. The churn also typically happens to be lower here. And the costs for running a marketplace, as well as handling things such as billing and customer support, are real — so of course the storefronts should warrant a profit, says Chris Erwin, co-founder of Doing Work As.
The question remains whether the storefronts can find value and profits at a percentage lower than 30 percent. A 15 percent tax is certainly more palatable for programmers, and could provide Apple, Google and others a competitive advantage against streaming channel resellers such as Amazon and Roku, which in some cases collect as much as 50 percent. (Here, as some Amazon Prime Video Channel partners have recently told me, the tax isn't always a straight agency-style commission. At least some bigger partners sell their subscription channels to Amazon at a fixed, wholesale price.)
More tech companies and cable operators are racing to build streaming channels businesses in the vein of Prime Video Channels, which are not exactly the same as an app marketplace but are similar enough. With more competition, there's the possibility that the distributors compete against each other to offer better terms to programmers.
In the meantime, if you're a subscription video programmer, your best bet is to get as many direct subscribers as possibly — and then diversify the number of sources that bring in additional users. New ecosystem, same rules.
Confessional
"We had spent a year, a year and a half, telling people to view Watch in a different way. 'This is a premium surface; this is where in-stream ads are.' But as the pressure kept mounting, there was a sudden shift in strategy: We were going to rip the band-aid off and now all of the video was going to be in Watch. It felt counterintuitive to the narrative we had been building up in the market." — Former Facebook executive
This week on… Apple as a service provider
Apple beat the CES news wave earlier this week by announcing that it was going to launch an iTunes app on Samsung TVs, enabling users to buy, rent and watch movies and TV shows on iTunes without requiring an Apple TV box. This is a pretty big deal — not because a lot of people like to use iTunes to buy or rent movies and TV shows — but because of what it means for Apple's ambitions as a services company.
Last week, Apple issued a guidance that slashed its quarterly revenue forecast for the first time in 15 years. Both domestic and global iPhone sales are stagnating, and with this Samsung partnership, Apple is admitting that Apple TV hasn't taken off. The company's future is in getting people to pay for its services — ideally through a subscription model that could include everything from cloud storage to Apple Music, AppleCare and video. There is a reason the company is spending more than $1 billion on original movies and TV shows with high-profile filmmakers.
"If you [as Apple] see originals as being a perk of being an Apple hardware owner or services subscriber, and you know Apple TV is a non-factor, and you are authenticating with an Apple ID to view on Samsung devices, then that at least extends the reach of the Apple relationship [to non-Apple devices] and keeps you quasi in the Apple ecosystem," says a source from an Apple original series producer.
Where this gets really interesting for media companies is if Apple chooses to bring its rumored subscription channels service into this mix. Apple reportedly plans to make its own original series free, but wants to sell other companies' subscriptions — a la Amazon Prime Video Channels. What if this offering is made available through the iTunes app on Samsung TVs and other TV sets Apple might launch the app on? Something to think about.
Numbers don't lie
25 million: Number of Hulu subscribers across all of its tiers, including ad-supported, ad-free and live TV.
24.2 million: The average-minute viewing audience for Netflix's "Bird Box" in the U.S. within the first seven days of the film's release, according to Nielsen.
What we've covered
Turner is using Xandr and AT&T subscriber data to sell targeted TV ads:
Turner and Xandr have taken set-top data from 25 million households subscribed to DirecTV and U-Verse and added it to Turner's AudienceNow product.
Xandr has created 30 audience segments such as "road warrior"and "news junkie" for Turner to sell advertisers to across its properties.
Read more about AT&T, Turner and Xandr here.
What we're reading
A Q&A with Disney CEO Bob Iger: How's Disney's shift to direct-to-consumer being received internally? "We're now at a point where the buy-in is complete, there is no resistance," says Bob Iger. "There are no pockets of traditionalism here that are in any way getting in the way of what we need to do." Check out the full interview for Iger's thoughts on what will definitely be one of the biggest stories of 2019.
NBCU is reducing its TV ad load even more: NBCU says it will reduce commercial breaks in prime-time TV by more than 20 percent across all of its networks by 2020; previously, the goal was to reduce ad time by 10 percent. The media giant is also looking to slash TV ad breaks during other day-parts, as well as TV ad loads across many of its original series. What this also means is that NBCU will be looking to charge more for the ad inventory it does make available. The company said its digital and advanced TV ad business now brings in $1 billion in annual revenue.
Talks for a CBS-Viacom merger could resume soon (sub required): This still feels inevitable.
Apple gets cheeky with digital ad giants in Las Vegas: Apple, which historically does not show up to CES in any official capacity, has plastered an ad on the side of a hotel that reads: "What happens on your iPhone, stays on your iPhone." It's a clear shot against the digital ad giants Google, Facebook and Amazon by using Las Vegas's most-famous tagline. But it's also rich considering that Apple gets paid by Google to make Google Search the default search engine on iOS devices — and last I checked, I can still download and use Facebook, Instagram and WhatsApp on my iPhone.
https://digiday.com/?p=317556