Pivoting-to-video publishers face a big monetization gap
September 28, 2017 • 5 min read
•
•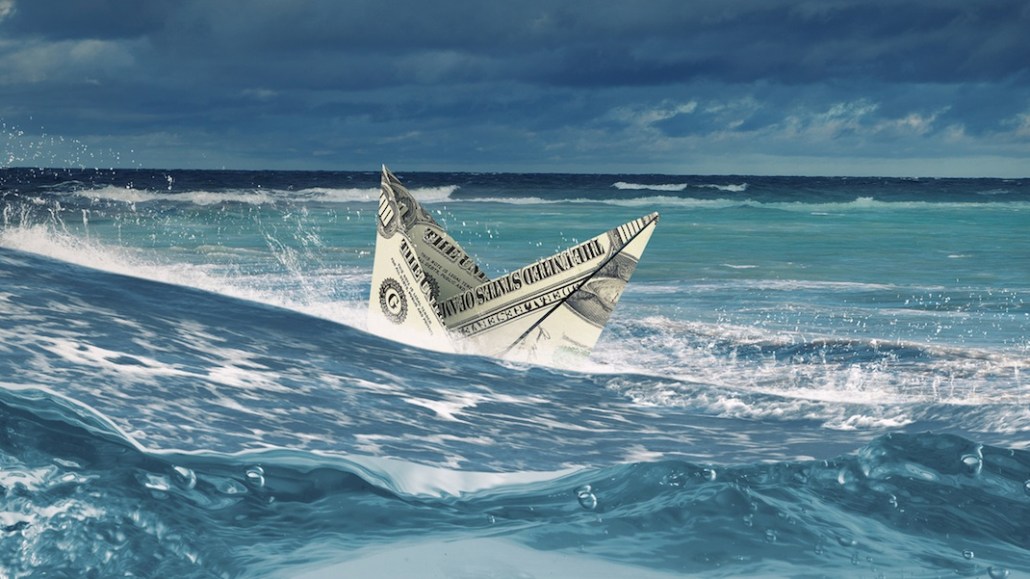 Publishers are pivoting to video, hoping it'll pay off in ad dollars. But despite the big view numbers they're generating, the revenue is often a mirage.
The majority of those views take place off those publishers' own platforms and occur on platforms that have tons more scale (Facebook, Instagram and YouTube) and have optimized themselves around video. That could be because, like BuzzFeed or NowThis, they deliberately built their business on social distribution.
The chart below illustrates the gap. For these publishers that have made a big push into video lately, most of their views take place off their own site.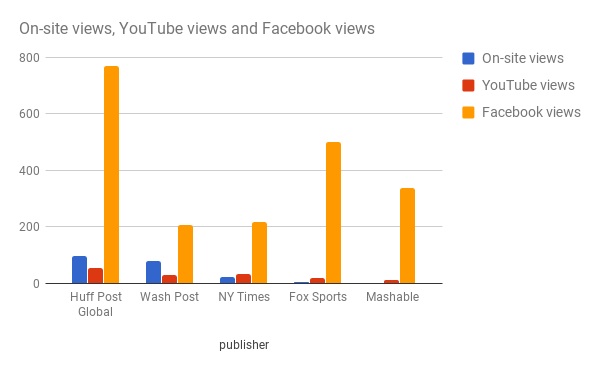 "It's a terrible trap," said Andy Feinberg, CEO of Brightcove, which powers video players on publishers' sites. "[Publishers] have to be on these platforms to retain their audiences and make sure their brand is being presented to a broad audience, and their competitors are there. But the ability to monetize on these platforms is not the same as their ability to monetize on their owned-and-operated platforms. Their CPMs are low; their revenue streams are suffering."
Second, the big view numbers publishers are getting off their own sites are somewhat deceptive because for various reasons, not all those videos can be monetized. Facebook is testing mid-roll ads in publishers' videos, but video has to run at least 90 seconds to be eligible for the test — and viewers have to make it to the break. That doesn't help publishers that specialize in short videos, which often is true of news clips. The mid-roll test is still just a test, and publishers who are participating in it have said they're only making a little money on it at this point.
Then, there are self-imposed limits. Case in point is Bleacher Report. It can sell ads against all the videos it runs on its own site. But most of its views take place on Instagram, Facebook and YouTube, and while marketers pay to sponsor those videos, Bleacher Report is careful to limit the sponsorships it runs on video-heavy Instagram to about one out of four videos, so it doesn't turn off viewers with a constant stream of "brought to you by" messages. Publishers participating in Facebook's mid-roll test took a similar position since mid-roll was new.
"On social, if every video has a 'brought to you,' it might diminish the [user experience]," said Keith Hernandez, Bleacher Report's svp of strategy. "And you're not the only publisher that's in someone's feed."
When publishers do monetize their distributed video, it's not as lucrative for several reasons. There are measurement gaps by companies that track social video, which limits publishers' ability to sell their video audience to advertisers. There's an issue of whether the video ad gets counted as being seen, which is dubious given how fast people scroll through their news feeds. Then, publishers have to take into account the share of revenue that the host platform keeps (45 percent in the case of Facebook's mid-roll ads, the same as YouTube's split).
Bleacher Report said the CPM on its social video is roughly half what it gets on its own site. For USA Today, the ad rate on social video is one-third to one-half what it gets on its own site. One video exec at another premium publishing company said that while video on the publisher's own site can command a $70 CPM, on Facebook and YouTube, the effective ad rate drops to around $20.
The conundrum publishers face is that they have to go where the audiences are, even though the monetization lags. The Washington Post makes money on 80 percent of its video on Facebook and all its YouTube video, but because of the platforms' tracking limitations and their revenue share, "the monetization still has a lot of room to grow," said Micah Gelman, director of editorial video at the Post.
Years ago, Feinberg said, publishers were happy to take YouTube's money to run their video on the platform. This helped train audiences to watch video on YouTube and the like, instead of publishers' own sites. The technology costs of serving video on your own site are decreasing, but it's expensive to make high-quality video, and monetization still lags on social video. Progressive publishers are starting to think of social as a discovery vehicle, a place to put their less timely, less premium video, while keeping their more valuable video for their own sites.
Other publishers like the Post cope by not expecting distributed video to drive their business. Bleacher Report values engagement it gets on videos over mere views because it can use engagement as a selling point to advertisers.
"The inclination is that every video view needs to be monetized and also that video view is the North Star metric for success," Hernandez said. "I say, quality of user experience is key. You want an active, not passive, viewer that's so excited about what you're doing that they want to share it."
https://digiday.com/?p=256216
This week's Future of TV Briefing looks at how this year's upfront and recent announcements from AMC Networks and Paramount indicate the progression of programmatic in the TV and streaming ad market.
This week's Future of TV Briefing looks at how major streaming service owners' subscription business fared in the third quarter of 2023.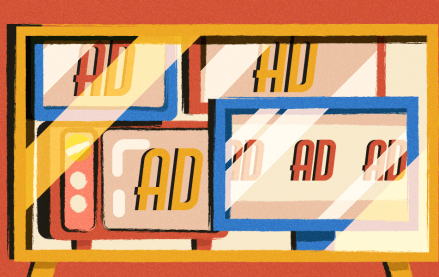 This week's Future of TV Briefing looks at what TV and streaming companies' latest quarterly earnings reports indicate about the state of the TV advertising market.