No longer under BuzzFeed, the Try Guys are building an independent media business
December 16, 2019 • 4 min read
•
•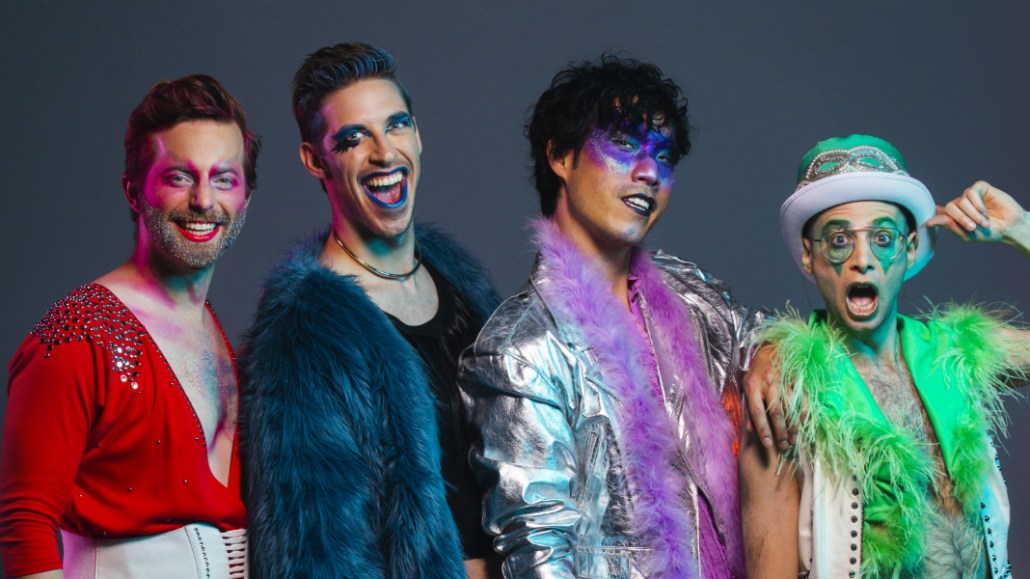 The four-person entertainment group The Try Guys has grown from a video series owned by BuzzFeed to its own independent company that sells merch, books and a premium subscription. The main goal for next year is to grow sponsorships that will enable them to move onto digital streaming platforms and even TV.
In the beginning of 2018, The Try Guys left BuzzFeed to create 2nd Try, a production company owned and managed by the original "Guys" Ned Fulmer, Keith Habersberger, Zach Kornfeld and Eugene Lee Yang. The company, which is profitable according to Fulmer, produces several revenue streams, mainly driven by branded content deals and advertising on its videos and podcasts. Consumer revenue has been a growing area over the past year, with book sales, merchandise sales, a tour monetized through ticket sales and Patreon memberships.
But the quartet want to become more than an unscripted video content creator on YouTube, said Kornfeld, who shares the title of executive producer with the three other owners. "We've been using the Try Guys to unlock a lot of creative dreams and ambitions that the four of us have had together and as individuals,"he said, echoing a similar sentiment among many former BuzzFeed video stars.
The Try Guys channel on YouTube has over 6.6 million followers and is nearing 1 billion total views, driven exclusively by content distributed through YouTube and social channels. But the team's goal for 2020 is to develop new shows for streaming and TV platforms. The company has hired out a total of 15 full-time video editors and producers, as well as a social media manager, since launching the company in June 2018. The company also has plans to rent out an empty 5,000 sq. ft. production studio in Burbank, Calif. next year, that the team will renovate from top to bottom, in order to build out their filming capabilities.
For its cooking format show, "Without a Recipe," he said the company rented out a cooking studio and hired a staff of a dozen freelancers to produce a 30-minute-long episode.
Fulmer, who leads branded content growth along with an external agency partner, Chris Sawtelle at ICM, said he sees branded partnerships as the biggest opportunity for revenue growth and that the goal is to triple the company's branded content revenue next year. "If we are making elevated digital premium content for YouTube that we can sell our own [branded content] and secure sponsorships for, then we will be controlling so many different aspects of the process."
This year, the channel did several branded content campaigns for Google, including a video where they tested new technologies at the Google I/O conference, and other campaigns for Target and LG.
The Try Guys will use that production capability to produce more exclusive content for its paying members, accumulated using crowdfunding membership platform Patreon, with tiered memberships at $3, $5 and $10 per month. At the time of publication, the Try Guys have over 3,700 Patreon subscribers.
2nd Try also recently branched into product licensing opportunities, such as Keith's Chicken Sauce, which was based on his well-documented love of fried chicken and was created in partnership with hot sauce manufacturing company Heatonist — the same company that produces the hot sauce line for Complex's YouTube series "Hot Ones."
"It's great to diversify, but all of this comes back to the core of who these individuals are and how this resonates with the audience. The hot sauce has to make sense for The Try Guys, otherwise it would be weird — which sometimes does sell," said Josh Zimmerman, founder of Creator Coach for YouTubers and former YouTube manager at JZ Management.
Last year, BuzzFeed launched its Creators Program, which was aimed at appeasing their content creators. For several months after separating from the company, BuzzFeed still served as The Try Guys' advertising and branded content rep, but has since completely cut ties with the group. Recently, though, three other former BuzzFeed personalities, Steven Lim, Ryan Bergara and Shane Madej, left their full-time jobs with the company to launch a new digital video production company Watcher Entertainment. However, Variety reported they are still under contracts with BuzzFeed to continue working on its "Worth It" and "Unsolved" series, whose rights are still owned by the company.
The idea to leave BuzzFeed was multifaceted, but Habersberger said in a recent video on their channel, "Quite frankly, [BuzzFeed] didn't want to pay us enough."
"YouTube is a great hub and funnel, but you shouldn't just depend on that," Zimmerman said. You need to branch out because you have something which many don't have: A captive audience, which is great for marketing different things." 
https://digiday.com/?p=354874
This week's Future of TV Briefing looks at how the streaming ad market's programmatic guaranteed vs. private marketplace debate is reaching a compromise.
This week's Future of TV Briefing looks at how this year's upfront and recent announcements from AMC Networks and Paramount indicate the progression of programmatic in the TV and streaming ad market.
This week's Future of TV Briefing looks at how major streaming service owners' subscription business fared in the third quarter of 2023.