From live video to VR: How publishers are tackling the inauguration
January 19, 2017 • 5 min read
•
•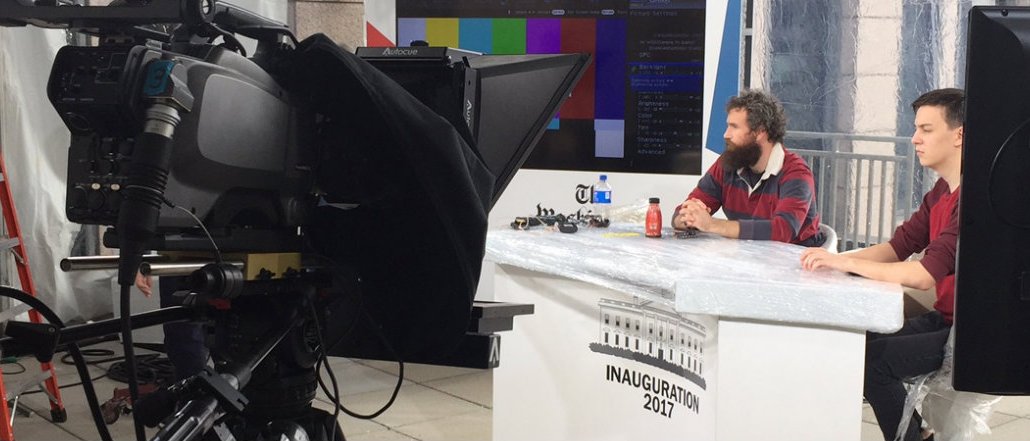 There will be no shortage of options for people to catch all of the action in, around and related to tomorrow's inauguration of Donald J. Trump as the 45th president.
Just as they did during the election, publishers of all stripes are gearing up to cover this weekend's carnival in Washington, D.C., starting with the actual inauguration on Friday. Once again, live video will take centerstage as multiple publishers plan to stream hours of content. Social platforms are getting involved, too, as many publishers will host their live coverage on Facebook and YouTube. Even Twitter will be involved thanks to a partnership with PBS "NewsHour," which will air a six-hour Inauguration Day live stream on the platform.
Here is what several news and digital publishers have planned for Friday and the weekend:
Bloomberg
Bloomberg's inauguration coverage began on Monday with the first of four special episodes of its politics series "With All Due Respect." Hosted by Mark Halperin and John Heilemann, the episodes are tackling everything from Trump's tax plan to international trade and foreign policy. On Inauguration Day, the duo will host a two-hour live stream that will air on Bloomberg's TV channel, website and the Bloomberg Politics YouTube channel, as well as a live episode of "With All Due Respect," which will air at 5 p.m. ET on Bloomberg TV.
CBS News
In the fashion of 24-hour cable news networks, CBS News' streaming news network, CBSN, will air round-the-clock coverage from Washington. The programming will be hosted by anchors Elaine Quijano, Josh Elliott, Vladimir Duthiers and Reena Ninan. This includes an inauguration-themed episode of "Red and Blue," a daily CBSN politics show covering the impact the new administration will have on Americans, which will air the night before the inauguration. Then, starting at 7 a.m. ET on Inauguration Day, CBSN will go live starting with a feed of "CBS This Morning." Throughout the day, inauguration-related special reports and programing airing on the CBS broadcast network will also be available on CBSN.
Since launching in November 2014, CBSN continues to grow. The free, ad-supported network drew 90.3 million streams in the fourth quarter of 2016 — a 50 percent increase over the previous quarter.
Refinery29
While many publishers are going all-in on live coverage of the inauguration, some are choosing to counter-program the festivities. Refinery29, for instance, will host a Facebook Live from its New York City offices, during which "food artist" Ash Hodges will create dishes that viewers have to guess.
"We're trying to be sensitive and empathetic to how our audience might feel," said Piera Gelardi, executive creative director for Refinery29. "We know that there are plenty of people who follow Refinery29 who will want to know what's happening at the inauguration — and we will cover that — but there are also people who are stressed out by those things and we want to give them an alternative where they can zen out."
That's not the only inauguration-related programming from Refinery29, however, as the female-focused publisher will produce six other Facebook Live videos focused on the Women's Marches in New York City, Washington, D.C. and the Sundance FIlm Festival. It will also go live during celebrations of the 44th anniversary of the Roe v. Wade Supreme Court ruling. In addition to the six people on Refinery29's Facebook Live team, contributors like filmmaker Tiffany Shlain and Refinery29 executive creative director Piera Gelardi will be involved in the various productions.
USA Today
Gannett and USA Today Network have made virtual reality a big priority, including launching a weekly news show shot entirely for VR and 360-degree video platforms. On Inauguration Day, USA Today will air a four-hour live stream in VR and 360-video, which will include multiple camera setups positioned at the Capitol, the National Mall and along the parade route. In total, USA Today will have a team of 16 people overseeing this production, including the six staffers it has dedicated entirely to the "VRtually There" news show.
The content will be HD-quality as USA Today will be using custom VR/360 cameras made for them by Nikon. The publisher will also employ a "picture-in-picture" feature where viewers watching the VR/360 content will also be able to watch a regular, 2D video overlay of AP's live coverage of the festivities.
"VR and 360 get you on to the field, but you're at the 90-yard line when the actual happening is at the one-yard line," said Russ Torres, vp of digital video content and strategy for USA Today Network. "We tested it and we think there's an opportunity to serve people who want to get up close while still feeling like they're virtually there."
The Washington Post
Starting at 9 a.m. ET, The Washington Post will go live on Inauguration Day across Facebook, YouTube, its news app and website. The day-long live coverage will be hosted by Ed O'Keefe and Elise Viebeck from the Post's new outdoor studio facility at the company's K Street headquarters. Along with the studio set, the Post will have eight remote crews reporting news throughout the city. Overall, the Post will have 70 people involved in the production, including its entire 40-person video team. With the new studio and plans to add 29 people to its video team in 2017, expect the Washington Post to do more live content in the future.
"We're building that audience expectation," said Micah Gelman, the Post's editorial director of video. "When something big happens, expect us to be live."
https://digiday.com/?p=218179
This week's Future of TV Briefing looks at how the streaming ad market's programmatic guaranteed vs. private marketplace debate is reaching a compromise.
This week's Future of TV Briefing looks at how this year's upfront and recent announcements from AMC Networks and Paramount indicate the progression of programmatic in the TV and streaming ad market.
This week's Future of TV Briefing looks at how major streaming service owners' subscription business fared in the third quarter of 2023.