Kevin Hart's Laugh Out Loud brings its original shows — and their sponsors — to Starz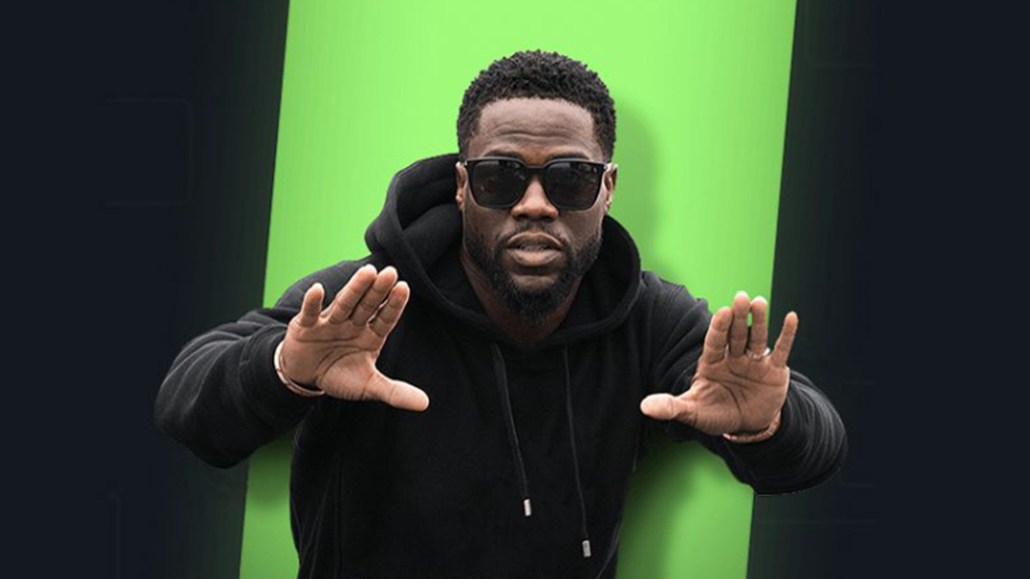 Kevin Hart's media company Laugh Out Loud has brought five original shows to Starz's TV network and subscription-only digital apps. And with that content has come the opportunity for a couple advertisers to enter an ad-free environment.
Two of the shows that Laugh Out Loud is syndicating on Starz had presenting sponsors when they originally aired on Laugh Out Loud's site and app and its YouTube channel. The interview series "Cold as Balls" was sponsored by Old Spice. "Lyft Legend," featuring Hart disguised as a Lyft driver, was sponsored by the ride-sharing app.
While those sponsorship deals were specific to each show's initial distribution, those deals have carried over to Starz, which otherwise carries no advertising on its TV network or apps.
Laugh Out Loud did not factor in the additional distribution when it signed the deals with Old Spice and Lyft, said Thai Randolph, evp and gm of Laugh Out Loud. Opening a door for advertisers to reach people in an ad-free environment could help Laugh Out Loud to earn goodwill from those advertisers and potentially attract others, in the same way that companies like Anheuser-BuschInBev and Samsung had lined up product-placement deals with the producer of "House of Cards" to get in front of people on Netflix.
Netflix has a track record of being OK with show producers making supplementary money through these product-placement deals, other platforms may be stricter. As a result, media companies may find it difficult to pitch advertisers specifically on a show being distributed in ad-free environments and may need to position any such potential opportunities as a free sweetener for their sponsors.
That's not to say that any sponsored show could make it on to Starz's network and apps. It helps that Laugh Out Loud is a joint venture between Hart and Starz's parent company Lionsgate, and that Starz COO Jeffrey Hirsch is on Laugh Out Loud's board. Laugh Out Loud had discussions with Starz about the content of its shows to ensure that they wouldn't be perceived as advertising by the network's subscribers, said Randolph, who declined to discuss terms of the company's deal with Starz.
Close-ups of the respective sponsors' logos and products appear in the shows, but there are no blatant product pitches. And Laugh Out Loud is not getting any extra sponsorship money from the Starz distribution. "I hope that we earn our way into certain levels of trust by over-delivering for what's contracted [by the advertisers]," said Randolph.
Laugh Out Loud's syndication deal with Starz is part of the company's strategy to distribute its original shows on as many platforms as possible. In addition to "Cold as Balls" and "Lyft Legend," Laugh Out Loud has three other original shows on Starz's on-demand apps. From Sept. 1 through Oct. 31, Starz has given Laugh Out Loud its own programming block on Friday nights on its linear TV network. To date, Laugh Out Loud has filled that programming block with its standup comedy series "That's Funny."
Laugh Out Loud is also using Starz as a first window for its programming. On Sept. 21, Laugh Out Loud plans to premiere on its own properties the second season of "Just for Laughs," stand-up performances it records during the Just For Laughs Comedy Festival in Montreal. But a week before then, Laugh Out Loud has released two episodes on Starz's apps. For the Starz release, Laugh Out Loud turned the seven- to eight-minute videos that will be found on its own properties into 15- to 16-minute episodes that feature interludes by host and comedian Tony Rock. "We tried to make it very special for [Starz's] audience behind a paywall," said Randolph.
Subscribe to the Digiday Video Briefing: A weekly email with news, quotes and stats around the modernization of video, TV and entertainment. 
https://digiday.com/?p=303140