With IGTV, Instagram is betting that people want longer vertical videos
June 20, 2018 • 5 min read
• By
Digiday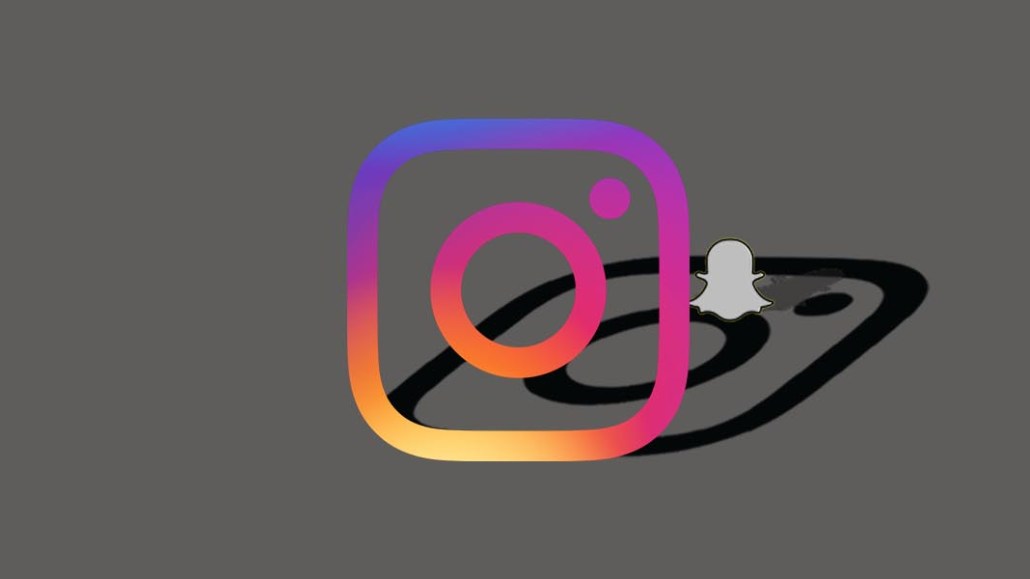 Instagram wants to be a video platform that sits somewhere between YouTube and Snapchat — and is launching a new video hub and app called IGTV to do so.
Announced June 20, IGTV is a new section on the Instagram app and a standalone app that lets video creators distribute long-form videos on Instagram. Whereas before, Instagram capped regular videos at 60 seconds and Instagram Stories videos at 15 seconds, with IGTV video can go as long as 60 minutes. IGTV video will appear vertical and full-screen. IGTV is set to roll out over the coming weeks.
IGTV particularly wants celebrities such as Kim Kardashian West, Selena Gomez and Kevin Hart and social media stars including King Bach and Ninja to use IGTV, although anyone with an Instagram account will be able to do so through their own IGTV "channels" — just like YouTube.)
With IGTV, Instagram is aiming YouTube and its community of homegrown YouTube stars — especially video bloggers (or "vloggers"). And by focusing on the vertical video format, Instagram is continuing its assault on Snapchat, which has put a huge emphasis on shows and influencer content in Snapchat Discover.
The big question is whether Instagram users will watch videos that go longer for than a minute or two. Instagram has been reportedly telling video makers to opt for videos in the 10-minute range, which is more like YouTube than traditional TV fare.
"There are lots of formats right now working online that are longer than 1 minute," said Rafi Fine, co-founder of Fine Brothers Entertainment, who said he does not expect to produce hour-long programs for IGTV right away. "Having the ability now to do so on Instagram is great. FBE's shows average 9 to 12 minutes now, and I see that having the opportunity to do well on a platform like IGTV."
IGTV could work for Instagram in a way that Facebook Watch isn't yet for Facebook: Instagram has already trained many of its users to shoot and watch vertical video, whereas Facebook is still trying to get people to go to Facebook Watch. Top Snapchat shows, which typically run for 3 to 5 minutes, get around 20 to 30 million viewers per month, also suggesting some appetite for vertical videos longer than a minute.
"IGTV is a much more natural evolution for what the user experience has been on Instagram, versus Facebook. People are using Facebook for a variety of reasons, and watching a TV show or something TV-like is not as quite a natural fit," said Eric Lam, CEO of influencer marketing platform Revfluence, which works with more than 700,000 Instagram creators.
Regular videos (not Stories) on Instagram might also be plateauing on Instagram. According to data pulled by Revfluence for Digiday, only 4 percent of branded posts on Instagram across its network are videos — and that figure has remained consistent. The vertically-oriented Instagram Stories, however, continue to see more usage. The number of branded Instagram's Stories have been growing at an average rate of 63 percent month over month since October in Revfluence's networks.
In this context, it makes sense that IGTV is focusing on vertical videos rather than horizontal or square videos that are reserved for regular Instagram video posts.
An Instagram spokesperson said it's not paying any celebrity, social media star or media company to make videos for IGTV. The company also didn't announce any ad products such as pre-rolls or mid-rolls that would help IGTV creators make money.
"YouTube currently gives creators a cut of ad revenue, while Facebook Watch is making premium content deals with the likes of Tastemade," said Denis Crushell, vp of EMEA for Tubular Labs. "Instagram will have to get this incentive right to encourage premium content creators to focus on its new video offering. Regardless, it's a huge opportunity for the platform, even if the video revenue model isn't there yet. A lot of content creators will want to get involved early to build up their audiences to benefit further down the line."
If that sounds familiar, it's basically the platform-creator relationship in a nutshell. But with 1 billion monthly users now, Instagram and IGTV will be hard to ignore.
This includes media companies, even if Instagram spent its launch event showcasing how IGTV can be used by video creators — and if celebrities and social media stars are already planning to use the product. Nat Geo, which has 89 million followers on Instagram, said it plans to air the final episode of its TV show, "One Strange Rock," in a vertical video format later this summer to market its long-form TV programming to its massive Instagram audience, said a company spokesperson.
The YouTube-like IGTV comes at YouTube continues to battle issues over brand safety on its platform. Advertisers' concerns over this issue has affected ad spend on YouTube, said MediaRadar CEO Todd Krizelman. According to MediaRadar data, ad spend across a selection of 70 top YouTube channels has remained flat this year.
IGTV has the chance to capture some of the ad dollars going to YouTube, though by being an open platform it may only a matter of time before Instagram faces the same brand safety issues as YouTube.
But first, Instagram should hope that the IGTV launch goes better than its actual launch event for press in New York, where rotated vertical screens live streaming the event continued to go out.
Get the latest coverage and analysis on the future of TV, online video and entertainment by subscribing to our weekly Video Briefing email.
https://digiday.com/?p=292436