With 'Game of Zones,' Bleacher Report has entertainment ambitions
June 9, 2017 • 4 min read
•
•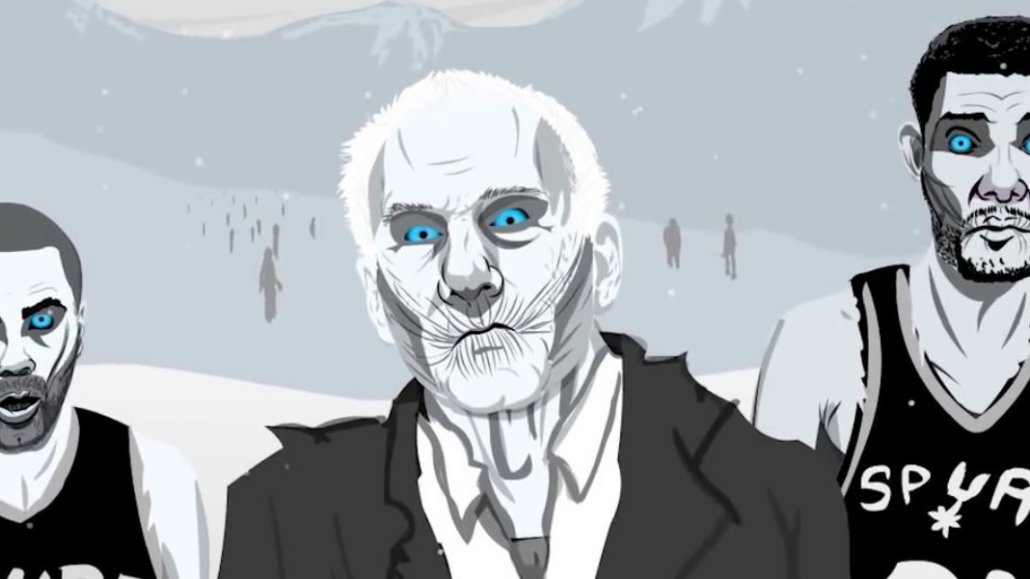 Brothers Adam and Craig Malamut were freelance animators working on a Yahoo series called "Sports Friends" in the spring of 2014 when they were approached by Bennett Spector, vp of brand strategy at Bleacher Report, to pitch ideas for cartoons for the Turner-owned digital publisher. Huge NFL and "Game of Thrones" fans, the brothers pitched an idea for a show that would mash up NFL characters with references to the hit HBO show.
"We pitched them the idea, and [Spector] asked if it would be possible to do that but with the NBA instead," said Adam Malamut (Turner Sports has broadcast rights to the NBA). "We said we could, and that's how it all started."
The first episode of "Game of Zones," which debuted in May 2014 on YouTube, depicted the then-defending NBA champions the Miami Heat as the Lannisters, power forward Chris Bosh as a dragon, and the San Antonio Spurs as the White Walkers. It was an instant hit — accumulating more than 2.2 million video views within the first week. Since then, the show has collected 70 million video views across its first 16 episodes.
Today, Bleacher Report distributes full episodes of "Game of Zones," which typically run for three to five minutes, on YouTube, Facebook, Twitter, Snapchat and Bleacher Report's own app. On YouTube and Facebook, the first seven episodes of season four averaged 1.1 million views and 754,000 views per episode. On YouTube, those episodes had an average completion rate of 73 percent. (On Instagram, where Bleacher Report has 4.7 million followers, the publisher distributes cut-down teasers from the episodes.)
The show's success has made it a vital part of Bleacher Report's efforts in creating entertainment video series while establishing itself as a sports and culture publisher for millennial men.
The first three seasons of the show, which comprised of a total of eight episodes, were entirely written, directed, animated and produced by the Malamut brothers. Now, Bleacher Report has a team of eight full-time producers, editors and animators working on "Game of Zones." (They work on other Bleacher Report shows and videos, too.) Earlier this year, spurred on by the success of the show, Bleacher Report decided to produce an eight-episode fourth season of "Game of Zones," which completed yesterday.
"The show has grown a ton since the first couple of episodes," said Craig Malamut. "After joining B/R, they really invested in us over the years. And now we have an eight-person production team, and with that, you can see the change in quality [of the episodes]."
Each episode, from beginning to finish, takes about six weeks to make. That meant more of a "conveyer-belt" approach this spring, with the team working on multiple episodes at different stages at the same time, said Adam Malamut.
"Game of Zones" has also propelled Bleacher Report into doing more animated series, including the football-focused "Gridiron Heights," "The Sports Gods" (another show from the Malamut brothers) and a sponsored series in partnership with Nike called "Small Ball." With "Small Ball," which ran for 11 episodes, Bleacher Report's growth in sports and culture can be witnessed by the caliber of guest voice actors the company recruited, including "Saturday Night Live" cast member Michael Che. The show is also frequently promoted during NBA games broadcast by Turner.
"A year ago we could not have gotten Michael Che on the phone — it would have been a foreign concept," said Rory Brown, president of Bleacher Report. "But as people see what we're doing with 'Game of Zones' and other projects, people are starting to see Bleacher Report as a fun sweet spot between sports and culture."
By the end of the year, Bleacher Report expects to have more than a dozen projects in the works, Brown said. This includes animated series as well as live-action shows and long-form documentaries such as an hourlong feature Bleacher Report did on Michael Vick last year.
To oversee this effort, Bleacher Report formed B/R Entertainment last year. Headed up by veteran TV and comedy writer Neil Punsalan, the division has 12 writers and producers with entertainment backgrounds.
The Malamut brothers, meanwhile, plan to continue cranking out animated shows for Bleacher Report. In addition to "Game of Zones" and "The Sports Gods," the brothers previously made "Fan Safari" for the publisher. They have also done one-off animated musicals, including one on the Golden State Warriors' "superteam."
It's also helped them become fans of basketball again.
"We are from outside Philly, so we were big Sixers fans growing up," said Adam Malamut. "Once Iverson left, the Sixers got mediocre, and I stopped caring and really got into the Eagles. Once we started doing sports cartoons and 'Game of Zones,' we started getting back into basketball."
Added Craig Malamut: "If you want to become a big basketball fan, make a cartoon series about basketball."
https://digiday.com/?p=240435
This week's Future of TV Briefing looks at how the streaming ad market's programmatic guaranteed vs. private marketplace debate is reaching a compromise.
This week's Future of TV Briefing looks at how this year's upfront and recent announcements from AMC Networks and Paramount indicate the progression of programmatic in the TV and streaming ad market.
This week's Future of TV Briefing looks at how major streaming service owners' subscription business fared in the third quarter of 2023.