HuffPost's reorganized product team drove a 27 percent lift in video views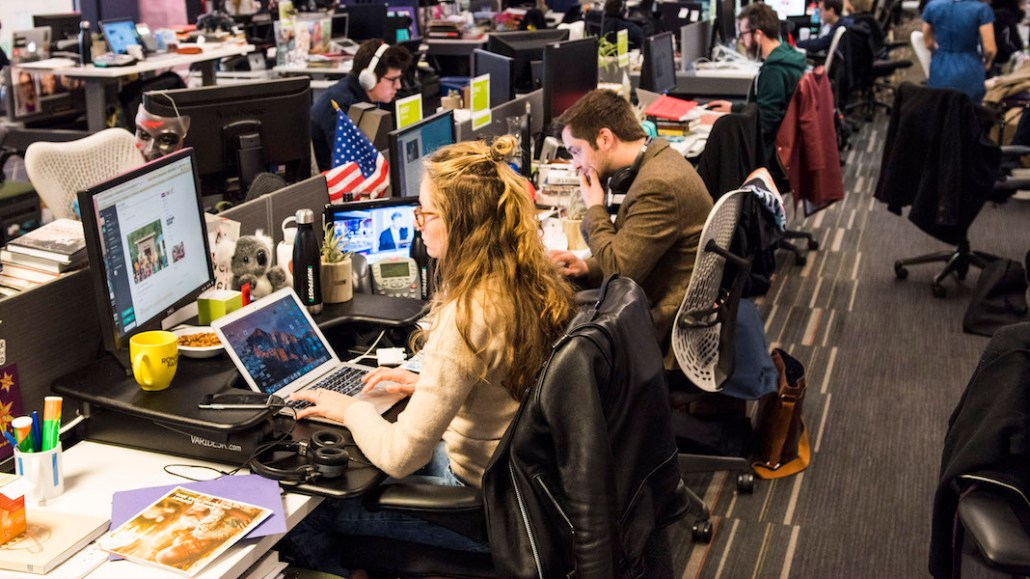 When Julia Beizer took over product at HuffPost a year ago, she found a qualified team, but a clunky setup made it hard for them to move at the speed she wanted.
"I knew I needed to eliminate as many bottlenecks as I could between a great product idea and its execution," said Beizer, HuffPost's head of product.
She reorganized the team into four distinct product groups. One group is named News Innovation because it experiments with new story formats like HuffPost's "storybook" feature that is similar to Snapchat and Instagram Stories. The Acquisitions group focuses on making direct connections to users through newsletters. A Revenue group monitors metrics like viewability that affect how much money HuffPost is getting from each webpage. There is also a video group. Last but not least, a generalist group works with business development on A/B testing content.
Part of the rationale behind the setup is that it brings the schedules of engineers more inline with new products' timetables. By scattering engineers throughout various groups, their workflow and availability becomes less volatile.
By splitting the team into groups, HuffPost cut down on the back-and-forth that used to occur when product teams were organized around different parts of the publisher's tech stack (e.g., a subgroup dedicated to the CMS). Beizer said HuffPost can now roll out new features faster, which has helped increase its video views and completion rates.
"I wanted to set a tempo within each pod that they'd be releasing consumer facing work constantly," said Beizer, who noted that each product group aims to release a new feature every two weeks.
Each group has four to eight people made up of product managers, web designers and engineers. But the group sizes fluctuate depending on larger initiatives within the company.
For example, when HuffPost redesigned its website as part of its rebrand earlier this week, the product groups had to pull in people from other areas of the company. Leading up to the redesign, product groups had as many as 13 people in them. Throughout the past year, HuffPost has had around 25 full-time engineers.
Although many of the new features these groups implement are just incremental changes, Beizer said small shifts can have a large impact.
For example, in December HuffPost replaced the static images it used to use to preview videos with gifs, which led people to click on videos more. The animated gifs led to a 27 percent increase in video views. Unique video viewers on desktop increased from 4.4 million users in December to 6.2 million users in March, the latest month comScore had data for. (ComScore didn't have have video data for mobile.)
HuffPost is now working on using gifs to drive more views for their photo galleries. The idea behind these little tweaks is to "release something small, learn from your data, iterate, repeat," Beizer said.
Earlier this month, the video group made another tweak that showed users a preview image of the next video in a playlist. Since it started showing video-watching users an image of the video that is "next up," HuffPost increased its completion rates by 1.8 percent. Beizer declined to share the raw numbers.
"My main goal is to make sure we are releasing features for consumers, tracking data and making quick pivots," she said.
Photo via HuffPost
https://digiday.com/?p=233846