Group Nine's Christa Carone: We're committed to the distributed media model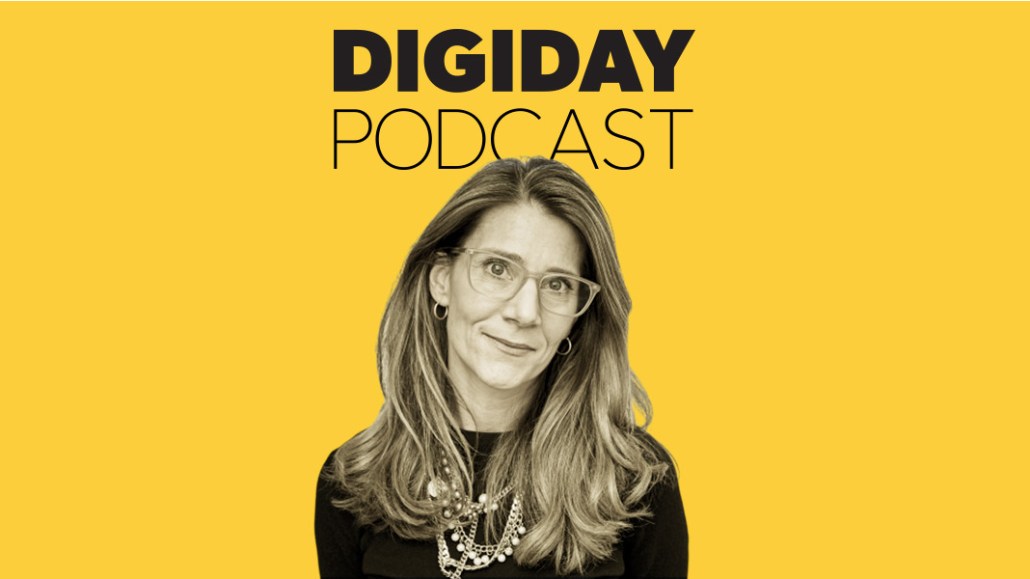 Subscribe: iTunes | Google Play | Stitcher | Anchor
The pivot to paid is not on the cards for Group Nine, the holding company founded in 2016 that houses brands including The Dodo, NowThis and Thrillist. The goal for the media company: Use advertising, including branded content and entertainment, to build a sustainable media business.
At a live recording event of the Digiday Podcast, Group Nine president Christa Carone said the strategy has paid off.
"We have a high double digital earnings growth across all our platforms. If I wasn't happy with it, we'd be building out a bunch of [owned and operated platforms] and trying to drive you into other destinations," she said. "Group Nine is distributing content across 20 platforms. Facebook is big for The Dodo. But it's also huge on YouTube. The Dodo and NowThis were the top earning brands on Twitter last quarter. Thrillist is on Amazon Prime. When a platform sneezes, we're not catching a cold. We're focused on premium content and bringing it to places where people are watching."
The company is also building out other revenue streams. "We have been known as a custom content shop. But we have access to pre-roll and mid-roll in addition to the display business. We're talking to advertisers about a full-funnel ad solutions. We talk about audience, campaign objectives and budget parameters and we figure out a solid solution. We also diversify with licensing, networking deals on our content or original program sales like our show with Animal Planet last year," Carone said.
She discussed how consolidating the four brands under Group Nine has created efficiency, why the company is playing nice with platforms and more. Edited highlights below.
Consolidation has aided efficiency.
"When we rolled the four brands into one media house, we had four founding beliefs. One, we believed that consolidation across the industry absolutely will happen. We're seeing that in linear and in digital. Two, video will be the hero format. Three, social will start mimicking cable, meaning social is the new pipes of distribution. Four, premium content will always win. We had a great first quarter and a great 2018. Consolidation helped us establish a strong foundation that all of these brands can build off of. They're able to tap into corporate resources we're building without having to rely on raising money to develop those resources themselves. It's one sales and marketing team, one product and tech team supporting all of our brands. We have an amazing audience insights team that supports all our brands."
Holding companies can be the new equivalent of cable conglomerates.
"We're growing in a responsible way. The intention behind building Group Nine was building the new media company of the future, modeling it after the cable conglomerates that were successful prior to digital becoming the new way of consuming content. History is repeating itself and we learn from those models. But don't underestimate the importance of efficiency when you're trying to scale a business."
Video has paid off.
"Three of our brands were born in video. Omnichannel distribution [strategy] has worked. We're platform agnostic and we go where people are. We're not trying to drive them into a legacy destination. We go where they're already spending they're time and then it's up to us to figure out a business model doing that. When you're content first, you will bring your content to places where people are.
Scale and platforms will play fair.
"We can do bigger deals with advertisers because you can buy audience against the scale that we're able to deliver. Bigger is better in this situation if you've been responsible in the way you've managed your business. Because we're the number one storyteller on mobile, are platform agnostic and play very nice in the sandbox with the platforms, we have an advantage with each platform. We have direct sales access of all our inventory across all of the platforms. If you want to buy Group Nine inventory on the platforms, you can only do that through us. We're consistently brought into alpha and beta testing with the platforms. Participating at scale with the platforms does give you a competitive advantage. Facebook pays us directly in some cases. We have a morning show with Facebook. They came back for season two."
https://digiday.com/?p=330244