Targeting 'superfans': How CBS is aggressively embracing streaming
February 26, 2018 • 7 min read
• By
Digiday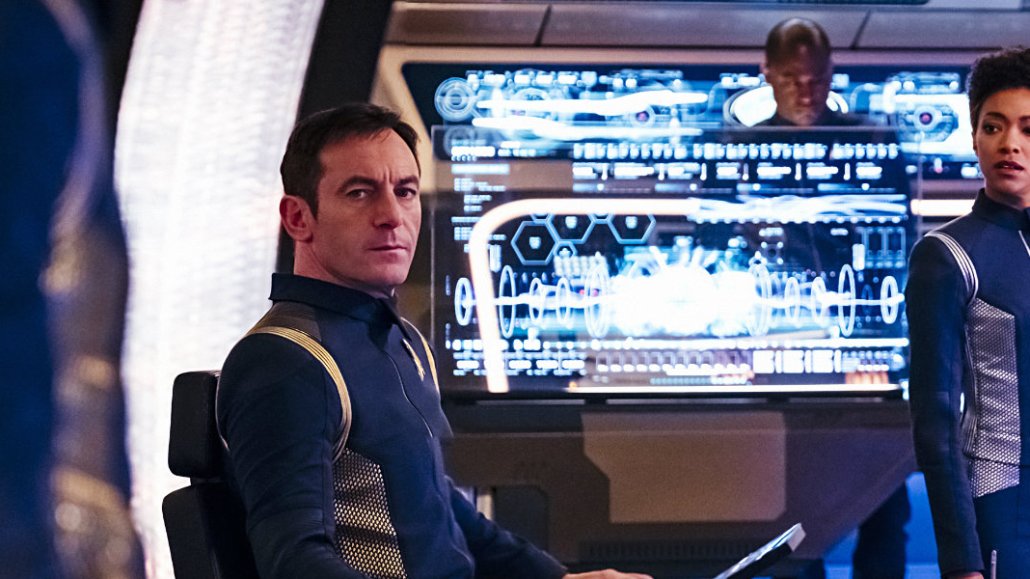 Jim Lanzone, the CEO of CBS Interactive and chief digital officer for parent company CBS, was in Toronto roughly a year ago to visit the set for "Star Trek: Discovery." Produced by CBS Television Studios, the new sci-fi series takes place in the same expansive world created by Gene Roddenberry. But the high-profile show, budgeted at more than $120 million for its first season, was not being made for Netflix, a premium cable channel or even CBS's own broadcast network; it was to become the second original series for CBS All Access, a $6 and $10 subscription over-the-top video streaming service launched by CBS in 2014.
The television industry has been in a state of upheaval as cord cutting, declining linear TV ratings and rising internet video consumption has forced TV networks and studios to adapt their business models. It's why media giants such as Disney and Fox are planning to launch subscription streaming products in the coming year.
CBS has been one of the most aggressive networks in capturing new and existing viewers as they shift toward OTT consumption, launching both All Access and the free CBSN streaming news channel in the fall of 2014. (Showtime's OTT app also falls under CBS Interactive's purview.) Today, it's set to add another streaming channel with the launch of CBS Sports HQ, which will be followed by an entertainment-themed channel later this year.
Getting people to pay
Digital subscription products aren't exactly new to CBS. In the past, the company has rolled out products such as the $10 monthly March Madness on Demand and $4 monthly Big Brother SuperPass; it also offers an annual $5 subscription within the 60 Minutes mobile app.
"There are superfans for many different types of content who would pay for more content, more access and deeper dives into the shows that they love," said Lanzone. "We originally envisioned All Access as a much bigger play for superfans of CBS content — for a monthly subscription, you can have access to the entire CBS library going back to 'I Love Lucy.' We knew if something like this was successful, the next logical step would be to have original programming. But what we wound up seeing in 2015, 2016, as we were marching toward originals, is that the opportunity was much, much bigger."
In the past year, CBS All Access has launched three high-profile series, including "The Good Fight," a sequel to the Emmy-winning drama "The Good Wife;" a new "Star Trek" show; and the Will Ferrell-starring comedy "No Activity." Overall, CBS All Access has announced seven original projects, including a reboot of "The Twilight Zone" from Jordan Peele.
These are premium cable-quality productions. According to a Variety report last year and confirmed by two sources, "Star Trek: Discovery" has a per-episode budget between $8 million and $8.5 million, which is comfortably inside the range of what HBO and Netflix pay for their biggest shows. (CBS has been able to offset some of the costs by signing a lucrative licensing deal with Netflix, which distributes "Star Trek: Discovery" outside the U.S.) CBS All Access will offer more originals as the business continues to grow, Lanzone said.
"We're not doing anything simply as an investment with the hope that one day it pays off — we had to prove with our business plan that we can do this profitably," he said. "The good thing about internet products is you don't need to guess. You can model it out: If you get this many users, which can turn into this number of subscribers, at this retention rate, with this subscription fee and at these advertising rates, it will equal this amount of money. Then, you can assess what you can spend on content."
As of January, CBS All Access had 2 million people subscribing to either of its ad-supported and ad-free subscription tiers. During its most recent earnings call, CBS CEO Les Moonves said CBS All Access and Showtime's OTT app have 5 million subscribers combined.
Lanzone declined to say if All Access is profitable. "The business plan is that if we march toward our goal of having 4 million subscribers by 2020, it's going to be a very profitable product," he said.
From news to sports and soon, entertainment
CBSN, which drew 287 million video streams in 2017, an increase of 17 percent over 2016, is already profitable. CBS hopes to replicate the network's model with CBS Sports HQ, which will offer sports news, highlights and analysis 24 hours a day across all major streaming devices.
Like CBSN, CBS Sports HQ will be free and ad-supported. It won't offer any live sports that CBS broadcasts, but viewers can see highlights, breaking news, game previews and postgame analysis from the sports world. It will also regularly feature contributions from across the CBS Sports portfolio, which includes the CBS Sports TV network, CBSSports.com, CBS Sports fantasy football and high school sports site MaxPreps.com.
"We've seen the success at CBSN, and we thought there was a similar opportunity to provide a service where sports fans can get free sports news, highlights, analysis and other programming, wherever they are," said Jeff Gerttula, evp and gm of CBS Sports Digital. "And because of the work we've already done in launching direct-to-consumer services within news and entertainment, there's a lot of work that's already been done internally that we can leverage."
The decision to go the free and ad-supported route with CBS Sports HQ is also driven by the desire to reach younger viewers who want this breadth of sports content but don't necessarily want to pay a cable or digital subscription to get it. CBSN, once again, is the model. The average age of the channel's audience is 38, which is more than 20 years younger than the average ages of people who watch Fox News, CNN and MSNBC on linear TV.
CBS will also employ the free, ad-supported model for its upcoming, still-unnamed entertainment and pop culture streaming channel, which will launch in the fourth quarter, hooked to its longtime "Entertainment Tonight" brand.
That said, there's an opportunity for the ad-supported streaming channels to earn subscription revenue. One option is getting these channels distributed on the growing crop of streaming skinny bundles, which CBS is exploring, Lanzone said.
Plus, CBSN and CBS Sports HQ are also available within CBS All Access, which acts as a "nesting doll" for all of CBS' OTT products (excluding Showtime), Lanzone said.
OTT has boosted CBS's digital ad business
In 2017, OTT video advertising brought in "hundreds of millions" of dollars in ad revenue for CBS, according to multiple sources. Advertising sponsors have included Verizon, IBM and Geico for "Star Trek," Ford for "The Good Fight" and Pfizer for CBSN's growing crop of original documentaries.
"[OTT] has been a shot in the arm from a revenue standpoint," said David Lawenda, evp of digital sales and sales strategy for CBS.
Today, CBSN makes up 85 percent of all of CBS News' digital ad impressions, and All Access accounts for more than 50 percent of overall digital impressions, Lawenda said.
Here's CBS's pitch to advertisers in a nutshell: It has OTT streaming products that have achieved a certain level of audience scale nationally; there are few other OTT services outside of Hulu that can offer that kind of reach; the audience is younger than traditional TV, including CBS's own networks; and engagement is high. On mobile, for instance, viewers spend nearly 30 minutes per session on average on CBSN — and the number is even higher on connected TVs, the company said.
With these OTT products, CBS is able to open up additional inventory beyond broadcast TV. Since joining CBS last summer, Lawenda said the company has been focused on integrating digital within the overall ad sales pitch — especially as CBS heads into upfront season.
"We're going to the market as one voice; it's very much a portfolio approach," he said. "By now, OTT has become so mainstream that most marketers know how big and important it is."
Ad buyers are taking note of CBS's growing network of OTT products. The issue, as always, is having enough reach among valuable audiences, said Jason Maltby, president and co-executive director of national broadcast for Mindshare North America.
"They're still in growth mode, but they are on the right trajectory," said Maltby. "I applaud them for being a bit ahead of the curve — particularly for a brand like CBS, which you're supposed to think is old and stodgy."
Image via CBS/CBS Interactive
For more on all things video, subscribe to Digiday's new weekly video briefing, written by Sahil Patel.
https://digiday.com/?p=277230