CBSN is bulking up on programming as more news providers go over the top
Starting Tuesday, the shuttle connecting Times Square and Grand Central Terminal in New York City will be wrapped with branding from CBSN, the ad-supported streaming news channel from CBS News. It's the first time that CBSN or CBS Interactive, the digital arm of the broadcast giant, has done a subway wrap in its advertising.
The campaign — boasting a red and blue design to underscore CBSN's message that it's non-partisan and facts-based — comes at a high-stakes time for the 4-year-old news programmer, with the midterm elections just weeks away and NBC News and Fox News prepping over-the-top streaming services of their own.
CBS News is also investing more resources in content and distribution for CBSN, said Christy Tanner, evp and gm of CBS News Digital. This week, CBSN is premiering a new live morning news show called "CBSN AM" anchored by CBS News' Anne-Marie Green and Vladimir Duthiers. This is the first time CBSN will have regular live daily coverage at 7 a.m. Previously, the network would begin its live programming at 9 a.m.
"We are moving from a model where we were doing very smart and efficient packaging of existing reporting and news pieces that were part of CBS News' daily output to producing more new, live reporting and video," said Tanner.
"CBSN AM" will complement the linear broadcast of "CBS This Morning" but function as its own morning news show. For instance, now when correspondents have a produced news package for "CBS This Morning," they will do the same for "CBSN AM" during the 7 a.m. hour, Tanner said.
"That didn't happen in the past because we did not have the production resources to produce a live hit [for CBSN] at that time," Tanner said. "We will also have the ability to dive deeper into topics, which is tougher to do on 'CBS This Morning,' which has to work within the limits of broadcast timing."
Beyond more live daily coverage, CBSN also plans to produce more than 18 original documentaries and video news projects under the "CBSN Originals" banner in the coming year. This is up from six projects in the first year of CBSN Originals and 12 projects in its second year. CBSN Originals programming is sponsored by Pfizer, which has renewed its ad deal every year and helped support the resource increase, Tanner said.
News is becoming an increasingly crowded category on over-the-top streaming platforms and screens. Along with CBSN, OTT news providers include Newsy, Cheddar and The Young Turks Network, all of which offer some type of linear programming. In the fourth quarter, Fox News plans to launch a subscription video streaming channel called Fox Nation, with short- and long-form original programming. NBC News is also prepping a streaming news network, though it hasn't revealed a launch date. ABC News, meanwhile, has a channel on Roku's free, ad-supported streaming channel, with plans to invest more in live, over-the-top video programming.
"Once you get past the big three in Netflix, Hulu and Amazon, the OTT space is still wide open in terms of both [apps with] popularity and distribution," said Alan Wolk, lead analyst at TVRev. "And news is always going to be in demand, so as viewers go to these devices, it's no surprise that more news outlets are building OTT products."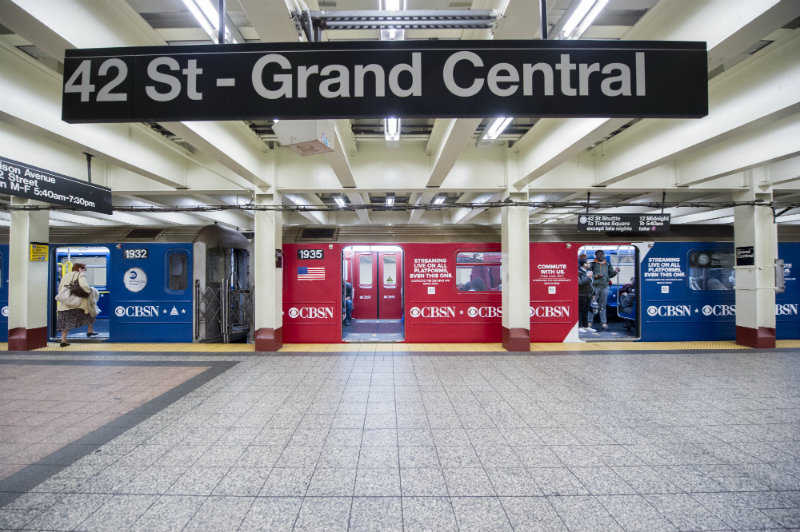 One area that still hasn't been addressed is local news within streaming environments, Wolk said. CBSN and other top OTT video programmers focus on national and international news to reach as wide an audience as possible.
That said, CBS is working on a local-only 24-hour streaming news network. Dubbed CBSN Local, this service would offer multiple channels featuring live breaking news and anchored programs from local CBS stations. The service is reportedly scheduled to launch in New York in the fourth quarter followed by a wider rollout next year.
CBSN is helping CBS Local build the product, Tanner said. It's similar to how CBS Sports HQ used learnings from CBSN to build and program its own 24-hour streaming channel, Tanner said.
"This approach is a differentiator that would be difficult for others to replicate in a short period of time," Tanner said. "We are talking about years of investment in product, engineering and other areas [by CBS] to make live streaming news work. The news industry is used to having healthy competition in broadcast and cable — and it's likely to have the same competition in OTT. But overall more investment in the OTT space means that our product will be discovered by a wider audience."
Subscribe to the Digiday Video Briefing: A weekly email with news, quotes and stats around the modernization of video, TV and entertainment.  
https://digiday.com/?p=307368