Bloomberg Media has developed technology to connect its TV and digital ad inventory
One of the most valuable pieces of technology in ad-supported media today is the tech that can connect media companies' linear TV and digital advertising businesses. That technology doesn't fully exist yet, but it's beginning to take form.
Bloomberg Media has developed a technology called Bloomberg Interlink that, as the name suggests, will enable the media company to link its ad inventory across its linear TV network and digital properties. The company will initially use the technology to update the banner ads that appear on screen during its TV shows, but eventually, Bloomberg Interlink will enable Bloomberg Media to treat its TV commercial breaks and digital pre-roll and mid-roll placements as a single inventory pool.
Getting to that point will require time and testing given the revenue that's at stake. "The biggest challenge that we're thinking about is how does one try to create more dynamic inventory within those [linear commercial] pods without disrupting the TV marketplace that does quite well for us," said Derek Gatts, global head of advertising innovation, technology and operations at Bloomberg Media.
That's why Bloomberg Media is starting somewhat small with Bloomberg Interlink. For now, Bloomberg Media is using the technology to apply its Trigr ad product — which tailors a banner ad's content based on stock market conditions — to the banner ads that appear on screen during Bloomberg's TV shows. "We needed a technology that would help us bridge that need for real-time insertion," said Gatts.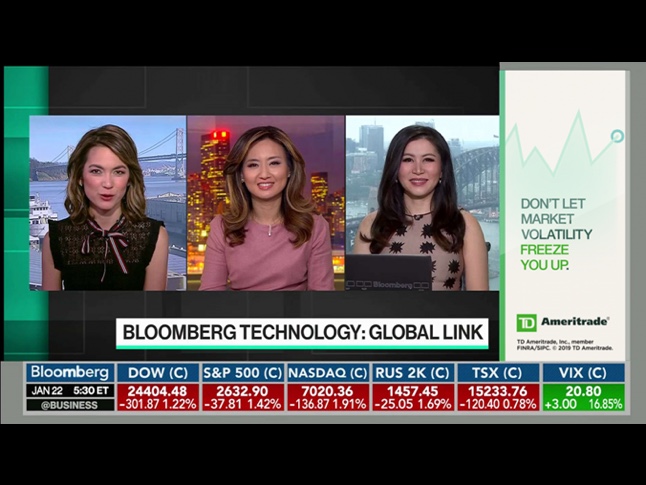 Bloomberg Interlink serves as an intermediary between its broadcast transmission system and its digital ad server. The technology tracks the available inventory on Bloomberg Media's TV network as defined by the broadcast transmission system. Then, it takes the ads that the digital ad server is looking to place and passes them to the broadcast transmission system to air on TV.
Bloomberg hopes to use Bloomberg Interlink to make the Trigr-powered banner ads available on its TV networks outside of the U.S. by the end of this year, said Gatts. "Then from there, we would start to look at potentially capitalizing on Interlink to use on other types of formats that we offer on TV," he said.
Bloomberg Media is not the only media company trying to build a bridge between its linear TV and digital ad inventory. Comcast's NBCUniversal and its ad tech sibling FreeWheel are working on that as well. And others such as AT&T and Google are likely to follow suit. The expectation that many companies will develop this kind of technology and the value of having that technology helps to explain why Bloomberg Media opted to file a patent for Bloomberg Interlink, protecting the technology that's important in protecting the future of its advertising business.
"We felt like if this is where the marketplace is going and we are uniquely poised with the engineering capabilities as well as being a multi-platform global company, we should actually put a patent around this to make sure we protect this technology," said Gatts.
By owning technology that's able to connect TV and digital ad inventory, Bloomberg could opt to license the technology to other media companies and position itself as an ad tech alternative to FreeWheel and Google, which have established themselves as the foremost ad tech companies working with TV networks to bridge the linear-digital divide. However, that may be a ways off: "I wouldn't say we are thinking about that yet," said Gatts.
https://digiday.com/?p=321174