'The audience there is huge': A guide to the most popular publisher Facebook video hacks
May 2, 2017 • 5 min read
•
•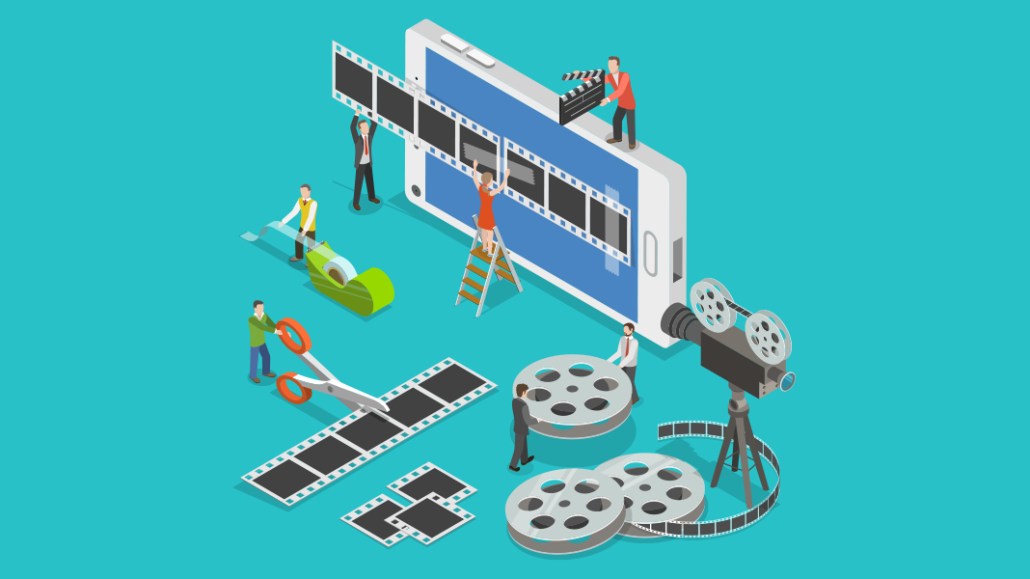 When Helen Havlak, engagement editor at The Verge, looks to the future, she sees video — and Facebook. Last year, the Verge's video views overtook its pageviews. This year, she expects the tech site to more than double the number of videos it produces this year.
"Video right now is the only way to build a Facebook page," she said. "The audience there is huge."
Publishers are all trying to become video producers, tantalized by the prospect of lucrative video ad rates and exposure on Facebook, where publishers have a better chance of getting their content seen by posting video than they do photos and text links. Media companies uploaded 931,000 social videos to Facebook in the first quarter of 2017, an increase of 109 percent year over year, according to Tubular Labs (measuring across 2,000 media companies).
But producing video is time-consuming and expensive, which is why, for better or for worse, they're turning to various hacks. Here's a guide to some of the most common tactics. We'll let you decide if they're brilliant or despicable.
Live hacks: When Facebook paid publishers from CNN to Vice Media more than $50 million to create live video and declared live as its new big priority, it also created the incentive for creators to rush in and create live video for the sake of live. The results included publishers including the Daily Dot to Unilad posting video that wasn't actually live at all but pre-recorded. Another common trick BuzzFeed and others used was to run polls or countdown clocks.
Facebook has discouraged the use of prerecorded video as live and said it was reducing the appearance of poll-based videos in its feed, but they haven't gone away entirely. Mic has unapologetically experimented with the format, running pre-recorded video like this political roundtable as live. Racked recently posted a static photo accompanied by a poll asking people to choose between one of two lipstick shades. The video below was posted as a live video by Racked for Kylie Cosmetics.

Gifs: Animated gifs are another way for creators to game Facebook's algorithm. Sabel Harris, head of marketing for ICX Media, a startup that helps video creators find audiences on platforms, said clients often post gifs this way because they can be made in five minutes versus the hours it can take to cut down a five-minute video to, say, two minutes. "They're easy to make, and you get those views, and Facebook does prioritize content that's engaging," she said. At the Verge, Havlak said, "We put a lot of gifs on Facebook, and they perform really well for us."
Critics say this risks turning off users, though. Harris herself said she discourages creators from doing this because the looping nature of gifs results in high but ultimately meaningless engagement numbers. "They're like fake vanity metrics."
Other people's video: If you can't create as much video as you want, no worries: Just repost someone else's. The ways of the Facebook algorithm are elusive, but Harris said the publisher that posts the video can basically get points for engagement without doing any of the work, which will in turn help the publisher's content get shown more in people's feeds. "They don't get the view, but they get the engagement, and then Facebook is going to show [people] similar content," she said.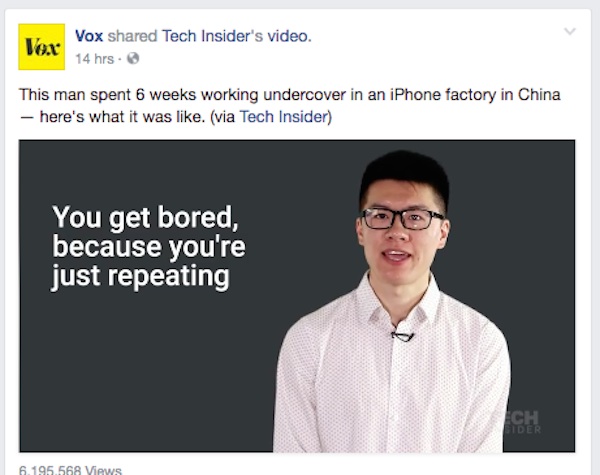 Automation: Video doesn't have to be video at all. Like the polls and countdown clocks, it can be a series of photos that are just strung together and overlaid with text and motion graphics. Two leading vendors, Wochit and Wibbitz, are helping many publishers make video on the cheap with their automation tools. Using automation, Gannett's USA Today Sports Media Group can cut the time it takes a text editor to make a video out of still images with graphics aimed at social users to 30 minutes from hours, said Chris Pirrone, gm of sports digital properties.
"The ROI on digital production is lower," he said. "For the longest time, you needed a video team to use final cut and it was costly to create video." With automation tools, he said, "You don't need to have a dedicated video production team to create engaging video."
Repurposing audio: Publishers have been taking to Facebook Live to get more exposure for their podcasts. One example is USA Today Sports' MMAjunkie Radio, which was trying to get more exposure for its audio shows. It started streaming the show to Facebook Live and saw as many as 30,000 people tune in, which was more than three times what it was getting in podcast downloads, Pirrone said.
To some like Havlak, the tools and formats give people like her a "freedom" that can make things "fun and interesting." To purists out there, anything short of original video (or live, as the case may be), gives them an unfair advantage with the Facebook algorithm and misleads the public.
Running gifs as videos "is misrepresenting the user experience," Nicole Carrico, vp of content collaborations at Upworthy, said disapprovingly. "We think when you intentionally mislead your audience, it costs more than it's worth."
But to others, publishers are just doing what they feel they have to to take advantage of Facebook's enormous reach. And at a time when Facebook is doing little to help publishers monetize their video, publishers will do what they feel they have to do at least maximize their exposure there.
"There isn't a whole lot I wouldn't do on Facebook because there are a lot that aren't using it to its full potential," Harris said. "It's still very much a free-for-all because Facebook hasn't given very much education."
https://digiday.com/?p=234492
This week's Future of TV Briefing looks at how the streaming ad market's programmatic guaranteed vs. private marketplace debate is reaching a compromise.
This week's Future of TV Briefing looks at how this year's upfront and recent announcements from AMC Networks and Paramount indicate the progression of programmatic in the TV and streaming ad market.
This week's Future of TV Briefing looks at how major streaming service owners' subscription business fared in the third quarter of 2023.