Amid cutbacks, The Guardian pushes further into long-form documentaries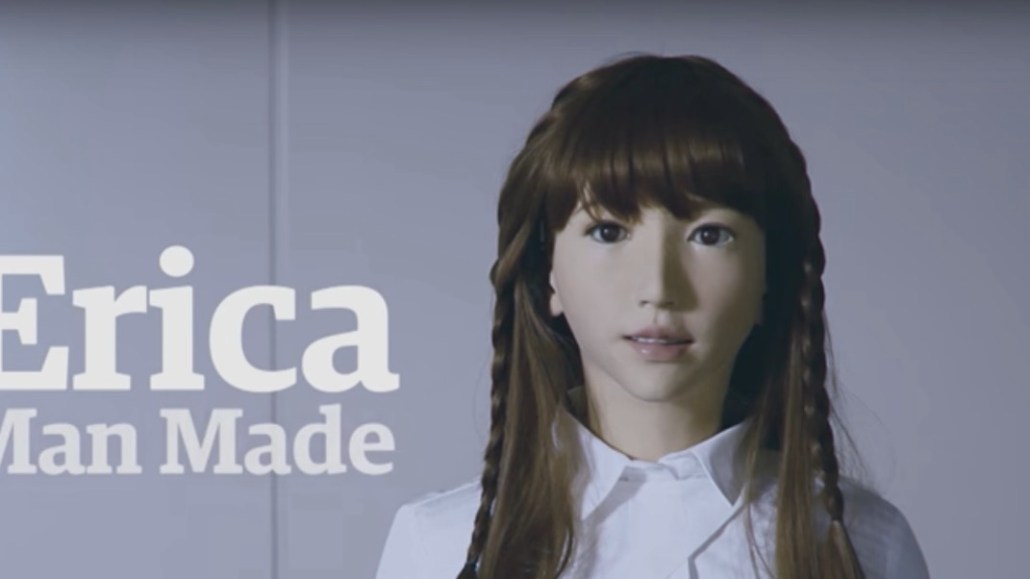 Even as it trims costs to stem the tide of losses, The Guardian has increased the number of long-form documentaries it releases from one a month to one a week.
Last week, Guardian Documentaries launched "Erica: Man Made," a 15-minute film about an autonomous robot and the creators behind it. Over the weekend, it racked up 270,000 views on Facebook and over 100,000 views on YouTube, which includes views from The Guardian's own site as the publisher is using a re-skinned YouTube player here. This month, Guardian Documentaries will release "The Fight," which follows disability-rights activists in Bolivia, and "The Sprinters Factory," which features the top young female athletes training in Jamaica.
"They speak globally to people," said Charlie Phillips, head of Guardian Documentaries. "There's so much information about these zeitgeist-y topics but never in enough depth. Online audiences increasingly want really well-made video; they notice cracks a lot more than a couple of years ago."
As of two weeks ago, there were only two full-time employees on the Documentaries team, which is separate to The Guardian's in-house video team. Guardian Documentaries commission the videos — currently there are 12 films in different stages of production — and pulls on contractors and freelancers to complete the works.
Previous films include this on people who aggressively comment online, on the use of guns in America, racism within a Brazilian beauty pageant, and people who practice living on Mars. Guardian Documentaries prioritizes topics that the publisher hasn't covered in other mediums, so it's unlikely to do a documentary on refugees in Calais, for instance, a topic extensively covered in text articles and shorter-form video.
The foray into films is not yet a real moneymaker — there are no commercials — but it's not a huge resource drain either. For now, the publisher is partnering with not-for-profit arts organization, The Sundance Institute, to co-fund this slate of videos.
"The ideal stage for filmmakers to come to us is late development or early production," said Phillips. "They know what the film will be, they can demonstrate access, and they can show me some footage. It needs to be early enough that we can work to get the right direction and ask the questions we want them to, and we can be supportive in an executive role."
More publishers are playing in the documentary space. In the U.K., Time Inc. announced at the beginning of this year it will be creating more documentaries for TV. The New York Times and The Washington Post are also producing documentaries.  The Economist is also putting out longer videos. Many more publishers have flooded the zone on short-form Facebook videos. But long-form videos come with some measure of prestige, if not a clear path to driving business. Elsewhere, The Guardian is tightening its belt: In the U.S., the publisher plans to cut costs by 20 percent.
Documentaries aren't completely new territory for The Guardian, which started experimenting with longer-form video in 2014. Over the course of 18 months, it released around 45 different documentaries of various lengths and at a much faster rate. During July and August 2016, it went through a brief hiatus, during which it commissioned more projects and lined up institutions like Sundance and the Bertha Foundation to help The Guardian co-fund projects, relaunching the Documentaries division in September.
"The organization now has the confidence that people want to watch documentaries," said Phillips. As such, The Guardian is treating each film release in April as its own event and putting more marketing behind it, with banner ads on Guardian.com and shorter teasers on Facebook, Instagram and Twitter.
Online video is at its most effective at either end of the spectrum. Phillips said that documentaries of eight or nine minutes fall in the "uncomfortable" middle space. "People don't know whether to watch them on their phone on the bus, or at home in their chair in the evening." Now the documentaries have settled on the 20-minute mark.
The goal is to have people come to The Guardian site to watch the films, where the publisher hopes they will sign up to its paying membership scheme.
"It's important that we have a decent back catalog," said Phillips. "We can show we've been doing this for a while."
https://digiday.com/?p=231537