Mindshare, Xaxis, Samba TV and Campfire are Digiday Marketing and Advertising Awards Europe finalists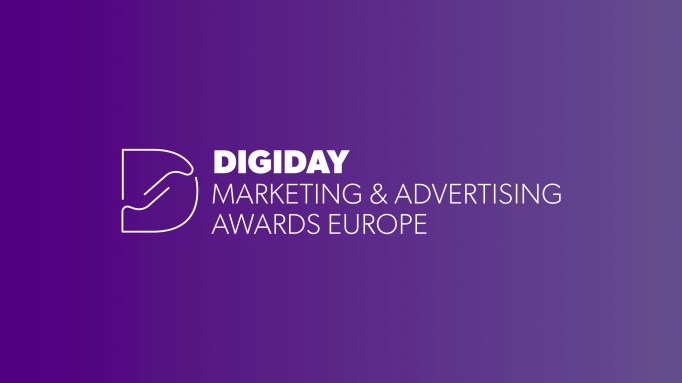 European marketers turned to the primary pillars of audience engagement as the pandemic and quarantines continued to upend and alter the pace and approach to shopping in 2020 and 2021. With an eye on Gen Z audiences, they leaned into the persistent power of influencers. They doubled down on strategies that brought personalized, meaningful messages to the cohorts they strove to reach. 
Whether it was positioning outdoor experiences as a positive alternative to restriction-riddled lifestyles or body-positive messaging, campaigns that put applicants on this year's shortlist acknowledged the very human face of advertising that consumers expect. Meanwhile, new channels and the expanding power of video in spaces such as SVOD marked campaign achievements for advertisers diving deep into the future of first-party data. 
You have read the maximum number of free articles.
Digiday
+

Membership

Subscribe now for access to unlimited Digiday content, premium research reports, exclusive newsletters, invitations to member-only events and more.
This content is available exclusively to Digiday+ members.
Digiday
+

Membership

Subscribe now for access to unlimited Digiday content, premium research reports, exclusive newsletters, invitations to member-only events and more.
The shortlisted candidates for the Digiday Marketing and Advertising Award Europe re-emphasized what remains true about advertising in the present: Authenticity and context are twin rulers of the marketing landscape, and the shifting nature of audience targeting is (once again) ascendant. Highlights from the shortlist include the following campaigns. 
Mindshare and Xaxis boosted holiday bookings with dynamic creative for Landal GreenParks
Advertisement
MindShare and Xaxis are shortlisted for Best Use of AI, Best Use of Data and Most Effective/Measurable Campaign for their work with Landal GreenParks. The campaign was marked by data powering increased off-season bookings for the company's Danish holiday bungalow parks. 
To accomplish this goal, bespoke messages were delivered to audiences, which was a tall order given the company's ever-changing occupancy level data. To tackle the challenge, Xaxis developed a live occupancy-level dashboard, tracking the collection and segmentation of Landal GreenPark's first-party sales data as well. 
The development of an algorithm that used all of this data provided a continuous, optimized and highly adaptive programmatic buying setup for dynamic banner ads that catered unique messages to customers. As a result of these personalized ads, off-season occupancy grew overall and on weekdays — making a significant positive impact when the tourism industry was still feeling the effects of the pandemic.     
Samba TV helped Acuvue see its target audience clearly — thanks to first-party data
Advertisement
Samba TV, shortlisted for Best Use of Data and Most Effective/Measurable Campaign, allowed Acuvue to leverage first-party, privacy-compliant data to identify and reach its target audience. 
The vision-correction brand partnered with Samba TV to leverage the first-party data provided by its proprietary content recognition technology. With this data, Acuvue could see the TV shows, channels and services with which their audience engaged and how to connect them across multiple devices. More than that, the brand was also able to achieve a clearer view of the ROI of its advertising campaign. 
By reaching consumers through non-traditional media channels and using safe, opted-in data, the partnership allowed Acuvue to grow awareness, consideration, and purchase intent among vision-impaired audiences.    
Campfire leveraged micro 'skinfluencers' to create scroll-stopping content
Advertisement
Campfire and The Inkey List are shortlisted for Best Use of Social for their work on the #AskINKEY TikTok campaign that amplified the skincare brand to Gen Z consumers.  
By partnering with hundreds of TikTok micro-influencers in the skincare space — both dermatologists and thought leaders — the campaign generated content that could maintain a tricky balance between educational and entertaining. 
The carefully curated brand representatives utilized their expertise in TikTok content creation, along with their knowledge of skincare and Inky List products, to create compelling, viral-worthy content. The thoughtful influencer selection and their content helped build brand awareness and drove sales, with multiple products selling out within days after the campaign's launch. Inky List accumulated six times the number of views Campfire had initially set, all within the first month of launching on the platform.
St. Tropez and Campfire: Brand awareness milestones via body positive messaging
Advertisement
With the popularity of TikTok exploding into life in 2020, St. Tropez wanted to ignite brand awareness and following on the platform, appealing to beauty-focused Millenial and Gen Z audiences. With the objective of a significant rise in visibility on the platform, St. Tropez aimed to increase sales of their new Glow Kit alongside various other tanning products.
In collaboration with renowned plus-size model Ashley Graham, Campfire helped St. Tropez launch their new Glow Kit, accumulating millions of views and growing their brand page while creating body-positive experiences for women with a trending moment on the TikTok platform. It was a significant accomplishment, given that it was the brand's first foray into TikTok, and it highlighted the power of a positive approach to an audience that wants all types of beauty to be represented in the creative with which they engage. 
Next up, the announcement of this year's winners will take place on February 10, 2022. Stay tuned for our judges' final decisions.
Best Brand/Influencer Collaboration
OneFifty Consultancy and Green Cola – 21 Days
THE FIFTH – #SQUAREBYIT
THE FIFTH – YouTube Originals: Pride
Influencer.com and Isobel – DoYouAlmond?
Fanbytes and ACCA
Initiative Russia – Rexona IGTV Series
Advertisement
Best Use of Social
LADbible Group and Tampax – Think Outside the Box
OneFifty Consultancy and Mazda UK – Beautiful is on the Horizon
Campfire and The INKEY List – #AskINKEY
Hootsuite and Clarins
CHS – Petplan Best Care
CHS – The British Horse Society: Together We Can
Best Use of Video
CHS – HSBC My Investment
Crunchyroll
On Running
Gumtree UK
CNN International Commercial – BMW – The Art of Leadership
Mixmag and Social Chain – Zalando's Longest Set of Summer
Best Creative
Thomson Reuters – "Westlaw Edge, The Standard for Legal Research" 2021 campaign
Thomson Reuters – Practical Law
Thomson Reuters – Shaping Tomorrow, Together 2021 campaign
Best User-Generated Content
Fanbytes and Warner Music Group – #TheStarman
Campfire and The INKEY List – #AskINKEY
Campfire and St. Tropez – Ashley Graham Glow Kit Launch
Best Use of Native Advertising/Sponsored Content
LADbible Group
Børsen Brands and Mercedes-Benz
CNN and The Macallan – "In Collaboration With"
Outbrain and Royal Canin
Best Use of AI
D-ID – Creation of Deep Nostalgia for MyHeritage
Xaxis, Mindshare and Landal Green Parks
Best Use of Data
Merkle and QueryClick
Realtime Agency and OVO Energy
Samba TV and ACUVUE®
Xaxis, Mindshare and Landal Green Parks
Nespresso and Greenhouse
Bestbesetzung Wagawin and Deutsche Telekom
Best Use of Technology
Crealytics and Otrium
Next, iProspect & Google
Uberall and Cushman & Wakefield
Zorka Agency – YouTube Progress Bar
Burt Intelligence
Xandr – Launch of Xandr Curate
Best New Product or Launch Campaign
On Running – Cyclon
LADbible Group
Campfire and The INKEY List – #AskINKEY
Fingerspitz, TDE & RacingNews365
Campfire and St. Tropez – Ashley Graham Glow Kit Launch
Sifted and Piano
Best Paid Social Campaign
CHS – The British Horse Society: Together We Can
CHS – Petplan Best Care
ROAST and CCUK
Most Effective/Measurable Campaign
Meta and MADE.com
Xaxis, Mindshare and Landal Green Parks
Piano and Funke Mediengruppe
Samba TV and ACUVUE®
Crealytics and New Look
Circus PPC Agency and Number 1 Plates
Best Branded Content Series
LADbible Group
Insider and ING
On Running – Run the City Guides
Best Content Site
Brand Movers and Satair – The Satair Knowledge Hub
Biites.com
Software AG – Virtual Customer Event conXion 2021
Brand Movers and Beumer Group
Best Search Campaign
Journey Further and 247 Blinds
Crealytics and Otrium
Best Multi-Channel Content Distribution Strategy
Initiative Russia – Dove #ShowUs 2020
LADbible Group – Lynx: Java's Coming Home
Most Innovative Use of Content
LADbible Group – Army: A Soldier is a Soldier
Software AG – Virtual Customer Event conXion 2021
Best In-House Content/Brand Studio
On Running
Little Dot Studios
Haymarket Automotive Studio
CNN Create
Agency of the Year
The Keenfolks
Journey Further
THE FIFTH
Crealytics
Campfire
OneFifty Consultancy
Sign up to get the day's top stories at 6am eastern.