The Financial Times is the Publisher of the Year at the Digiday Awards Europe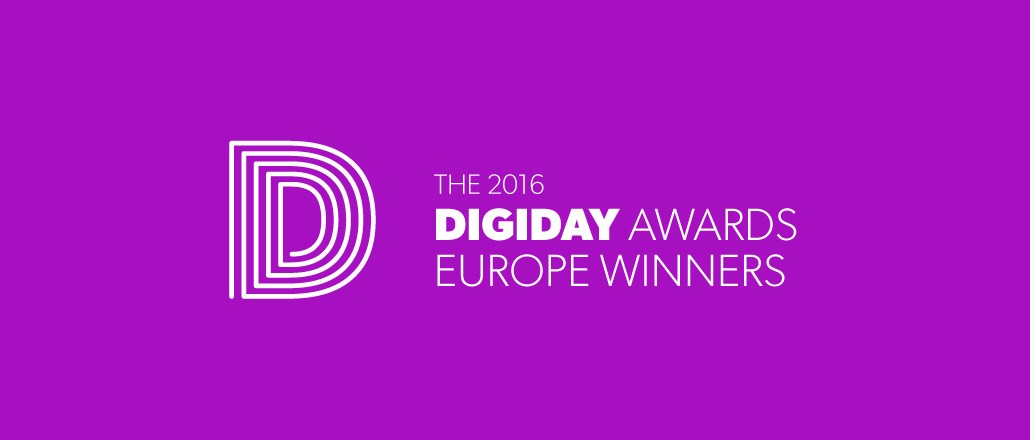 Please note, for 2018 we have consolidated our European awards into two programs. The Video Awards Europe are no longer a separate program anymore, but instead the categories can be found as a part of the Digiday Media Awards Europe and the Marketing & Advertising Awards Europe.
The Financial Times is the Publisher of the Year at the first-ever Digiday Awards Europe. The win was decided by public vote, with the daily newspaper garnering 36 percent of the vote. (The Economist was in second, with 30 percent of the vote.)
FT also took home the award for Best Publishing Innovation in Advertising for its "Paywall Pause" campaign to attract new readers.
In the last 12 months, the Financial Times has gone all-in on increasing paid subscriptions thanks to the belief that more revenue will come from these subscriptions, not from advertising. The "Paywall Pause" campaign, which was aimed at getting new subscribers, was based on this belief. Digital agency Essence created a five-week campaign to combat the assumption that the FT was a stodgy newspaper for people who understood everything about finance. The campaign warmed potential new subscribers up to FT content, then the publication lifted its paywall for a full 24 hours so that new readers could read the content in full.
The focus on paid subscriptions has paid off, too: the FT saw a 31 percent growth in full subscriptions and 75 percent growth in all subscriptions. Furthermore, the data the paper has gathered from its subscribers overall is high-quality, as Hiroko Hoshino, regional online director for the paper's Asia sales, told attendees at the Digiday Publishing Summit Japan: "The kind of data that we get from subscription is much, much stronger than the data that you get else from programmatic or an ad network."
DigitasLBi won Agency of the Year. Its win was also decided by public vote, with the agency beating out the competition with 54 percent. DigitasLBi manages to balance impressive staff growth in its U.K. office and 80 clients around the world, including Honda, Barclay's and Kellogg's. The agency's core tenet, according to U.K. CEO Michael Islip, is collaboration, and a peek inside its London office shows that this tenet is alive and well: employees can choose a new place to sit every day and stay updated on all office goings-on using "The Insider," an office Intranet.
Other winners include Condé Nast Video for Video Team of the Year, CBS Interactive for Content Studio of the Year and rehabstudio for Best B2B Campaign for Google's "Digital Garage."
Here are all the winners:
Best Use of Multimedia
The Economist – RecoVR Mosul
Best Use of Video Content
Ubisoft & Webedia – Templars Assassin
Best Audience Development Strategy
VGTV Rampely's – Snapchat, VG and Justin Bieber's rage 
Best Mobile App – Publisher & Brand
Viacom International Media Networks – Viacom Play Plex
Holition/Cult – "Get The Look" for Rimmel London
Best Publishing Innovation in Advertising
The Financial Times – The FT's Great Paywall Pause
Best Native Advertising Campaign
News UK – "The Surprise Party" for Morrisons supermarkets
Best Brand Video
Ubisoft & Webedia – Templars Assassins
Best Branded Content Series
First Content Studio – "I am 12″ / "Eu sunt 12"
Best Brand Partnership
Haymarket Media Group – "Stuff Innovators" powered by Intel
Best Use of Social
Maximum Media/JOE.ie – JOE.ie
Best Publishing Platform
Playbuzz
Best Programmatic Advertising Platform
DoubleClick by Google 
Best Video Advertising Platform
Teads
Best Mobile Advertising Platform
LiveIntent
Best Audience Development Platform
rehabstudio – "Digital Garage" for Google
Best Brand Platform
Playbuzz
B2B Campaign of the Year
rehabstudio – "Digital Garage" for Google
Video Team of the Year
Condé Nast Video
Content Studio of the Year
CBS Interactive
Agency of the Year
DigitasLBi
Publisher of the Year
The Financial Times
https://digiday.com/?p=211548