Native hasn't just arrived, it's a blockbuster. It's overtaken display to become the largest category of advertising  with projected spend reaching $65 billion over the next three years, according to Business Insider Intelligence.
On Tuesday, at Sharethrough's annual NATIVE  Summit, Sharethrough CEO Dan Greenberg shared statistics that projected native advertising growth reaching $65 billion in the next three years. "Native is a universal design principle," he said. "It will apply to all monetization platforms now and forever."
Sharethrough's NATIVE  Summit, held last week in San Francisco, brought together publishers, brands, agencies, and social platforms to discuss the present state of native advertising and the future of the format. Here are the five biggest things we learned.
Native's experimental phase is over
Native is all grown up. Sharethrough founder and CEO Dan Greenberg summed up the promise of native formats. "Native is a universal design principle that  will apply to all monetization platforms now and forever."
Based on the numbers it's clear that native has reached maturity. Advertisers have moved past the dabbling phase with native with brands executing  substantial, ongoing campaigns rather than one-off native plays. But with this greater scale have come greater responsibilities. Brands aren't just looking for metrics anymore, they want to see distribution plans and tangible indications that their investment is driving awareness or sales, at least when it comes to mature partners.
The Native Creatives awards showed off the 's evolution of branded content
Scattered throughout the day were videoclips from finalist's in Sharethrough's Native Creatives awards, which were announced on stage later in the day. The awards, highlighting creativity in the native subcategory,  received hundreds of entries and thousands of votes. A level of engagement that highlights the industry's interest in the native subcategory and the growing demand for quality..
The program awarded brands and marquee publishers who collaborated on work that increasingly blurs the boundaries between advertising and content. Entriesran the gamut from VR and interactive data visualizations through to traditional longform journalism. Likewise, publishers up for consideration  covered a wide spectrum, from The Wall Street Journal and The New York Times, to Gawker and Thought Catalog.
Native video has gone mobile
Not only is mobile video the preferred format among among younger millennials and Gen Z audiences, it's caught up with its desktop legacy, YouTube. Citing a report from Media REDEF, Sharethrough's Greenberg noted that Facebook–which consumes the lion's share of native video ad spend–has, along with Snapchat been accruing roughly as many video views as YouTube since late 2015.
But to take advantage of native video, advertisers are going to have to think differently, said Facebook's Head of Ad Tech Dave Jakubowksi. "Most of the value [of native video] starts at 3 seconds, and your recall and awareness and all the good metrics happen in that 5 seconds," he said. So, if you build your creative with the punchline at second 28, no dice. This up and coming group of folks with disposable income, they were born mobile. So if you don't think a little differently your competition will."
Brands and agencies are leaving click through behind
Almost since it's inception digital advertising has been obsessed with one question: "Did I sell more stuff because I put this ad in front of a person?"
Historically, clickthrough rates and simple impressions have been the standard metric by which digital marketers measure success. UM's Rech and Cyndie Beckwith, VP of marketing for Esurance, confirmed that they've moved past this when it comes to content..
"Clickthrough rates don't really matter, engagement doesn't even really matter," said Rech, whose agency works for Coke. "What we're looking for more often is to get measurement studies holistically about brand lift and sales lift."
Google measured its own content effort with Medium by working with Nielsen's brand lab to conduct its own study of whether it's Future of Security effort affected consumers. Working with Medium, Google put together a roundtable of internet security experts and allowed them to debate and answer reader questions unfettered for a week. The hands-off effort created tremendous buzz, but Google wanted to know if they'd changed minds.
According to the Nielsen study, it did. Nielsen reported that consumers exposed to the effort were 50 percent more likely to say that Google was helping to keep the internet safe and that it is a trustworthy company. Additionally, 31 percent were more likely to say Google wanted to protect users.
The future of native is in PMPs
Private marketplaces (PMP) are coming to native. Programmatic technology is giving advertisers the chance to execute native campaigns at bigger scale. With that scale comes better targeting and measurement for the advertiser and a potential new revenue opportunity for publishers.
However, one the greatest strengths of the native formats is their high degree of contextual relevancy. Taking this into account it makes sense that PMPs have been a hit with advertisers and publishers looking to make a smart match between ad creative and surrounding content.
https://digiday.com/?p=189871
This week's Future of TV Briefing looks at how the streaming ad market's programmatic guaranteed vs. private marketplace debate is reaching a compromise.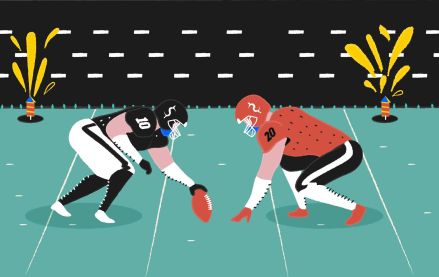 December 6, 2023 • 4 min read
In response to this challenge, the NFL's Detroit Lions have adopted a proactive strategy, introducing an extra channel for their local NFL broadcast. The objective is to broaden advertising opportunities, leverage direct-to-consumer distribution, and establish stronger connections with local fans, with the ultimate goal of increasing preseason viewership.
December 6, 2023 • 4 min read
It's been over a decade since the most recent entry in the wildly popular "Grand Theft Auto" series came out in September 2013, meaning anticipation for "GTA 6" has been building for years. Rockstar titled yesterday's trailer as "Trailer 1," making it clear that the company is poised to launch a massive marketing campaign in the lead-up to the game's 2025 release.