Sponsored
Retailers like CustomInk are making customers loyal with people-based search
May 23, 2017 • 4 min read
• Sponsored by
Digiday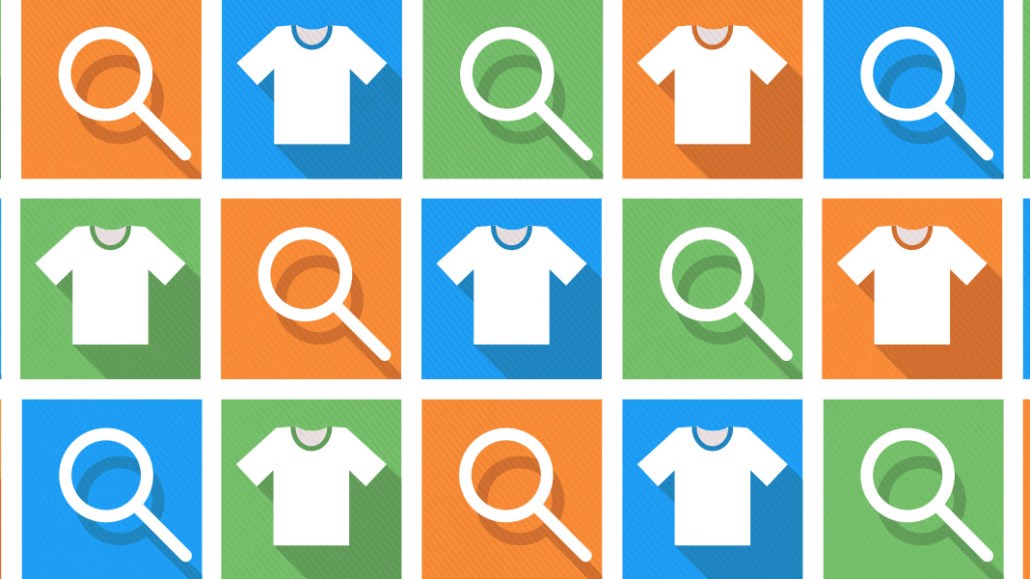 Tools like Google Customer Match are lettings brands figure out how loyal their customers are in the search box. Along with Bing's Custom Audiences, they are now part of the search marketing toolkit, the latest type of marketing to get "people-based."
So what is people-based search marketing?
Google's remarketing list for search ads (RLSA) was considered the first step toward a people-based approach. The cookie-based tool tracks the pages a user visits on a brand's site. Now, rather than focusing on just that and historically used keyword bidding, people-based search tools pull information from a CRM to let marketers target segments and better tailor their ads using data like demographics and purchase history.
Who is doing it?
So far, retailers, auto brands and ecommerce companies have been enthusiastic about picking up the tactic. John Deere and Fiat Chrysler were some of the few beta customers of RLSA, and ecommerce design-your-own t-shirt company CustomInk was an early adopter of Google Customer Match.
"A very large portion of our business are repeat customers…over 50 percent," said Katherine Flood, search manager at CustomInk. "Customer Match has allowed us to upload our existing customers and see that, hey, they're not coming back and searching CustomInk, they're searching a non-branded term." Even using non-branded terms, those customers will get CustomInk high up in their search results.
Flood used to work at Rosetta Stone, where she said the marketing tactic didn't apply because they were selling a one-and-done product. However, sellers of "high ticket items" that are one-time purchases can still benefit from people-based search, said Nichola Perrigo, vp, director of digital marketing at RPA, because of the "longer shopping window," which gives marketers time to really segment out, for example, consumers looking for the right car.
People-based search can also suppress customers who've already purchased a one-and-done item, so retailers don't waste money targeting a former customer twice—and of course, there's always the opportunity to upsell. And using CRM data, retailers can use people-based search marketing tools to find similar audiences to customers who already purchased products.
How are they using it?
People-based search easily applies to remarketing, as that's where Google's products are "the most robust," said Perrigo. "If you're able to start distinguishing someone, a new customer interacting with your brand, and do some fine segmentation that way, I think there's absolutely an opportunity from a targeting perspective, but also from a messaging perspective."
Home improvement chain Lowe's also uses people-based search marketing to tailor personal messages. "When [our customers] are actively searching or when they're actively trying to find information to complete their project, we want to be there to deliver the right message for that person based on what we know about them," said Katie Cowie, Lowe's digital media and advertising technology manager. Essentially, the tactic lets Cowie precisely target specific audiences based on context (the project they're working on) and their purchase intents (what they're likely going to need to complete it).
CustomInk, due to the nature of its very personalized service, lets Flood get "very granular on our segmenting," like retargeting people who make little league t-shirts during baseball season. However, she said there was a lot more she could do using people-based search marketing technology, by targeting site visitors even more precisely based on the nuances of their custom t-shirt designs. She just doesn't have the bandwidth to do it yet.
What teams are focusing on it?
That's because Flood is CustomInk's one-woman people-based search marketing team. "Right now uploading the list is a pretty manual process and not very automated," she said. "So, considering I'm the only one working on it, I don't target it as much as I could."
Perrigo echoed this sentiment. People-based search "is something we do ourselves," manually and also by segmenting search through DMPs. The digital marketing team who touches search is bigger at RPA, consisting of search marketers, data analysts, social ad buyers, programmatic ad buyers and ad tech specialists. Together, they operate as a "constant feedback loop among all digital touch points when working with clients." Messaging that works well on search gets integrated into display campaigns and vice versa.
As search platforms keep releasing marketing integrations, and brands learn how to hone them, it will get even easier for marketing teams to integrate people-based search into all points of their digital strategy.
https://digiday.com/?p=237573