Glossary: Get to know the new language of over-the-top television
June 26, 2017 • 4 min read
•
•
by Eric Hoffert, SVP video technology, AppNexus
Unfailingly, emerging technologies come with a new lexicon for the technology community to absorb. The internet brought us words we now take for granted – "World Wide Web," "browser," "search engine," and "Google." The smartphone introduced us to the "app," the "app store," and the world of "mobile gaming." And programmatic advertising has supplied us with a rapid-fire set of terms and acronyms like "ad server," "DSP," "SSP," and "DMP."
With the rise of over-the-top television, a technology that allows consumers to browse and watch streaming video programming over the Internet, we find ourselves with a new collection of esoteric terms. And since eMarketer predicts that 206.1 million users will consume their video content using OTT services by 2020, it's time for our industry familiarize itself with the terminology today.
That's why we compiled a glossary of 37 terms integral to understanding OTT technology:
CTV Device: Connected TV  devices that use a television as a display and can connect to the internet to access content (i.e., Roku, AppleTV, Chromecast)
SmartTV: TV with integrated internet access, specialized apps, and other features (i.e., Samsung SmartTV, SONY Bravia)
IPTV: Television content received over the Internet instead of traditional delivery systems (terrestrial over the air, cable box, and satellite TV) 
Programmatic TV: Buying and selling TV ads programmatically. Can refer to Connected TV inventory, traditional linear broadcast TV supply, or both
RIDA: Roku ID for Advertising; RIDA is a device identifier to track activity for development and marketing purposes and limits disclosure of users' identifying information
TVML: TV Markup Language, used to create individual pages inside of a client-server app on Apple TV
Swift: General-purpose, multi-paradigm, compiled programming language developed by Apple Inc. for iOS, macOS, watchOS, tvOS, and Linux, can be used to build tvOS apps
VMAP:  IAB standard for video commercial breaks, acronym stands for "Video Multi-Ad Playlist"; VMAP is used to describe "ad pods", one or more video ad creatives played in sequence 
Apple ProRes: High-quality lossy video compression format developed by Apple Inc. for use in post-production that supports up to 8K resolution; video files can have > 100 Mbps bitrates
2K: Video resolution of 2048 x 1080 (in some cases 1920 x 1080)
4K: Video resolution of 3840 x 2160
8K: Highest ultra-high definition television (UHDTV) resolution, refers to the horizontal resolution of 7,680 pixels, forming the total image dimensions of (7680×4320)
ACR: Automatic Content Recognition, identification technology to recognize content played on a media device or present in a media file, often used in Smart TVs to know what's being watched
DAI: Digital Ad Insertion / Dynamic Ad Insertion, inserting a digital video ad into a video stream, often replacing the original linear broadcast TV spot with a more localized or personalized version
SSAI: Server Side Ad Insertion, inserting video ads into a video stream on a server, in order to provide a continuous single stream of content and ads to a consumer (provides "anti-ad blocking"); can be used for live or on-demand content 
WiDi: Technology developed by Intel that enables users to stream music, movies, photos, videos and apps without wires from a compatible computer to a compatible HDTV 
RAF: Roku Ad Framework, a universal video ad platform integrated directly into the core Roku SDK as a common software library 
tvOS: Apple TV operating system, used for the fourth generation AppleTV device, written in C, C++, Swift, and Objective C, with OS updates provided via over-the-air programming
Google CAST SDK: Google SDK for writing Chromecast applications to "cast" video content to a Chromecast device
Sender and Receiver Applications: Applications which are used to support Google CAST SDK
HDMI: High-Definition Multimedia Interface, the first industry-supported uncompressed, all-digital audio/video interface
HDCP: High Bandwidth Digital Content Protection
VAST 4.0: IAB standard with dedicated features for OTT / CTV such as mezzanine files
Codec: A device or program that compresses data to enable faster transmission and decompresses received data
Mezzanine File: A mezzanine file is a high-quality digital master that is used to create copies of video for streaming or download
Mezzanine Codec: Conversion or transcode of high-quality digital master from one codec into another codec, known as an intermediate or mezzanine, prior to editing or consumer delivery
Server Side Ad Stitching: Technology that lets publishers stitch their video and ad content together on the back end rather than on the level of the client side browser (synonym for SSAI)
MVPD: Multichannel video programming distributor, an entity that distributes multiple channels of video programming such as a cable TV network (example: Cablevision, Time Warner)
vMVPD: Virtual multichannel video programming distributor, an entity that distributes multiple channels of video programming over the Internet (example: SlingTV, HuluTV, DirectTV Now)
SVOD: Subscription or Streaming Video-On-Demand (example: Netflix)
Addressable TV: One to one household targeting for advertising on traditional linear TV
TVE: TV Everywhere, authenticated online access to cable TV services from multiple devices such as desktop, tablet, phone, or CTV
AVOD: Advertising Video On-Demand
ASVOD: Ad-Supported Streaming Video-On-Demand (example: Walmart Vudu)
OTT: Over The Top (OTT), content delivered over the internet without use of a managed network (MVPD)
FEP: Full Episode Player video supply, typically episodic television programming, with advertising, delivered to a video player on multiple devices
Guaranteed Buy: Programmatic direct or programmatic guaranteed; publisher sales rep negotiates with an advertiser for premium inventory at a fixed price for a fixed number of impressions
https://digiday.com/?p=243043
This week's Future of TV Briefing looks at how the streaming ad market's programmatic guaranteed vs. private marketplace debate is reaching a compromise.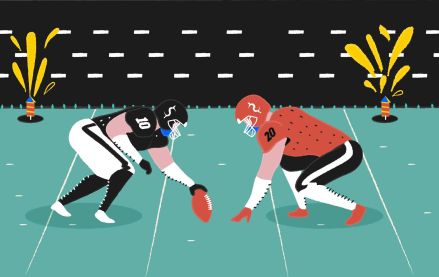 December 6, 2023 • 4 min read
In response to this challenge, the NFL's Detroit Lions have adopted a proactive strategy, introducing an extra channel for their local NFL broadcast. The objective is to broaden advertising opportunities, leverage direct-to-consumer distribution, and establish stronger connections with local fans, with the ultimate goal of increasing preseason viewership.
December 6, 2023 • 4 min read
It's been over a decade since the most recent entry in the wildly popular "Grand Theft Auto" series came out in September 2013, meaning anticipation for "GTA 6" has been building for years. Rockstar titled yesterday's trailer as "Trailer 1," making it clear that the company is poised to launch a massive marketing campaign in the lead-up to the game's 2025 release.