If you've stumbled across a roughly cut video of a teenager lip syncing to Justin Bieber, chances are it was made on Musical.ly.
Generation Z's app du jour, which started life in 2014 as an education platform, claims to have over 90 million users sharing song clips daily.
Since hitting the top spot on the U.S. App Store last July, the breakout app has seen huge traction across Europe, Canada and Australia. It has even spawned its own roster of celebrities, who rack up millions of views and likes each day.
OK. So WTF does it do?
Musical.ly lets users — or "Musers" — create and share homemade music videos that last up to 15 seconds.
They can sing a cappella, or lip sync along to its library of sound clips, which range from pop songs to comedy dialogue and even the voices of other users.
Like Instagram and Snapchat, the app has rudimental editing tools which let users speed up or slow down their clips and overlay different filters over the top.
Once they are shared, friends can like and comment on these song clips, which play over and over in a loop. The more attention they get, the more likely it is the Musical.ly algorithm will spit them out on other users' feeds — which combine Musers they follow with the app's featured and suggested content.
The most popular users and song clips appear on Musical.ly's official leaderboard and "Popular Now" sections. Meanwhile, there are "Trending" tabs to see which hashtags are getting the most traction from users.
I'm still confused.
Think Dubsmash meets Vine, with Twitter's Trending function thrown in.
That doesn't help. Is it as awful as it sounds?
If you're out of your teens, maybe. But the app's core user base was raised on selfies. For them, broadcasting their bedroom dance routines to the world is a natural extension of that.
Part of the reason for the platform's success is the ability to share Musical.ly clips on other social platforms — which has helped attract new users curious about the little red logo.
"We are in the midst of the X Factor generation. Becoming a celebrity just feels more accessible now," says Peter Grenfell, managing director at agency VCCP Kin. While winning a national singing competition is like winning the lottery, Musical.ly is more like an "addictive" scratch card, he added.
Who's using it?
Female teens and tweens, for the most part. Officially, the app is rated 13+ (as are Facebook, Twitter and Snapchat), but it isn't unusual to find users in the single digits.
It makes sense. Fedor Filimonov, a senior solutions consultant at Socialbakers, points out that millennials listen to 75 percent more music than baby boomers, while Spotify claims the age group makes up 72 percent of its listeners.
Like Twitter, Musical.ly has its own set of power users, whose profiles are marked with the coveted crown emoji.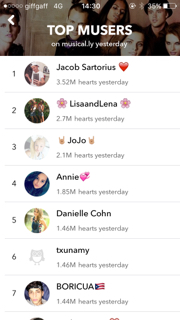 Muser Txunamy, who has 1.6 million fans on Musical.ly, is 7 years old. There's also King Jacob, the 12-year-old who has 1.1 million fans after joining the platform last year.
Perhaps its best-known user is Baby Ariel, King Jacob's 15-year-old sister who has since grown her output to Snapchat, Twitter and YouTube.
"The key to its success are the people that users look up to, influencers you won't see elsewhere," says Daniel Price, the head of social operations at agency Lost Boys. "Some of them have no other social following."
What about brands?
Like many "pre-revenue" apps, Musical.ly — with $16.6 million in the bank — has been tight-lipped on how it plans to monetize.
In June, a Coca-Cola campaign was the first that saw Musical.ly influencers like Baby Ariel and Danielle Renaee creating sponsored posts. Musers who uploaded their own videos with the hashtag #ShareACoke were entered into a competition to FaceTime with pop singer Jason Derulo, a Coca-Cola ambassador.
But while other non-endemic advertisers are yet to make the leap, the music world is already firmly entrenched. Derulo is one of many big-name artists on the platform, and major labels are now using it to tease releases and increase engagement via fan competitions and #challenges.
Ex-Disney star Ariana Grande's May campaign around her single "Into You" received 150,000 fan videos in its first day. Meanwhile, Good Morning America's recent competition for its Summer Concert saw 244,000 entries, which garnered over 12.5 million likes.
Equally, Musers draw big numbers for their own competitions, which aren't yet tied to brands. They might be soon. It's now recruiting faces for its Livestreaming app, Live.ly, with the promise that influencers will turn their content into a "full-time career" by monetizing broadcasts.
Will it last?
App installs have been dropping, so success is harder to come by for new platforms past the hype (RIP Peach).
Alex Ayin, group account director at influencer firm Social Chain, says Musical.ly is promising because a high number of users are creating content themselves, rather than consuming passively on platforms like Reddit and Facebook. And this act is habit-forming.
"The real value of the network comes with its ability to maintain people's attention and engagement," he said. "Snapchat succeeded because it changed people's lifestyle. When you get a repeating an action each day, that's when it takes off."
Simon Pont, chief strategy officer at influencer agency Brave Bison, agrees.
"Musical.ly satisfies in terms of meeting our need to share, connect, belong. … But it then ticks other major boxes too. We love to create, we love to play, we love to show our personality," he said.
"The Musical.ly conversation is a fun one to have with clients. And subject to the brand, it's a conversation worth having."
https://digiday.com/?p=194156