With ad revenue down 20%, Barstool adapts its strategy — and focuses on 'singles and doubles' in ad deals
May 11, 2020 • 5 min read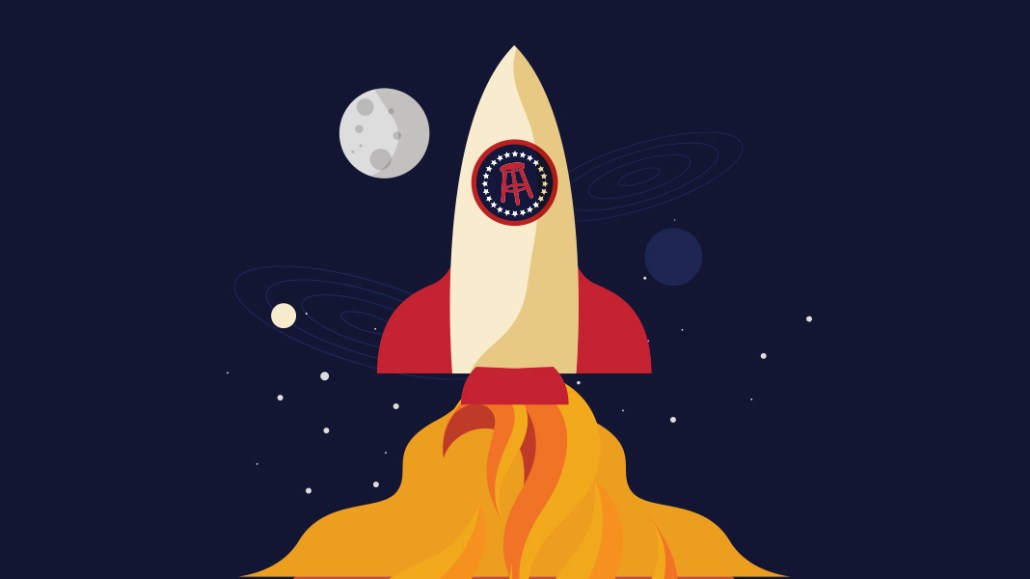 With ad revenue down 20% or more, Barstool Sports retools for the loss of live sports and events.
Barstool CRO Deirdre Lester projects that the publisher will be down 20-25% in advertising in the "short term," adding that the second quarter has always been a bit slower for live sports anyway. Meanwhile, earlier this week, the New York Times announced in its first quarter earnings call that ad revenue will have a 50-55% drop by the end of the second quarter.
"In the long term, I'm not adjusting goals yet and I'm optimistic that given what we saw in March and April, the partners that are with us will be willing to take advantage of the new content that we're creating," said Lester.
In order to hit those goals, Lester said in the latest episode of The New Normal, that her team is now focused solely on selling the things that can be controlled. This means pitching new digital editorial products, while completely taking live events out of the conversations, for instance its 14-match, country-wide golf tournament that was meant to start in April but has since been tentatively pushed to run from June to October.
While big sponsorship campaigns are great, "singles and doubles matter right now," Lester said. That means bringing on smaller advertisers at lower price points in the hopes these relationships will expand.
"As long as we can get some new advertisers in the door, then we'll probably come out really strong and will have more advertising partners than we would have," Lester said.
Changing up the sales strategy
One piece of advice that she has been sharing with her sales team is to "make as many personal connections that you can make right now," Lester said. She added that the sales team is being scrutinized more than ever during the quarantine, which has added a new "level of rigor" into understanding their sales processes and pipeline.
The team has been instructed to focus only on virtual events and products that they have full control over, versus live events, which could be postponed or canceled again in the next few months, she said. "We are only proposing things that we can count on," she said, rather than running with the optimistic approach.
Selling over Zoom has changed the sales pitch to a certain degree, but the main challenge has been scheduling in "schmooze time" in order to prevent meetings from spilling into each other.
Smaller brands offer incremental revenue opportunities
Lester said she sees this time as an opportunity for smaller advertisers to get their foot in the door. While big brands are hesitating over their ad spend, she said she is seeing competitors swoop in.
"There is a lot of opportunistic activity happening amongst the challenger brands and DTC and start up brands," she said.
This plays into Barstool's strategy for going after the "singles and doubles." These smaller brands are given the opportunity to test out a campaign on its platform or on new editorial products at a lower investment level than they might have had to make in the past, she said. The hope is that these brands will become returning advertisers during and after the pandemic.
Creating its own sports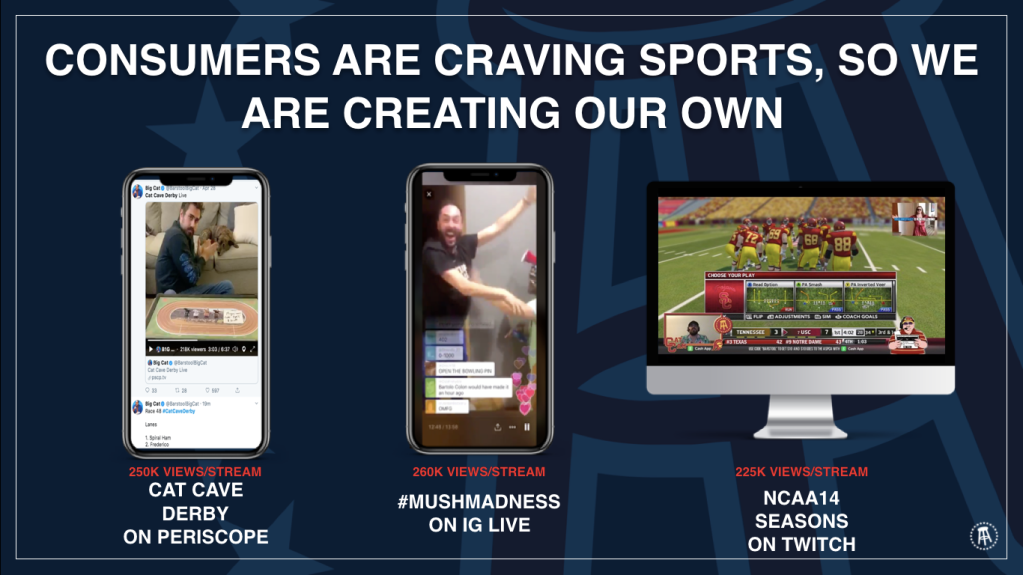 Image description –
Three of Barstool's new live streams, using Periscope, Instagram Live and Twitch.
With live sports canceled, Lester said that Barstool has been leaning into live streaming in order to build out new franchises that resemble the feeling of live sports. And on live streamed platforms, she said that Barstool's audience has been larger than ever before.
Though many of them are just shot on a mobile device from the homes of Barstool's talent, Lester said the low-fi production quality is authentic and even appreciated by the publisher's fan bases.
One of its new shows, #MushMadness, featuring Barstool personality Marty Mush doing trick basketball shots in his home, has received over 260,000 views per episode on Instagram Live. Despite having a low production quality, Lester said the show is now attracting sponsors.
Another one of its new shows, The Chiclets Cup, is a live stream that was extended out of the Spittin' Chiclets hockey show, that incorporates athletes to add commentary to game highlights alongside the show's hosts. This show has brought in both a presenting sponsor and another segment sponsor since launching.
Still placing bets on sports betting
Along with live sports, sports betting is also on hold right now. Barstool Sports Book — the company's foray into online sports betting — is still scheduled to launch this fall during football season, however.
"We're counting on sports coming back and people being so engaged in live sports that there will be more people betting on sports than ever before. It's an opportunity," Lester said. "There won't be fans in stands," but they will be watching from home.
Not relying on reader revenue
Barstool decided to end its subscriptions business during the pandemic, at a time when many publishers are seeing the value of reader revenue in their bottom lines. The product, which combined the memberships for Barstool Gold and its amateur boxing event business RoughN'Rowdy, had 30,000 subscribers at its peak. The reason for getting rid of it was because not only were the events not happening, but the goal became "reaching the broadest audiences," she said.
Join us for our next episode of The New Normal on Friday, May 15, at noon ET. Kayvan Salmanpour, chief commercial officer at Boston Globe Media will talk with Digiday editor-in-chief Brian Morrissey about how a local news publisher navigates its business at a time when local businesses are suffering. Register here.
https://digiday.com/?p=366688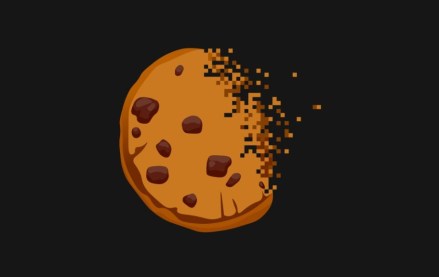 September 25, 2023 • 1 min read
During the Digiday Publishing Summit, execs from companies including Condé Nast, Dotdash Meredith and Thomson Reuters assessed the industry's readiness.
September 25, 2023 • 5 min read
Publishing executives shared their honest and unfettered opinions on the rise of generative artificial intelligence technology and its impact on traffic, IP protections, content production and jobs at the Digiday Publishing Summit last week.
September 25, 2023 • 5 min read
Here is A sampling of other AI-related news from last week.