As the Economist's social media team matures, it has moved away from playing a volume game to posting fewer posts of more quality. A year ago, 15 different tweets were written for each article the Economist published, often between five and 10 a day. Today, each article now gets between three and five tweets, according to an essay it posted to Medium earlier this week.
"We had a hunch that we were wasting time churning out tweets," said Denise Law, community editor at the publisher.
On Twitter, the Economist has about a dozen accounts, split by region or topic — such as EconEurope, EconAsia, EconBizFin or EconSciTech — some with hardly any followers, whereas its main account has 15 million. "When we started doing social media a few years ago Twitter was very much a thing, so the number of accounts we started was very much supply driven," Law told Digiday.
After an audit in March, the Economist found that more than 50 percent of their efforts was going into their secondary accounts, but was generating next to nothing in reach and traffic, she said. "We need to balance being lean, efficient and high quality, you can't do that when you're writing 15 tweets per article," said Law, adding that more checks by staff are done on the copy now, and more checklists are in place.
Since then, that resource has been redirected to other, more relevant platforms. For instance, the EconAsia Twitter account has 33,000 followers and has been on Twitter since 2009 (this is substantially more than its EconChina account which has just 700 followers). After launching on messaging app Line the Economist has increased its follower count to more than 300,000 in less than six months, although more mainstream publishers like the BBC have grown following to nearly 1.5 million. Time spent writing for platforms like Tumblr and Pinterest, which weren't getting much traction, has been redirected to Facebook, Twitter, Line, LinkedIn and YouTube.
This has led to some reorganization too. The team, which has grown from two people to 10 in a year, mostly based in the U.K. office with a correspondent in Washington D.C. and Hong Kong, is now organized by platform, as well as regional beat. So, two social media writers are working on LinkedIn, four are working on Line.
"We can't be everywhere, the goal isn't scale. But we know we need to diversify," said Law, who added the Economist will launch on other platforms but declined to say which.
To keep up the reputation of the brand on social media, it's wary of posts that could seem like clickbait, and so the writers re-work the copy to tease out the most intelligent element of the piece to keep up the standard.
It's important to frame articles in the proper light. The Economist has always written about books and popular culture, but always through the Economist's lens. Readers won't see clickbait tweets about celebs or trash TV, but will however find intelligent and wry analyses on the economic systems that underpin the world of "Game of Thrones," for example.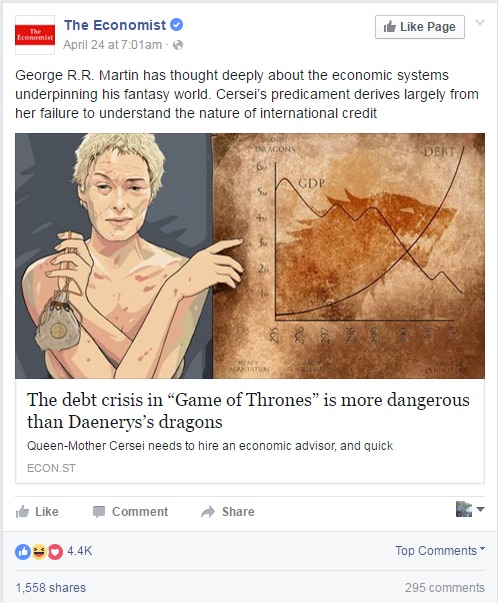 The social copy must reflect the Economist's aim to report on the wider global perspective, putting local stories into broader context. "If the piece is about how a factory in the U.S. is struggling, we might want to tease out the reason it's struggling is as a result of China," said Law.
Charlie Cottrell, head of editorial at We Are Social, said it's no surprise to see the Economist succeeding in the social space since the skills needed are very much in line with those of a publisher. "It demonstrates they have the confidence in the stories that they can produce, then rather than chase trends and news in social. When you see organizational change it shows you can make actual progress," she said.
The question is whether they convert to subscribers. Digital subscriptions are up 31 percent year-on-year, but tying that to social is still a challenge. "Our job is to expand the top of the funnel and get as many globally curious people as possible reading the journalism," said Law. "Then it's marketing's job to convert them."
https://digiday.com/?p=190365