The Wall Street Journal rolls out London-focused app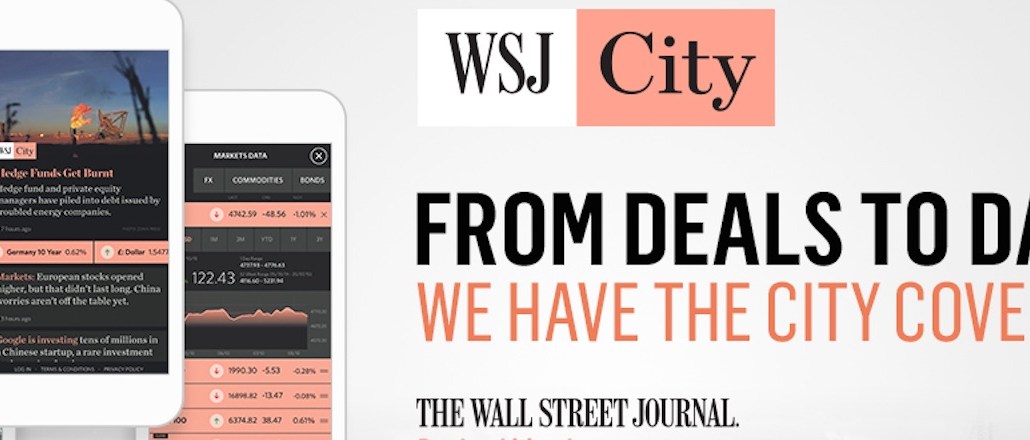 While other publishers double down on their mobile sites, The Wall Street Journal is pushing a mobile app strategy with the launch of WSJ City in London.
Part of The Wall Street Journal's global expansion plans, WSJ City will be free to download, but requires users to either verify with a WSJ subscription or register for a free trial. Eventually, the app will only be available to WSJ subscribers. The app is aimed at the city's 320,000-member business and finance community, with an editorial focus on the people behind the deals.
The app, which has a team of eight journalists, will cull stories from Dow Jones properties, including The Wall Street Journal, Financial News, Barron's and MarketWatch, as well as content created specifically for the app. For instance, the front screen of the app today is led by a story that wonders whether cutting dividends would hurt bank share prices. Other pieces include one on OPEC cutting costs, property prices in London and U.K. regulatory news.
"News is anarchic and chaotic, so boxing people into consumption habits isn't always useful," Ed Roussel, chief innovation officer at Dow Jones, said. "Saying that, we are looking at how to better customize news, but the app is already very narrowly focused. We don't want to over personalize it; the whole experience is already easy to digest."
Nearly half of the Journal's global 40 million monthly uniques come from mobile, Roussel said, and this app is its second mobile-focused product after news digest app What's News, which the Journal released this past summer and serves 10 headlines updated throughout the day.
Roussel said WSJ City was inspired byPolitico, which owes its success in part to its focus on the personalities behind politics; and What's News. While Roussel said it's too early to share results, he said that "people are reacting well to the pithy, skimmable journalism," with three-quarters of readers returning to the What's News app three times a day or more. He added that readers are responding well to the app's push notifications reminding them to revisit stories throughout the day.
Publishers are challenged to get people to discover their apps and then use them regularly, given the vast majority of people's mobile time is spent on just five apps. For some outlets, that's led to a newfound focus on push notifications that can remind people to engage with the app.
But some publishers are still not capitalizing on push notifications where they should, using them as a way to blast breaking news updates rather than tailor them to the app user. With WSJ City, the publisher plans to make notifications more actionable, by either swiping to save or dismiss, rather than to dial up on the personalization of its notifications.
"The failure of many publishers is that they haven't had a fast enough metabolism with mobile," Roussel said, adding that users can expect to see new features and enhancements added each month.
Image courtesy of The Wall Street Journal.
https://digiday.com/?p=144580