When ad tech companies come knocking, venture capitalists are often turning out the lights and pretending they're not at home.
The knock on venture capital is it falls into a herd mentality, pouring into hot sectors (mobile apps, anyone?) and then, just as quickly, heading for the exits when areas fall out of favor. And now, thanks to a drumbeat of complaints about an oversupply of agency-like ad tech firms, threats from ad blocking and questions about the performance of public ad tech firms, ad tech is not the belle of the VC ball, to say the least.
U.S. venture capital firms are not only shelling out less money to ad tech companies, they're doing fewer deals. Investors invested just $976 million in tech companies across 127 deals so far this year, down from the $1.5 billion and they invested in last year, when they made 251 deals, according to data from Pitchbook.
Investing is a bottom-line business. The drop in optimism for ad tech can be traced, in part, to the performance of the first crop of ad tech firms to go public in 2013. The stock prices of RocketFuel, YuMe and TubeMogul are down by as much as 70 percent from last year. In September, Verizon acquired mobile ad network Millennial Media for $250 million, a far cry from the $1.87 billion it was worth the day of its IPO in 2012. Not all are suffering, though; Rubicon Project and Criteo are up compared to last year.
"We haven't seen many new companies get funded in a while because the winners have already been decided, whether people who aren't the winners know it or not," said Jerry Neumann of Neu Venture Capital, which has invested in ad technology companies such as Yieldbot, The Trade Desk and Metamarkets. "There's really nothing that anyone can do to change that."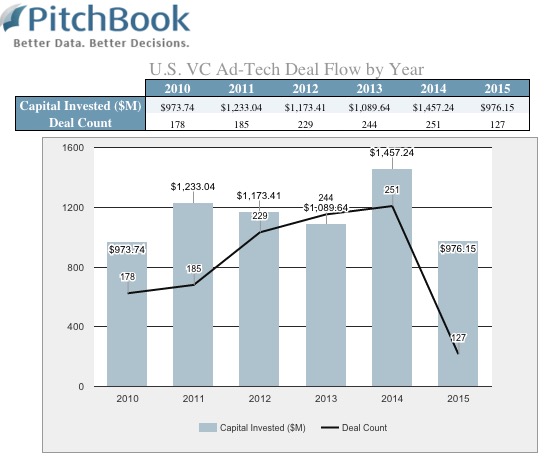 While ad tech as a whole has become a hard sell, certain kinds of companies are a harder sell than others. Ad server tech companies, mobile ad networks, third-party data management platforms, retargeting networks and companies built around tracking users across devices are "extremely uninteresting from an investment standpoint," according to Josh Engroff, managing partner at kbs+ Ventures, the investing arm of the MDC Partners agency.
"Ad tech has become dirty word. You can compare it to being a search company before Google, which is damning," he said.
Neumann said that the declining interest in ad tech is unsurprising, given that "venture capitalists have always hated ad tech," he said. While venture capital deals are down relative to last year, they're at the same level this year as they were in 2010, when VCs invested $973 million in the sector. That's because many ad tech companies have started to look a lot like low-margin managed services businesses, which need people to draft insertion orders and execute deals. And venture capital firms, which prize growth, margins and exit potential, loathe agency business models.
The other big problem for many current and up-and-coming ad tech companies is that few are able to top the capabilities of the big tech companies. Google, Facebook Twitter and now Verizon, which are locking down the industry by creating end-to-end platforms that are easy to use, come with vast stores of first-party data and are able to easily target users across devices. Moreover, these companies are also dominating the mobile monetization side of things. By 2017, Google and Facebook will control nearly 40 percent of mobile ad spending in the U.S., according to eMarketer.
"These companies are going to win because mobile is a cookie-less environment, so everything is bundling around user identity," said Engroff. "That's going to favor first parties, not third-party ad tech. If the next Tapad came along, I wouldn't go near it."
https://digiday.com/?p=143428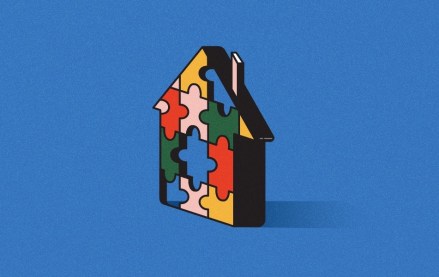 September 22, 2023 • 4 min read
Apartment Therapy's president Riva Syrop took the stage at the Digiday Publishing Summit to discuss the convergence of commerce and sponsorship revenue within its Small/Cool event.
September 22, 2023 • 4 min read
Media execs took stage at the Digiday Publishing Summit to discuss the growing importance of ROI in ad campaigns this year.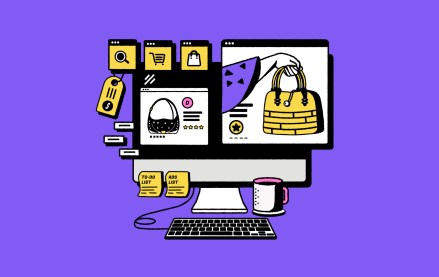 September 22, 2023 • 4 min read
CEO Satya Nadella said AI assistants will be as ubiquitous as PCs and will help users navigate across apps, operating systems and devices.