Univision Sets a Long-Form Web Video Strategy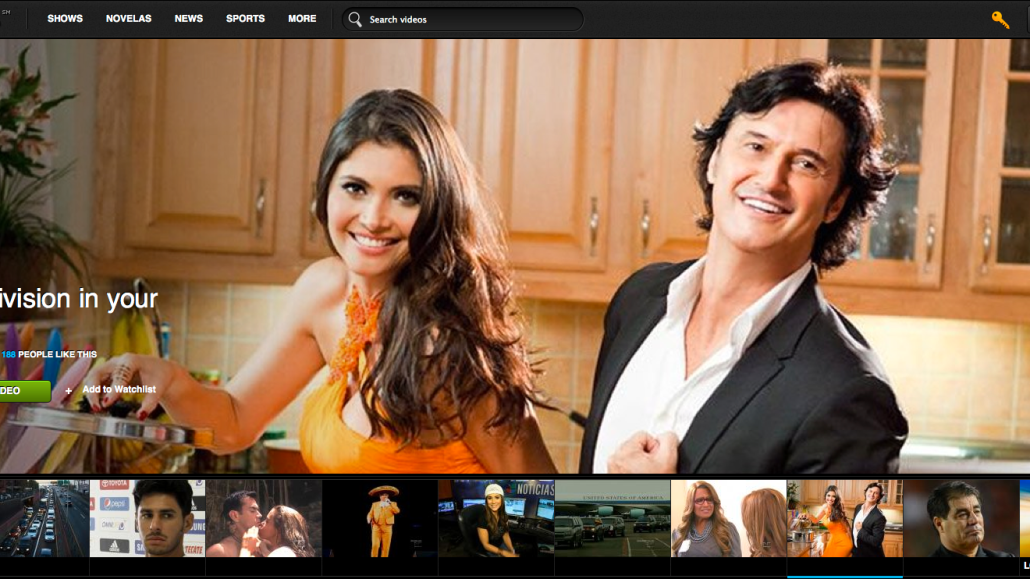 Up until last week, Univsion had only dabbled in Web video, putting clips from its shows online while reserving its full shows for cable.
Now, it's making an ambitious push into long-form streaming with the launch of a digital video network, which will carrying current and archival full-episode content, including its most popular programming.
The network, dubbed UVideos, has more than 1,500 hours of long-form content, as well as about 200 shorter clips posted per day. Univision is pursuing something of a Univision Everywhere strategy, making its content freely available (with advertising)  where its audiences lives: desktop, mobile, tablet, and soon on Xbox and over-the-top technology.
"We previously weren't able to deliver long-from content to audiences in this country," said Charlie Echeverry, Univision's evp of sales. "Now for first time, at scale, a U.S.-Hispanic consumer can connect with long-form content in an immersive experience.
According to Echeverry, there will be a lot of in-stream advertising opportunities: pre-, mid- and post-roll, as well as sponsorship placements. There are 15- to 30-second in-stream video ads, but Univision plans to use behavior and consumption patterns to create better ad products, like personalized advertising selection and relevancy feedback, which will help advertisers target in-stream video in environments that are "beautiful and drive engagement."
"As this rolls out and we gather all the information — usage and behavior — we'll have first party data we can leverage for additional targeting," Echeverry said. "It's in every way similar to the ad products folks rely on."
The company believes this is the right time to launch an online video network to its audience, which is not only the fastest growing segment of the population, but also one of the most digitally connected.
"It enables us to deliver content to that audience in scale and approach this audience," Echeverry said. "This is the first time to create a front door to all of our digital content and assets. From a consumer standpoint, looking at iOS or Android or desktop or iPad or other platforms, you're going to get seamless experience, an immersive experience with personalization and customization in that experience."
Part of that experience is having a dual-language option to watch Univision content. Echeverry said many want to watch Univision's entertainment content but aren't native Spanish speakers, and now they have that option to do so. Additionally, there are social tools and capabilities including the ability to see commentary on what people are watching.
For example, instead of commenting in a social stream that lives on the right hand rail as many do, you can comment at the actual time marker of the video.
The logic is simple. A social stream in the right hand rail isn't relevant to the experience you're having as you're most likely not synched between commenting and content. However, If you're watching a show and something happens at that moment during the content, then you see content that initiated commentary. It makes for a more relevant experience.
"It actually gives us an edge, not just strategically, but also from a consumer standpoint to give a better experience to the user," Echeverry said.
https://digiday.com/?p=25325