'The underbelly of the internet': How content ad networks fund fake news
November 28, 2016 • 7 min read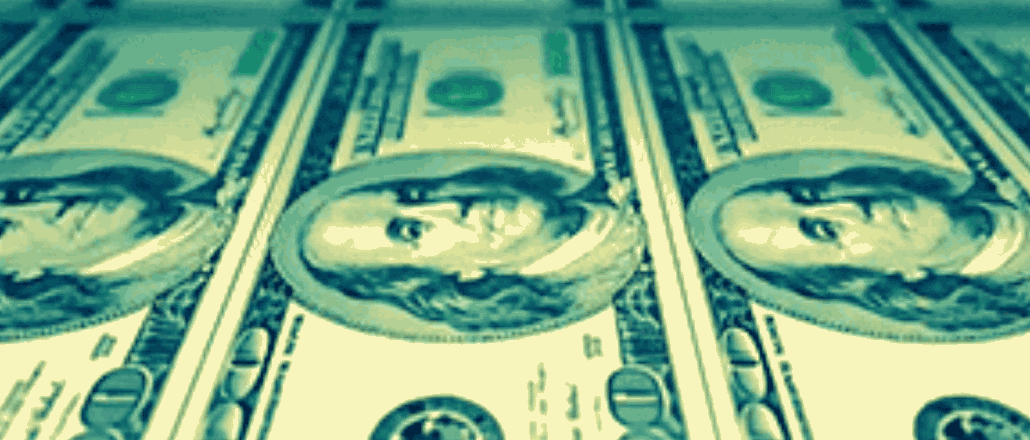 Google and Facebook have said they're taking steps to remove fake news sites from their ad networks. But the varied and deep ad tech market means these sites will continue to have many other options for making money.
Part of the struggle with containing fake news, which many are blaming for having undue influence on the election, is it's hard to pinpoint. Fake news can mean a lot of things, from misleading clickbait about celebrities to satire like The Onion. Then there are political news-focused sites like ThePoliticalInsider, WorldPoliticus and EndingtheFed that got attention during the campaigns for promoting false and provocatively written stories like the one claiming the pope endorsed Donald Trump, all combining to form what one industry insider called "the underbelly of the Internet."
Outside of Google and Facebook, fake news sites have plenty of other options to make money. One popular method on these sites is tapping the competitive market for native ad widgets. Taboola, Revcontent, Adblade and Content.ad are prominently displayed on sites identified with fake news, while there are a few retargeted and programmatic ads sprinkled in. Publishers install these native ad widgets with a simple snippet of code, typically after an approval process, and when readers click on paid links in the widget, the host publisher makes money. The ads are made to appear like related-content suggestions and often promote sensational headlines and direct-marketing offers.
The native ad widget companies all promote themselves as being highly selective when it comes to the publishers they associate themselves with, although their process for site approval isn't clear. Taboola lists publisher partners like USA Today, Mail Online and Business Insider, not Rightists.com or USADailyPolitics.com. Adblade touts ABC News, Yahoo and Hearst as host publishers, not TheRightists.com. Content.ad boasts Reuters and Reader's Digest, not USConservativeToday.com or ConservativeState.com (although Reuters says it doesn't work with Content.ad anymore). At Revcontent, it's Forbes, Newsweek and International Business Times, not ThePoliticalInsider or NationalReport.net.
The content-recommendation companies are known to write big guarantee checks to such name-brand publishers, then get to scale from the long-tail sites. Adblade claims 1,000-plus publishers in its network and that "Adblade does not work with long-tail sites." Revcontent brags that it serves 250 billion content recommendations a month across a network of "tens of thousands of websites."
Take a site like WorldPoliticus.com, which was featured prominently in BuzzFeed's expose on fake political news coming from Macedonia. The site, which falsely claimed the FBI was poised to indict Hillary Clinton, makes money from its article pages from an ad unit provided by Content.ad. (Representatives from Content.ad did not respond to multiple requests for comment.)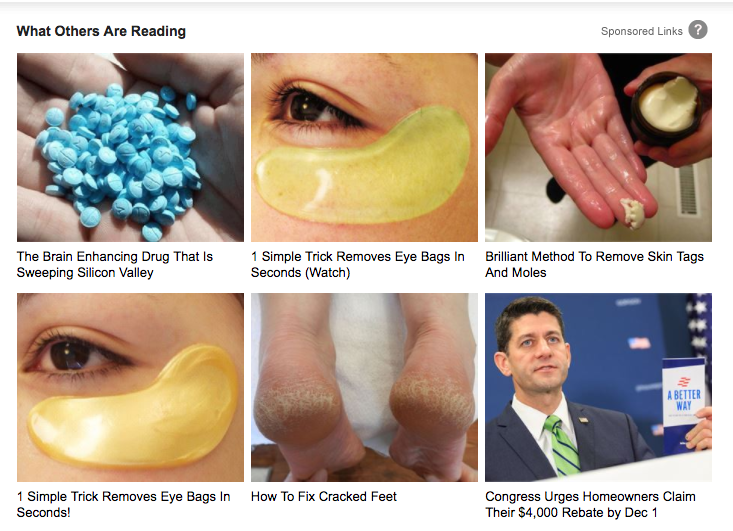 The networks typically do post policies for content they promote in their widgets; Revcontent says it has policies against "hate speech, violence, fake/false and misleading content." Adblade says it doesn't accept ads "with adult themes or anything inflammatory or hate related" or ads for "alcohol, tobacco, firearms, reproductive services, gambling." The guidelines for publishing partners are less clear.
But deciding what's fake news can be subjective, and ad tech tends to shrug and take a "who am I to decide" stance on the issue. These are not, after all, editorial enterprises. And, truth be told, these sites attract people who are consumers many marketers want to reach.
Taboola claims to reach 1 billion monthly unique visitors through "thousands" of sites. It prohibits false or misleading content in its widget, among other guidelines, but doesn't publicize its publisher guidelines. Taboola has a partnership to show its ads on USAToday.com — and USATodaycom.com, a fake news site from Tblisi, Georgia, that rips off USA Today's brand. Here are Taboola ads on a recent fake story claiming Muslim nurses in the U.K. refuse to wash their hands before surgeries.
It should be noted that Taboola is not alone in making money off USATodaycom.com. Ghostery lists several ad tech players on the site, with the above story featuring retargeting ads from Criteo. (Taboola didn't respond to requests for comment for this story; since this story published, it replied that USATodaycom.com displayed its code without permission and that Taboola has since removed its code from the site.)
Revcontent claims it rejects 94 percent of sites that sign up for its network. But among the sites that made the cut are The PoliticalInsider and EndingtheFed, which were tied to a story about Hillary Clinton selling arms to ISIS as well as the aforementioned Pope story.
John Lemp, CEO of Revcontent, said that Revcontent has removed fake-news sites from its network, but went on at length that it doesn't want to be in a censorship role. Asked about two so-called fake news sites, TheRightists.com and BVANews.com, that display Revcontent's widget, he said he didn't know of them but that he would ask staff to investigate. NationalReport.net is an admitted fake news site running RevContent widgets — in fact, its disclaimer page carries them.
"My real fear is that the second companies like Google and Facebook and other programmatic companies become editors and not platforms is the second we have lost all hope for the freedom of the written word," said Lemp.
Adblade states on its site that it only approves "a small percentage of the sites that apply" and can only evaluate "those publishers that generate over 500,000 page views a month." Among the sites that made it through that filtering was TheRightists.com, which ran a bogus story (below) saying Hillary Clinton once plugged Trump for president. (Adblade representatives did not respond to multiple requests for comment.)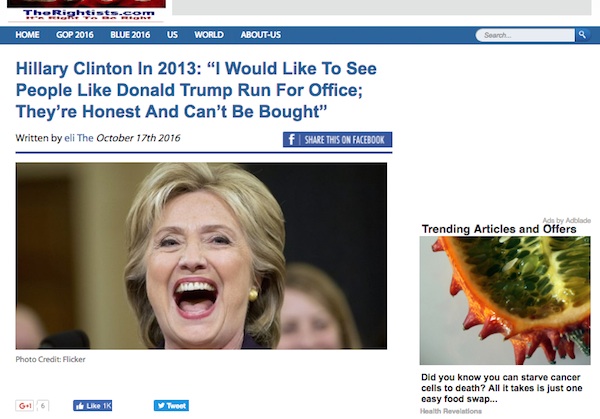 Todd Sawicki, CEO of Zemanta, a programmatic platform for branded content, believes fake news sites like these will dry up as Google stops serving ads to them through its AdSense network, and their operators will move on to something else. (AppNexus on Tuesday made a similar move, cutting off Breitbart from using its ad-serving tools.)
"AdSense was the long tail of monetization, and below that, it's slim pickings," he said. "The CPMs for these second- and third-tier networks are tiny. That's why [the sites] have lots of ad slots."
Ultimately, the advertiser and publisher are responsible for where an ad appears and the quality of the host site, and there's a flight to quality by brands as they increase — and scrutinize — their digital ad spending, said Jonathan Mendez, CEO of Yieldbot, an ad-tech company that lets advertisers buy display ads by keywords.
Or, if history is a guide, the engines will clean up their acts as Outbrain, one of the leading players, did a few years ago when it stopped spammy publishers from buying traffic through its service.
But other forces work in favor of sketchy sites. As ad buying has become more automated, with targeting based on audience over site environment, ads can end up in places the advertiser didn't intend, even if they put safeguards in place. Brand advertisers buying opaque inventory could show up inadvertently on fake news sites, said a media buyer who asked to stay anonymous. Not to mention that people can't seem to resist reading about claims or news that seem too good or outrageous to be true.
"It is hard enough to deliver an in-view ad to an actual human while avoiding truly awful content adjacency, making fake news a lower priority for many buyers," the buyer said. "Even if some buyers blacklist these sites from programmatic sources and ad tech firms cease doing business with them, there will always be another advertiser unaware of where their ads run and another content recommendation engine willing to take the traffic."
https://digiday.com/?p=211477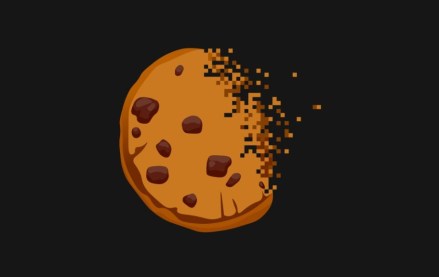 September 25, 2023 • 1 min read
During the Digiday Publishing Summit, execs from companies including Condé Nast, Dotdash Meredith and Thomson Reuters assessed the industry's readiness.
September 25, 2023 • 5 min read
Publishing executives shared their honest and unfettered opinions on the rise of generative artificial intelligence technology and its impact on traffic, IP protections, content production and jobs at the Digiday Publishing Summit last week.
September 25, 2023 • 5 min read
Here is A sampling of other AI-related news from last week.