In the U.K., Trinity Mirror and The Telegraph are testing the hardline approach to ad blocking. Similar to the tack taken by City A.M., GQ and Forbes, the publisher prevents people with installed ad blockers from viewing content until they disable the ad blocker or whitelist the site.
Trinity Mirror has been running messages on its regional title, Birmingham Mail, for a month, although the publisher isn't disclosing what results it is seeing.
"Publishers are certainly becoming more confident about ad blocking," said Piers North, digital strategy director at Trinity Mirror. "Previously, we assumed it was our fault – but what we're seeing now is the likes of Forbes and City A.M. saying 'enough is enough' and taking a strong stance on the issue by restricting people who use ad blockers."
For the past six weeks, The Telegraph has been randomly selecting users with installed ad blockers and showing them messages, asking to whitelist the site. According to Jim Freeman, group sales and trading director at Telegraph Media Group, it is seeing positive results.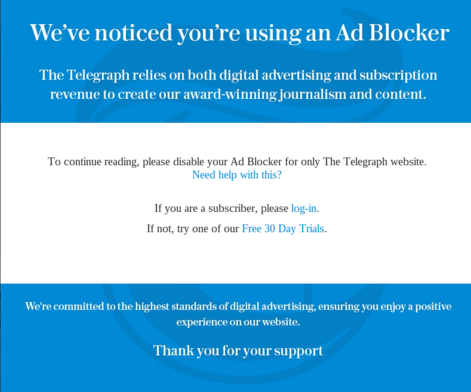 Publisher Incisive Media is also testing these messages after it noticed around 40 percent of users had ad blockers installed. Across Incisive Media's portfolio of paid-for and free sites covering foreign exchanges and hedge-fund management, the publisher has been randomly detecting users with ad block software and blocking content unless they whitelist the site. "In the main, people turn them off," said Jonathan Barnes, managing director of Incisive Media.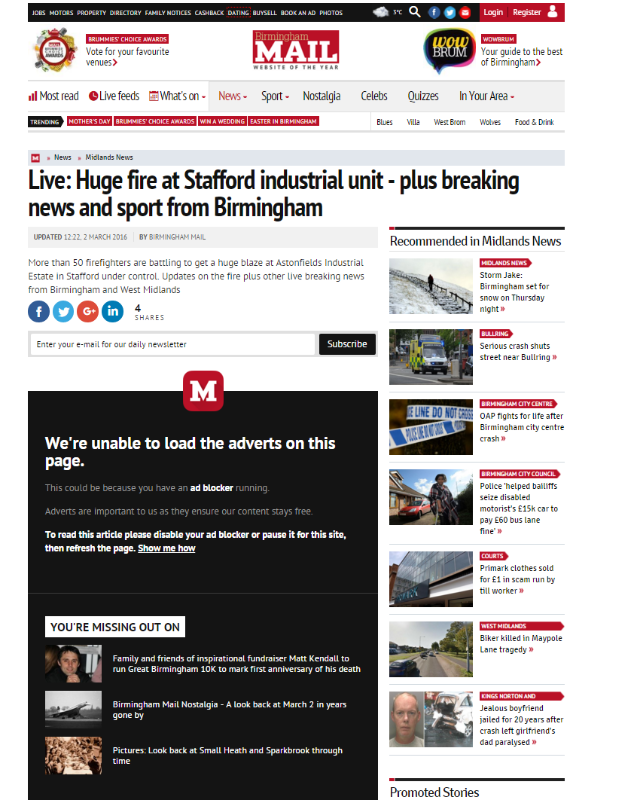 This comes shortly after the IAB and YouGov found that 54 percent of ad block users would be willing to disable their software to view content when presented with a message from the publisher — a glimmer of hope for publishers. Opening this dialogue is just one approach along the scale of ad-blocking responses.
Now the government is weighing in on the debate too, with culture secretary John Whittingdale calling ad block companies a "modern-day protection racket."  He drew comparisons with the state of ad blocking today with music piracy 10 years ago. Whittingdale plans to set up a round table involving major publishers, social media groups and ad blocking companies in the coming weeks to do something about the problem. He particularly condemned ad blocking companies offering to whitelist publishers for payment.
AdBlock Plus has responded to Whittingdale's remarks with a statement noting that the ad blocking company is keen to co-operate and all the while mindful of the user's freedom of choice: "Without ad blockers and other tools end-users would have precisely zero power over their experience on the Web."
https://digiday.com/?p=164852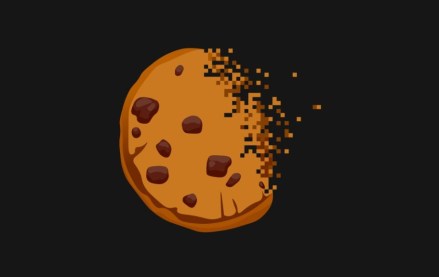 September 25, 2023 • 1 min read
During the Digiday Publishing Summit, execs from companies including Condé Nast, Dotdash Meredith and Thomson Reuters assessed the industry's readiness.
September 25, 2023 • 5 min read
Publishing executives shared their honest and unfettered opinions on the rise of generative artificial intelligence technology and its impact on traffic, IP protections, content production and jobs at the Digiday Publishing Summit last week.
September 25, 2023 • 5 min read
Here is A sampling of other AI-related news from last week.