The problem with being avant garde is that the public isn't always ready for your art.
Yesterday, it was brought to my attention that there was a Twitter trend around the hashtag "adtechhaikus" started by Ari Paparo of Appnexus. I could only think of Three Lines, One Cat, the Digiday project that we started back in February involving digital media-related haikus and pictures of cats — a perfect juxtaposition of words and, well, cats.
It didn't catch on with people as we had hoped it would, but, alas, we were before our time. Here are the top 5 ad tech haikus from Twitter yesterday. If you have your own ad tech haikus that you'd like us to pair with a cat image and put on Three Lines, One Cat, email it to me.
Top Five #adtechhaikus
1. @mjbarash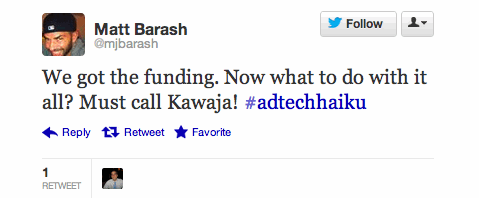 3. @ischafer


4. @rritzi

5. @ericlitman


https://digiday.com/?p=16062