The Young Turks is running circles around news networks on YouTube
October 31, 2014 • 6 min read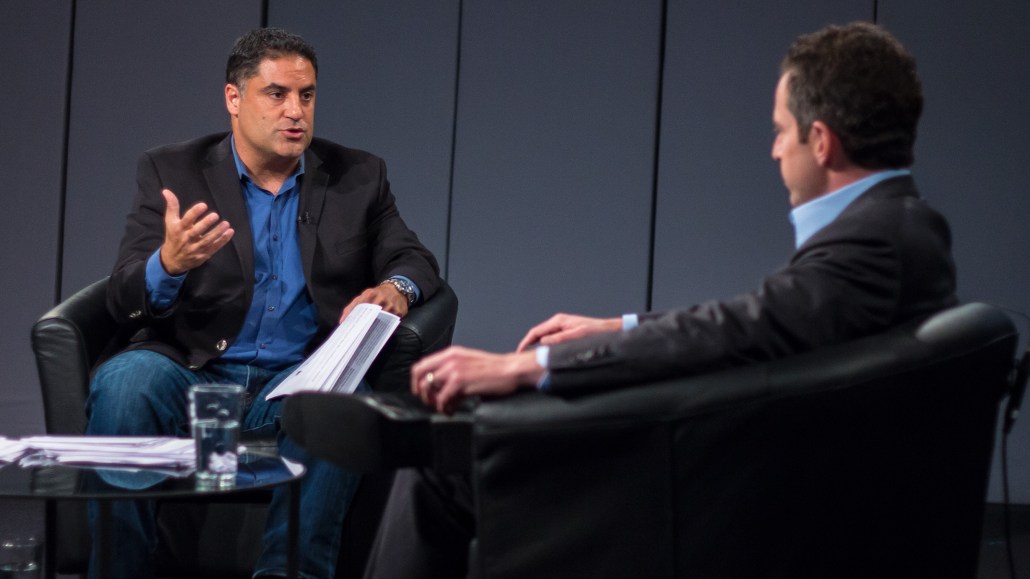 Tim Collins / TYT Network
Here's a surprise: The most popular news channel on YouTube is not CNN, The New York Times or Vice, but The Young Turks.
With its political and social news coverage, The Young Turks channel racks up roughly 37 million monthly views, according to OpenSlate data. But The Young Turks has expanded into an entire digital network, with 35 channels spanning sports, technology, film, college life and dozens of other areas. Together, the network attracts over 75 million monthly views from more than 3 million subscribers.
Most of The Young Turks' videos are snappy, in the five- to seven-minute range, but the media company isn't afraid to go long. It recently posted a three-hour debate on religion and philosophy between Sam Harris, a neuroscientist and ardent atheist, and Cenk Uygur, CEO and co-host of The Young Turks. "If you suggested putting that on TV, you'd be immediately fired and escorted from the building," said Uygur.
But it has performed extraordinarily well for The Young Turks, racking up roughly 350,000 views in the week since it debuted. More impressively, the average viewer watched for 38 minutes, according to Uygur, suggesting a sizable number of viewers stuck around for the entire conversation.
It's taken a long time to arrive at that level of engagement and viewership. Digiday spoke with Uygur to learn how The Young Turks came to dominate Web video news while others with bigger budgets have stumbled. Excerpts:
Give me a brief timeline of The Young Turks.
I started The Young Turks back in 2002 as the original talk show for satellite radio, then brought it online in 2005. It's been through a lot of platforms since then — Sirius XM, Air America, MSNBC and Current TV — but it's been online the whole time. It's the longest-running daily Web show live stream ever.
How did The Young Turks grow from a single show into a whole network of properties?
In the beginning, it was just the flagship show. Then we expanded into interviews, which became its own channel. Then we decided to go into a movie-review show that was our third channel. It obviously and naturally grew out of that organically — an entertainment channel, a sports channel and so on. It's a tiny bit like a multi-channel network, but about 90 percent is owned and operated by The Young Turks in terms of view count. The strategy is not go aggregate everybody and try to win on the margins; it's try to build your own intellectual property and find different revenue streams from that.
And all of these properties reside on YouTube?
We also distribute our content through our website, Hulu, Pluto.TV, Maker.TV and other venues, but YouTube so dwarfs every other platform that sometimes we don't even bother compiling numbers from the other outlets.
Why have you chosen to focus so intensely on YouTube?
That's where the audience overwhelmingly is. It's the new television. You can say, I don't like this platform, I'm going to go stand on a soapbox in a corner — well, good luck to you brother. I like our site, but if I built my business around just trying to establish a site, as opposed to going to where the audience is, then I would not have built a successful business. And a lot of people made that mistake.
You're not concerned about relying on an external platform to host your content?
Everyone knows the downsides of YouTube, like the revenue share, but they don't get enough credit for the upsides. YouTube has actually been a very good partner. Unlike some other social networks, they're responsive and they don't regularly change the rules. Obviously, we're not a normal partner for YouTube; we're the No. 1 news channel, so they give us excellent support. It's a symbiotic relationship; they might want to put Google and YouTube in the best light in front of a very large sponsor, and they bring us in as a model YouTube partner. We've established great relationships in those contexts.
Are you interested in bringing The Young Turks properties back to television?
Half the shows we create will probably be on television, and then they'll go back and forth until it gets to the point where you can't tell the difference between television and the Internet anyway. We are not just in the business of creating content for the Web. There's no reason why it shouldn't be on any and all platforms.
How does The Young Turks monetize beyond standard pre-roll ads?
The old days of just doing a regular ad and shoving it down peoples' throat are basically over. It's losing effectiveness every day. In its place is custom creative creative work and branded content. We did our own creative pre-roll for Squarespace this summer, which features our creative, our hosts and runs before our content, so the audience is far more likely to watch and engage with it. Now we've done similar spots for Ford, Disney and others.
How much revenue does The Young Turks generate?
Revenue has grown substantially, but it has not taken the quantum leap yet. There are actually two quantum leaps out there — one when we do branded content on a larger scale and another when we're able to get the CPMs that some of the older media companies get for no reason — and we have yet to take them.
How does The Young Turks demographic now differ from The Young Turks cable shows?
Seventy-eight percent of The Young Turks' viewers are under the age of 35. It's very similar to the shows I used to do on cable news for MSNBC or Current TV. On MSNBC, the regular age is 63 years old. The difference between 63 and our average age of 28 is monumental. Through good work and luck, we find ourselves on the right side of history. I don't know how much time they have left, but cable and broadcast news is on the clock. We have not yet reached any plateau. We still have a lot of audience to take from television and other platforms out there.
Why are cable and network outlets struggling to attract younger viewers?
You can't fake authenticity, and all of the TV anchors are trained to be inauthentic. If you try to get them to tell a real story on camera without a prompter, they'll be like deer in the headlights. It's just not in their DNA. Also, cable news appeals to the insiders: FOX News hires Karl Rove, CNN hires Jay Carney. We appeal to outsiders, who are not part of the power establishment and want to take on the power establishment. That's 98 percent of the audience. CNN has billions of dollars and a brand that has been around since 1980, but we're five times larger than they are on YouTube. Across the broader Internet, we will catch and pass them.
What's the right strategy to grow that audience online?
You need to talk to the audience and tell them the news like they're your friend. You have to care about the story, so if it's boring or sucks for you, then don't do it. You also have to hire the right hosts, because people get attached to characters, and now we have dozens of characters people love. These are passionate people who tell stories in a passionate way. In a limited pool of content, dispassionate can work if everyone else is dispassionate as well. But on the Web, you need to be passionate.
https://digiday.com/?p=94049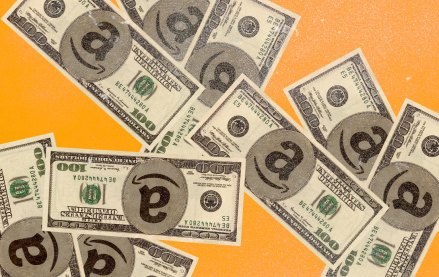 September 27, 2023 • 6 min read
The agency accused the e-commerce giant of conducting a range of anticompetitive behaviors that hurt both shoppers and sellers.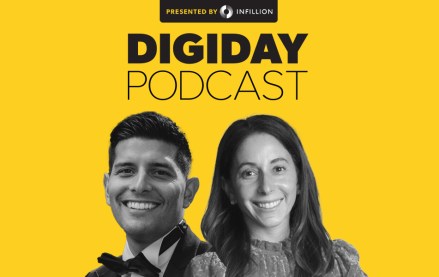 September 26, 2023 • 3 min read
In a live recording during the Digiday Publishing Summit, the news executives called for more nuanced conversations with advertisers around their brand safety concerns.
September 26, 2023 • 4 min read
After investing in one generative AI startup and suing another, the company will let customers create images on its website and an API.